Ernakulam District In Kerala
Corporates
Any corporate interested in having NGOs as selling agents can contact the NGO directly.
But if the corporate wants to put their name plus contact person's name and phone number here, then they have to pay a donation of Rs 2000/- for one district.
Corporates
We plan to donate at least Rs 13433000/-
This amount is not just any amount. Bhau, founder Sanjay Kumud Moreshwar Bapat's father gave house & property to him through a Gift Deed and Government Authorities valued it as Rs 13433000/- and founder's father (Bhau) paid a stamp duty of Rs 403000/-. And after the Gift Deed, Bhau was the first person on earth (Of course many others stepped in) to start postponing death of founder after an almost fatal accident on 28.08.2013.
Founder knows that after death, neither anyone takes anything with them nor do they know whether their son, grand son, daughter in law or so called blood relatives or neighbours came to see them before they left earth.
When any human leaves this world, what remains is their Deeds when they were on earth. So our first target is Rs 13433000/- Of course they will not know the impact of their gifts to world, but that is beauty of life. Enjoy it but leave the world as satisfied human and not one with unending greed of money, property.
Corporates can donate to the NGO
Developed Nation Network Trust by G Pay.
It has 80G and waiting for renewal of FCRA.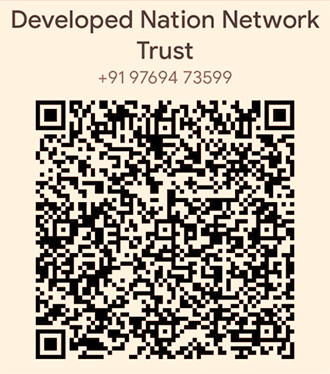 NGOs
NGO Brands
We share NGO Brands statewise in case of India
NGOs in this district
A M Ebrahim Sahib Memorial Library
Aarogya Charitable Foundation Trust
Abhaya Charitable Trust
Abhayam
Adarsh Charitable Trust
Agape Child Centre
Akshara Public Library And Reading Room Reg-07mpa6575
Al Amal Educational And Charitable Trust
Al- Farookhia Hss
All Lights Film Society
Alumini Society Of Aots Kerala
Aluva Janaseva
Amala Fellowship Angamaly
Amalambika Trust
Ambady Seva Kendram
Ambika Mahila Samajam
Angamaly Auxilium Society
Angamaly Don Bosco Society
Ansar-Ul-Islam Sanghom
Antharashtra Pusthakotsava Samithy
Araya Vamsodharani Sabha
Arch Bishop's Special Charity Fund
Archdiocese Of Verapoly
Arickal Devassy Memorial Trust For Education (A D Trust)
Arnold Educational And Charitable Trust
Assisi Convent
Assissi Charitable Trust
Association For Social Development Suhruth Sadan
Association Karunalayam, Home For The Aged Destitute And Infirm
Association Of The Sistes Of The Destitute Generalate
Attakkalari Public Charitable Trust Of Contemporary Performing Arts
Balanagar Technical Institute Association
Bethany Navajyothy Province
Bethesda International Ministries
Bethlehem Abhaya Bhavan Charitable Society
Bethlehem Abhayabhavan C-Haritable Society
Bhagavatham Village Trust
Bhakthasramam Trust
Bharata Mata College Thrikkakara
Bharatheeya Vidyaniketan
Blossom Educational Trust
Brothers Of St Joseph Cottolengo
C M C Marymatha Provincial House
Carbon Emission Managed Industries Confederation (Cemic)
Carmel Nivas
Carmelite Provincial House
Catholic Diocese Of Muvattupuzha
Centre For Earth Research And Environment Management
Centre For Environmental Efficiency
Centre For Migration And Inclusive Development
Centre For Public Policy Research
Centre For Socio Economic And Environmental Studies
Cfi Church
Charitable Society For The Welfare Of The Disabled
Chelakulam Trust For Global Studies
Cheriyapallamthuruth Public Library And Reading Room
Chinmaya International Foundation
Chinmaya Vishwavidyapeeth
Christava Mahilalayam
Christhuraja Prayer Centre
Church Of Eternity
Cmc Vimala Educational And Charitable Trust
Cnewa India
Cochin Cancer Society
Cochin Co Operative Hospitals Society
Cochin Community Welfare Society
Cochin E Land Trust
Cochin Orphanage Trust
Cochin Social Service Society
Common Welfare Society
Congragation Of The Sisters Of Our Lady Of Carmel
Congregation Of Mother Of Carmel Generalate
Congregation Of St Therese Of Lisieux Generalate
Congregation Of The Sisters Of Nazareth
Congregation Of The Theresian Carmalites Of St. Josephs
Cottolengo Educational And Charitable Sciety
Cultes
Cyriac Elias Voluntary Association
Dakshin Bharat Hindi Prachar Sabha Kerala
Daughters Of Charity Of The Most Precious Blood
Daughters Of Mary Immaculate Under The Protection Of St Joseph
Daughters Of Our Lady Of Mercy
Daughtersofsenanneconvent2017&
Dcv Swargarani Trust
Deena Dayal Sevak Sangh
Deseeya Sevabharathi Keralam
Dharani School Of Performing Art Trust
Dharmadeepthi
Dharmagiri Vikas Society
Dil Se
Diocesan Technical Education Trust
Diocese Of Cochin
Diocese Of Kothamangalam
Divine Providence Convent
Divya Karunya Charitable Trust
Dominican Sisters
Dominican Territory Sisters Of Our Lady Of Rosary
Don Bosco Cultural Centre
Don Bosco Welfare Centre Society
Donbosco Charitable Trust
Dorothean Sisters Archana Convent
Dr.Ambedkar Cultural Forum
Ebenezer Educational And Charitable Association
Edappally Kathakali Aswadaka Sadas
Educational And Charitable Trust Of Archdiocese Of Verapoly
Elookkara Pulloorpilly Sree Mokambika Devaswom Trust
Emmanuel Orphanage
Ernakulam Social Service Society
Faith Baptist Trust
Faith India
Fatima Girls High School
Fine Arts Society
Fire And Safety Forum
Folklore Museum Charitable Trust
Fr Varghese Thaniyath Charitable Trust
Fr. Agostino Vicini Social Welfare Society
Franciscan Clarist Congregation
Franciscan Clarist Congregation
Franciscan Immaculatine
Franciscan Sisters Of Mary
Franciscan Sisters Of St Elizabeth
G P Charitable Trust
General Gospel Fund
Gospel Aid Ministries
Gospel In Action Fellowship (India)
Gramaseva Samithi
Guardianangel Care Charitable Society
Helping Oppressed Peoples Emancipation
Holy Family Monastery
Home Of Faith Charitable Society
House Of Mary Immaculate Kerala
House Of Providence
Indian Christian Mission
Indian Evangelical Trust
Indian Organic Certification Agency
Indira Gandhi Memorial Trust
Institute Of Human Resources Development
Institute Of Small Enterprises And Development
Institute Of St. Catherine
Institute Of The Sisters Of Nazareth And The House Of Refuge
Iramalloor Public Library
Irshadiyya Charitable Trust
Irshadul Muslimeen Sabha
Jal Vayu Vihar Owners Association
Jan Shikshan Sansthan Ernakulam
Janey Centre
Jeevan Vikas Trust
Jeevaniyam Charitable Trust
Jeevodaya Provincial House
Jivadhara Charitable Trust
Joyalukkas Foundation
Jyothi Centre For Women
Jyothi Education Trust
Jyothir Gamaya
K T Chandy Seiichi Nitta Foundation
Kaliyarangu
Karuna Bhavan Church Trust
Karuna Bhavan Social Centre
Karunyavarsham Charitable Trust
Kautilya Educational Trust
Kerala Corrugated Box Manufacturers Association
Kerala Educational Society
Kerala Holy Cross Sisters Society
Kerala Labour Movement
Kerala Province Of The Congregation Of The Carmelite Sisters Of St. Teresa
Kerala Rehabilitation Institute For The Physically Affected
Khadija Bai Trust
Kites Softwares Pvt. Ltd
Konat Abraham Malpan Memorial Charitable Trust
Kothamangalam Diocese Health Service Society
Kothamangalam Social Service Society
Krishnan Elayath Memorial High School Alangad
Kumba Pushppa Memorial Charitable Trust
Kunnathunadu Taluk Nss Union
La Vita Trust
Legal Literacy Council
Life India Educational And Charitable Trust
Lions Cancer Care Society
Liss India
Little Flower Generalate
Little Flower Seminary
Little Flower Trust For Education And Technical Studies
Little Terese Balikabhavan
Lokadharmi Thripunithura
Lourdes Society For Health Care And Research
Love Without Reason Foundation
Luke Memorial Eye Hospital
M A G J Hospital
M B R Medical Trust
M D M L P S Karigachira
M.C.B.S. Generalate
Madhavan Nayar Foundation
Mahila Samajam Karakkattukunnu
Major Archiepiscopal Curia Of The Syro - Malabar Church
Malankara Orthodox Syrian Church Medical Mission Hospital
Malankara Syrian Orthodox Theological Seminary
Manappat Foundation
Mar Athanasius College Association
Mar Gregorios Asram
Mar Pachomios Charitable Society
Mar Thoma Educational Society
Mariam Thresia Educational And Charitable Trust
Marymatha Province Of Vincentian Congregation
Mathruka Charitable Trust
Max United Foundation
Melamparambil Varghese John Memorial Charities
Missioneries Of Our Lady Of La-Salette
MithramMonastry Of Our Lady Of Mercy
Mor Athanasius Rehabilitation Centre And Special School
Mount Carmel Cloistered Convent
Muvattupuzha Islamic Education Trust
N S S Karayogam-No.1191
Naipunnya International
Namboothiri Trust
Nansen Environmental Researh Centre India
National Allaince For Green Panchayats
Navadarsan Public Charitable Trust
Naval Officers Retirement Home Owners Association
Navasrushti International Trust
Navathara Mahila Samajam
Navodhaya Vanitha Samajam
Nayarambalam Nair Karayogam
Nazareth Sanjo Trust
Nirmal Nikethan Mukthisadan
Nirmala Charitable Trust
Nirmala Province Of Medical Sisters Of St.Joseph
Nirmala Sadan School For Mentally Retarded Children
Nirmala Society For Medical Care
Oblate Sisters Saint Agnes Convent
Order Of St.Augustine
Palluruthy Auxilium Society
Parimala Mar Gregorios Memorial Charitable Trust
Passionist Sisters Of St Paul Of The Cross India
Patanjali Yoga Training And Research Center
Patengemeinschaft For Hungering Children
Pavanatma Education Trust
Pavanthma Province Carmelites
Peace Educational & Charitable Trust
Peniel Missionary Fellowship
Peoples Council For Social Justice
Perpetual Succour Charitable Trust
Phoenix Charitable Trust
Planatearth
Prakrithijeevanakendram
Prathap Foundation For Education And Training
Pratiksha
Preshitharam Congregation
Priest Of The Sacred Heart India
Prison Ministry India
Rajagiri College Of Social Sciences
Rajagiri Educational & Charitable Trust
Ramakrishna Math Kochi
Rashtra Dharma Parishad
Real Grace Charitable Trust
Religious Handmaids Of The Sacred Heart Of Jesus
Renjini Vengola
Reparatrix Sisters Of The Sacred Heart
Rhema Charitable Trust
Rogationist Educational And Charitable Trust
Ruhuman Foundation
S A B T M L P School
S D V L P School Maradu
Sacred Heart Philosophy College
Sacred Heart Province Of The Congregation Of St Therese Of Lisieux
Sahrudaya Services And Charities
Saint Augustine Minor Seminary
Saint Vincent Pallottine Convent
Samaritan Medical Care Association
Samridhy
Sanjo Bhavan ( Sisters Of St Joseph Of St Marc )
Sanjoe Hospital
Santhigiri Trust
Santhimargam Social Welfare Service Society
Santhinikethan Mahila Samajam
Santhom Snehalayam Home For The Aged And Infirm
Santhwanam Charitable Trust
Saraswathi Vidhya Mandir
Save A Family Plan Cochin
Save A Family Plan India
Schoenstatt Study House
Sevabharathi Amruthasakthi Sevasamithi
Sevabharathi Ernakulam
Sevabharathi Mathru Sakthi
Sevakiran Charitable Society
Sh Congregation Jyothi Province
Shakti
Shakti Kerala
Shanthibhavan Society
Shantidam Society
Shatkala Govinda Marar Smaraka Kalasamithy
Sister Handmaidsof Charity Ofst Vincent Depaul
Sisters Of Charity Of Our Lady Of Good And Perpetual Succour
Sisters Of Holy Nativity
Sisters Of Mercy Of The Holy Cross
Sisters Of Our Lady Of Consolation
Sisters Of St Joseph Cottolengo
Sisters Of St Mary Magdalene Postel
Sisters Of The Presentation Of The Blessed Virgin Mary
Sisubhavan Paduapuram
Sivaprasadam Ashramam Trust
Snehajyothi Charitable Society
Sneham Charitable And Education Trust
Snehasadan
Social Research Society
Society For Research And Development Alternatives
Society Of Fisheries Technologists India
Society Of Mar Mathews Boys Town
Society Of Saint Catherines
Society Of Sisters Servents Of Our Lady Of Sorrows
Society Of Sisters Servents Of Our Lady Of Sorrows
Society Of Vimala
Solutions Network Academy For Professional Services
Sradha School For Children With Special Needs
Sree Narayana Micro Finance Institution
Sree Sankara College Kalady
Sreedhareeyam Ayurvedic Research And Development Institute
Sri Ramakrishna Seva Ashramam Trust
Sri Sarada Math Ernakulam
Ssm Eye Research Foundation
St Annes Society
St Augustines Convent Palluruthy
St George Educational & Charitable Trust
St Josephs Home For The Aged And Infirm
St Joseph's Hospital
St Josephs Province Of Sisters Of Nazareth
St Joseph's Vidya Bhavan Generalate
St Juliana Trust
St Mary's H S Kandanad
St Mary's Province
St Marys Provincial House
St Paul S Educational And
St Pauls Charitable Trust
St Pauls College
St Peters College Trust
St. Francis Assisi Athani School Trust
St. Josephs Hospital Trust
St. Pius X Province Of Manjummel - Ocd
St. Thomas Orphanage
St.George Education Institution
St.Mary's Charitable Society
Stjosephs Asylum For The Aged
Stmarys Charitable Trust
Sukhada Charitable Trust
Svjs Social Lab
Swadeshi Science Movement
Swamy Vivekananda Cultural Society
Swantham Social Service Society
Swasraya Trg And Rehab Ce
T O C H Public School
Tbi Educational Trust
Thanthra Vidya Peedham
Thapasya Charitable Trust
The Alwaye Alphonsian Society
The Alwaye Donbosco Society
The Andhyodaya
The Association Of The Sisters Of The Destitute Pushpadam
The Association Of The Sisters Of The Destitute- St Vincent Province
The Cochin Don Bosco Society
The Congregation Of The Passion
The Evangelistic Association Of The East
The Evangelization Society
The Friendship House
The Handmaids Of The Sacred Heart Of Jesus Society
The Kerala Society Of The Franciscan Sisters Of Mary Palluruthy
The Master Charities
The Medical Sisters Of St. Joseph
The Nursing Sisters Of Our Lady Of Dolours
The Province Of St. Maximilian Kolbe
The Research Institute
The Society For The Relief Work Of Poor Families
The Society Of Kristu Dasis
The Valakom Mahila Samajam
Thiruhrudhaya Sadhanam Charitable Trust
Thrikkakara Municipal Co-Operative Hospital Society Limited No.E-993
Tribal Mission (India)
Tribal Welfare Trust
Tripunithura Kadhakali Kendram
Tripunithura Kathakali Kendram
Twenty20 Kizhakkambalam Association
Unibiosys Foundation For Education And Research
Union Christian College
Unity Group
V. M. Educational And Charitable Trust
Vanithasamajammekkad
Vidyabharathi Group Of Institutions
Vidyanikethan English Medium Lower Primary School
Vijayabalamandiram
Vijnana Bharathi Educational And Charitable Society
Vimala Welfare Centre
Vincentian Congregation
Vincentian Service Society
Vincentian Service Society Centre For Rural Development
Viswasanthi Development Foundation
Wayline Management Consultants
Welfare Association Trust
Welfare Services Ernakulam
Womens Initiatives Society
Yasoram Charitable Trust
Yeshua Millennium
Youngmens Evangelical Fellowshiip

If your NGO is having programmes related to social issue in this district, just email the name of the NGO with link to it and we will share it free.
Our email : Datacentre@CSRidentity.com
We Salute
Soldiers, Police, Below the poverty line people who live with humanity, Social workers, NGO Founders, Hospital staff, Health care workers, Chemists, Medicines Trees, Forests, Medicinal plants, Rivers , Extinct animals, Homes, Climate, People working in crematorium
Shop from NGOs
NGO Sellers Concept
Following NGOs sell products.
These products are either made by communities or the NGOs act as agents of companies making these products.
The idea is to help communities, NGOs and corporates together.
NGOs can be selling agents
NGOs must be sustainable.
We dont want to loose focus of serving communities but in case of emergency where their funding stops, they must have at least one year survival funds so that the communities they serve do not suffer.
We have experienced that when an NGO working with disabled sales products made by them or NGOs working with women sell products made by them or NGOs selling tribal products or paintings .. its great honour to communities they serve.
And NGOs working in slums or villages or rural areas have great relationship with communities and corporates can think of having them as agents which can order products from corporates.
Its good for corporates who find good agents
Its good for NGOs because they earn
Its good for communities because its at home service

NGOs can keep half the commission they get and pass the other half to communities so that its win win long term situation