East Singhbhum District In Jharkhand
Corporates
Any corporate interested in having NGOs as selling agents can contact the NGO directly.
But if the corporate wants to put their name plus contact person's name and phone number here, then they have to pay a donation of Rs 2000/- for one district.
Corporates
We plan to donate at least Rs 13433000/-
This amount is not just any amount. Bhau, founder Sanjay Kumud Moreshwar Bapat's father gave house & property to him through a Gift Deed and Government Authorities valued it as Rs 13433000/- and founder's father (Bhau) paid a stamp duty of Rs 403000/-. And after the Gift Deed, Bhau was the first person on earth (Of course many others stepped in) to start postponing death of founder after an almost fatal accident on 28.08.2013.
Founder knows that after death, neither anyone takes anything with them nor do they know whether their son, grand son, daughter in law or so called blood relatives or neighbours came to see them before they left earth.
When any human leaves this world, what remains is their Deeds when they were on earth. So our first target is Rs 13433000/- Of course they will not know the impact of their gifts to world, but that is beauty of life. Enjoy it but leave the world as satisfied human and not one with unending greed of money, property.
Corporates can donate to the NGO
Developed Nation Network Trust by G Pay.
It has 80G and waiting for renewal of FCRA.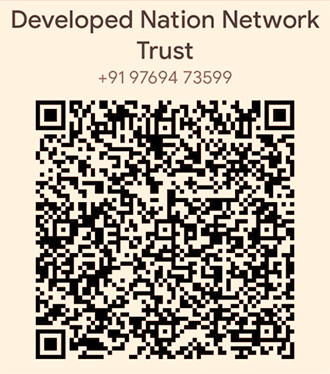 NGOs
NGO Brands
We share NGO Brands statewise in case of India
NGOs in this district
A.R.Associate.
Adivasi Mahila Vikash Samiti
Afreen
Alig Educational And Welfare Society
All Jharkhand Womens Association
Amar Jyoti Society Jamshedpur
Bagh E Ayesha
Bagheazizimahelasanstha
Bajrang Parisad Seva Sadan
Bhanumathi Neelakantan Awards
Bharat Sevashram Sangha Ghatsila
Bharat Sevashram Sangha Jamshedpur
Bible Faith Holiness Church Society
Birsa Munda Welfare Foundation
Birsa Yuva Seva Samiti
Brajvandana Foundation
Catholic Charities Jamshedpur
Dakshina Bharatha Mahila Samaj
Demanding Of Peoples & Moral Mission Of Development Society
Development Resource And Enterprise For Advancement Of Mankind (Dream)
Free Legal Aid Committee
Furida
Goutam Buddha Social And Welfare Mission
Grace Bible College Jamshedpur
Growth
Guru Kripa Technical And Educational Trust
Hind Welfare Foundation(Hwf)
Imperial Building Concept & Design Private Limited
Institute Of Labour Studies
Islamic Career Circle
Jamshedpur Diocesan Corporation
Jamshedpur Diocesan Education Society
Jamshedpur Eye Hospital
Jamshedpur Jesuit Society
Jamshedpur Mercy Hospital Society
Jayanti Jyoti
Jeewan Path
Jharkhand Jyoti
Jharkhand Step Up Trust
Jharkhand Viklang Sansthan
Kabir Welfare Trust
Lok Chetna Yuva Manch Jamshedpur
Loyola College Of Education
Maati Ghar
Madrasa Faizul Oloom
Mahila Kalyan Samiti
Mahila Kalyan Samity
Markazi Darul Qirat Welfare Society
Namo Sandesh
New Education And Environment Visions
Nurture
Occupational Safety & Health Association Of Jharkhand
Parents Association Of Mentally Handicapped Of Jamshedpur
Parivar Kalyan Sansthan
Paryavaran Chetna Kendra
Pentecostal City Mission Church Trust
Pragati Luyadih
Pragati Welfare
Prem Jyoti Pragan
Premniketan Society
Rabindranath Hm Foundation
Rabiya Educational And Social Welfare Society
Ramakrishna Math Ghatshila
Ramakrishna Mission Vivekananda Society
Rastriya Seva Foundation
Relearn Foundation
Resolved Foundation
Rupayan
Rural Outright Development Society
Samekit Jan Vikas Kendra
Sampurna Vikas Kendra
Samridhi
Samridhi Foundation Jharkhand
Sanjivani
Sarvajan Sukhay Sarvajan Hitay Foundation
School Of Joy Trust
Science For Society Jharkhand
Shramajivi Mahila Samity
Shramajivi Unnayan
Shree Vaibhav Lakshmi Microcredit Foundation
Sns Foundation
Social And Healthy Action For Rural Empowerment
Socio Economic And Education Development Society
Solution
Sona Devi Memorial Educational Foundation Trust
Sourav Cultural Organization
Sree Sant Social Welfare & Development Trust
St Josephs Hospital Bp
Swami Vivekananda Trust
Tata Steel Family Initiatives Foundation
Tata Steel Rural Development Society
Tecsour Infoserv Private Limited
Temseca
The Adibasi Welfare Society
The Target Foundation
Tribal Cultural Society
United Forum For Health & Environment
Veenapani Gyanoday Modern Public School Society
Vidya Niketan
Xavier Labour Relations Institute
Youth Unity For Voluntary Action
Youth Welfare Committee

If your NGO is having programmes related to social issue in this district, just email the name of the NGO with link to it and we will share it free.
Our email : Datacentre@CSRidentity.com
We Salute
Soldiers, Police, Below the poverty line people who live with humanity, Social workers, NGO Founders, Hospital staff, Health care workers, Chemists, Medicines Trees, Forests, Medicinal plants, Rivers , Extinct animals, Homes, Climate, People working in crematorium
Shop from NGOs
NGO Sellers Concept
Following NGOs sell products.
These products are either made by communities or the NGOs act as agents of companies making these products.
The idea is to help communities, NGOs and corporates together.
NGOs can be selling agents
NGOs must be sustainable.
We dont want to loose focus of serving communities but in case of emergency where their funding stops, they must have at least one year survival funds so that the communities they serve do not suffer.
We have experienced that when an NGO working with disabled sales products made by them or NGOs working with women sell products made by them or NGOs selling tribal products or paintings .. its great honour to communities they serve.
And NGOs working in slums or villages or rural areas have great relationship with communities and corporates can think of having them as agents which can order products from corporates.
Its good for corporates who find good agents
Its good for NGOs because they earn
Its good for communities because its at home service

NGOs can keep half the commission they get and pass the other half to communities so that its win win long term situation