Durg District In Chhattisgarh
Corporates
Any corporate interested in having NGOs as selling agents can contact the NGO directly.
But if the corporate wants to put their name plus contact person's name and phone number here, then they have to pay a donation of Rs 2000/- for one district.
Corporates
We plan to donate at least Rs 13433000/-
This amount is not just any amount. Bhau, founder Sanjay Kumud Moreshwar Bapat's father gave house & property to him through a Gift Deed and Government Authorities valued it as Rs 13433000/- and founder's father (Bhau) paid a stamp duty of Rs 403000/-. And after the Gift Deed, Bhau was the first person on earth (Of course many others stepped in) to start postponing death of founder after an almost fatal accident on 28.08.2013.
Founder knows that after death, neither anyone takes anything with them nor do they know whether their son, grand son, daughter in law or so called blood relatives or neighbours came to see them before they left earth.
When any human leaves this world, what remains is their Deeds when they were on earth. So our first target is Rs 13433000/- Of course they will not know the impact of their gifts to world, but that is beauty of life. Enjoy it but leave the world as satisfied human and not one with unending greed of money, property.
Corporates can donate to the NGO
Developed Nation Network Trust by G Pay.
It has 80G and waiting for renewal of FCRA.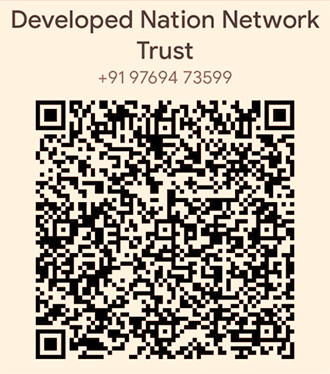 NGOs
NGO Brands
We share NGO Brands statewise in case of India
NGOs in this district
A S B S Foundation
A Society For Education Welfare And Ability
Aadarshwadi Janshakti Sangh
Aamin Education And Welfare Foundation
Aarav Institute Of Medical Science
Aarav Medishine Private Limited
Aastha Bahuddeshiya Kalyan Sansthan
Adarsh Dewangan Samaj Kalyan Avam Vikas Samiti
Adarsh Sindh Bradar Mandal
Ahle Sunnat Muslim Sanskritik Trust
Anjaneya Educational Society
Arunodaya Shikshan Samiti
Asha Shri Sai Prakritik Chikitsha Sewa Samiti
Asht Vedant Educational Socity
Assisi Seva Samaj
Avish Educational Society
Bahuudeshiya Sarvahindu Samajik Sangathan
Berojgar Mahila Sewa Samiti
Bhilai Kshatriya Pawar Sangh Bhilai Nagar
Bhilai Lodhi Kshatriya Samaj Bhilai Evam Durg
Bhilai Welfare Society Of Angels For Angels
Bright Sikshan And Manav Kalyan Samiti
Buddha Samaj Kosanagar Bhilai
Chhatisgarh Rmp Chikitsak Sangh
Chhattisgarh Chhatra Paalak Sangh
Chhattisgarh Education Research And Welfare Society
Chhattisgarh Handball Association
Chhattisgarh Kasaundhan Vaishya Samaj
Chhattisgarh Peoples Social Society
Chhattisgarh Pradesh Fencing Association
Chhattisgarh Training And Research Organization
Chirayu Institute Of Medical Science
Christian Education Health And Development Soceity
Congregation Of Sisters Of The Adoration Of The Blessed Sacrament
Deccan Proficient Adoption Society
Dhanvantri Education Society Durg
Divine Dream Shiksha Society Durg
Divya Sanskar Sikshan Seva Sansthan
Durg Education & Charitable Society
Durg Jila Kannojiya Swarnkar Samaj,Durg
Durg Rajasthan Gauda Brahman Samaj
Entrepreneur Educational Social Welfare Foundation
Feel Parmartham Foundation
Florence Institute Of Medical Science
Friends Help Groups And Welfare Society
Gdr Educational Society Rungta Skills Academy
Gitanjali Sangeet Shikshan Samiti
Gopala Finvest Limited
Grace Social Development Organization
Gramin Vikas Sahara Sanstha
Green Kaushal Samajik Sansthan
Gurunath Foundation
Help Us Society
Himanshu Infotech Educational Society
Indian Society For Veterinary Medicine
Ishan Wellfare And Education Society Bhilai
Jan Kalyan Mahila Mandal
Jan Priya Welfare And Education Society
Jan Sewa Yuva Mandal
Janki Jiwan Seva Samiti Kumhari
Kalyani Social Welfare And Research Organization
Kamla Devi Charitable Trust
Krishna Education Society
Life Secure Welfare Society
Lions Charitable Trust
Lokshakti Samajsevi Sanstha
Maa Gauriya Shishan Evam Prashikshan Society Durg
Maa Jagdamba Educational Society
Madarsa Ashrafia Comittee
Madarsa Jamia Madinatul Uloom Durg
Madhyabharat Nursing Association
Mahaveer Baal Kalyan Samiti
Maitri Educational Society
Maruti Institute Of Nursing
Maruti Skill Developers India Limited
Mastaan Public Welfare Society
Mathclub Foundation
Mission Anugrah Organization
Mitaan Empowerment Foundation
Monty And Mitesh Education And Welfare Society
Muslim Teli Samaj Walfair Committee
Namita Computer Education Society
Namoh Siddhi Vinayak Education Social Society
Navya Sarthak Prayas Welfare Foundation
New Path Education Society
Nirmal Gyan Mandir Kabir Ashram
Om Sai Mahila Vikas Samiti
Peoples For Animal Durg Bhilai Unit-2
Prarabdh Rural Development Society
Pratigya Vikas Sansthan Durg
Rajkumar Gandhi Education Society
Rastogi Builders Private Limited
Rastogi Education
Rastogi Education Society
Rastogi Industires Limited
Reckon Welfare Society
Sadhna Shaktee Peeth Samitee
Sahayata Samajik Sanstha
Sahu Mitra Sabha
Sai Kripa Shikashan Samiti
Sai Shanti Shikhansamiti
Salem Church Ministry
Samta Yuva Sewa Samiti Hathkhoj Charoda Bhilai
Sanjeevan Foundation
Sankalp Ek Prayas
Sant Namdeo Arogya Seva Samiti Bhilai Chhattisgarh
Saroj Gopal Educational Society
Sarthak Paryas Mahila Swa Sahayta Samuh Durg
Sarvkalyan Samiti
Seva- Social Empowerment Volunteers Association Chhattisgarh
Shantiniketan Vikas Samiti Bhilai
Shiv Mangal Mahila Samiti Durg
Shree Ramesh Chandra Foundation
Shree Shree Samagra Jan Vikas Sewa Sansthan
Shri Gangajali Education Society
Shri Guru Govind Singh Education & Social Foundation Durg
Shrijanshila Education And Welfare Society
Shrishti Education And Welfare Society
Sikhe Mahila Mandal
Simran Educational Society
Skill Development And Information Society
Smt Savitri Mishra Shikshan Samity
Society For Integrated Rural Development
Society For Public Advancement And Nourishment
Society Of Jesus Mary And Joseph
Sree Foundation
St Thomas Malankara Orthodox Syrian Church Mission
St. Josephs Society Kumhari
Steam Education Society Durg
Steel Cast-Aid Limited
Sujata Baudha Mahila Kalyan Samiti
Supela Khawaja Gareeb Nawaj Mahila Kalyan Samiti
Surpreet Chopra Heart Foundation
Sutra Samaj Sevi Sanstha
Suwani Shikshan Samiti
Swamy Atmanand Shikshan Samiti
Swayam Ko Samarpit Arpan Vikas Samiti
Tanishq Exports Private Limited
The Calcutta Orthodox Diocesan Council
Tulsi Lok Vikas Snsthan Bhilai
Uva Life Welfare Society
Vasuki Memorial Sanchalan Samiti
Ved Mata Gayatri Shikshan Samiti
Youth Educational And Welfare Society

If your NGO is having programmes related to social issue in this district, just email the name of the NGO with link to it and we will share it free.
Our email : Datacentre@CSRidentity.com
We Salute
Soldiers, Police, Below the poverty line people who live with humanity, Social workers, NGO Founders, Hospital staff, Health care workers, Chemists, Medicines Trees, Forests, Medicinal plants, Rivers , Extinct animals, Homes, Climate, People working in crematorium
Shop from NGOs
NGO Sellers Concept
Following NGOs sell products.
These products are either made by communities or the NGOs act as agents of companies making these products.
The idea is to help communities, NGOs and corporates together.
NGOs can be selling agents
NGOs must be sustainable.
We dont want to loose focus of serving communities but in case of emergency where their funding stops, they must have at least one year survival funds so that the communities they serve do not suffer.
We have experienced that when an NGO working with disabled sales products made by them or NGOs working with women sell products made by them or NGOs selling tribal products or paintings .. its great honour to communities they serve.
And NGOs working in slums or villages or rural areas have great relationship with communities and corporates can think of having them as agents which can order products from corporates.
Its good for corporates who find good agents
Its good for NGOs because they earn
Its good for communities because its at home service

NGOs can keep half the commission they get and pass the other half to communities so that its win win long term situation