Dindigul District In Tamil Nadu
Corporates
Any corporate interested in having NGOs as selling agents can contact the NGO directly.
But if the corporate wants to put their name plus contact person's name and phone number here, then they have to pay a donation of Rs 2000/- for one district.
Corporates
We plan to donate at least Rs 13433000/-
This amount is not just any amount. Bhau, founder Sanjay Kumud Moreshwar Bapat's father gave house & property to him through a Gift Deed and Government Authorities valued it as Rs 13433000/- and founder's father (Bhau) paid a stamp duty of Rs 403000/-. And after the Gift Deed, Bhau was the first person on earth (Of course many others stepped in) to start postponing death of founder after an almost fatal accident on 28.08.2013.
Founder knows that after death, neither anyone takes anything with them nor do they know whether their son, grand son, daughter in law or so called blood relatives or neighbours came to see them before they left earth.
When any human leaves this world, what remains is their Deeds when they were on earth. So our first target is Rs 13433000/- Of course they will not know the impact of their gifts to world, but that is beauty of life. Enjoy it but leave the world as satisfied human and not one with unending greed of money, property.
Corporates can donate to the NGO
Developed Nation Network Trust by G Pay.
It has 80G and waiting for renewal of FCRA.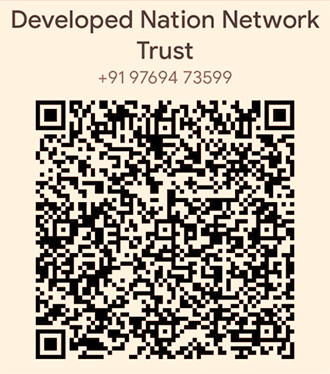 NGOs
NGO Brands
We share NGO Brands statewise in case of India
NGOs in this district
Aathi Paranjothi Sahaloga Sabai
Action For Rural Improvem
Aeon Trust
Agency For Rural Integrated Social Education And Sanitation
Agni Knowledge Foundation
Agri And Socio Economic Development Trust
Al-Ilm Educational Trust
Amma Illam
Anand Education Society
Anbarasi Social Action
Anbhalaya Trust
Annai Educational Trust
Annai Thersa Social Welfare Trust
Annai Trust
Annoor Islamia Educational And Charitable Trust
Anugraha
Arockyaa Charitable Trust
Artz Trust
Arunothayaa Foundation
At Taqwa Educational Trust
Award Trust
Awareness Edcutation For Redemption And Development Trust
Axiom Social Service Society
Basic Integrated Rural Development Society
Believers Fellowship Church Trust
Bodhi Zen Public Charitable Trust
Catalyst For New Life Trust
Ceda Trust
Center For Human And Natural Resources Development
Centre For Improved Rural Health And Environmental Protection
Centre For Integrated Rural Development
Centre For Peace And Rural Development
Centre For Rural Education Research And Development Association
Childvoice
Christian Education Health And Development Society
Christian Fellowship Community Health Centre
Claudine Society For Developmental Action
Community Development Foundation
Coordinating Council For Social Concerns In Kodaikanal Corsock
Cost Trust
Crayon Child Relief And Research Institute
Deepam
Devar Malai Area Agricultural And Rural Development Society
Development Education And Environment Protection Society
Development Network Foundation
Dindigul Aids Control Society
Dindigul Auxilium Salesian Sisters Society
Dindigul Catholic Diocesan Society
Dindigul District Hiv Positive Society
Dindigul Educational & Economic Development Trust
Dindigul Multipurpose Social Service Society
Dindigul United Welfare Academy
District Rural Development Organisation
Divine Trust
Downdrodden People Development Trust
Dreams Trust
Ebenezer Rural Development Trust
Edentrust
Education And Community
Ennoble Public Charitable Trust
Everest Charitable Trust
Faithful Trust
Father Mother Trust
Gandhi Seva Sangam
Gandhigram Trust
Goodwill Children's Homes Charitable Society
Grama Seva Trust
Health Environment Education And Legal Protection Society -Helps
Hidayath And Sons Educational Trust
Homes Of Compassion Trust
Humane Trust
Immaculate Society
India Nirman Sangh
Indian Sustainable Social Action Institute
Institute Of The Heart Of Jesus
Integrated Sustainable Development Trust
Intelligence Development Achievement Trust
International Herbal Research And Siddhar Arts Development Foundation Trust
J.V.P.Technical Education Trust
Jai Ram Charitable Trust
Jani Economical Social Charitable Trust
Jayamatha Women Empowerment And Child Health Organisation Trust
Jeyamary Amma Educational Trust
John Foster Memorial Home Society
Joseph Educational Trust
Kamakshi Pandarinathan Trust
Karunya Trust
Keithahn Sathya Trust
Kirubafoundation
Kkodai Girihini Trust
Kodaikanal International School
Kodaikanal Rural Development Association
Kodaikanal Society For Protection And Care For Animals Kspca
Lakshmi Raman Educational Trust
Learning And Educating Organisation
Legio Mariae Educational And Welfare Charitable Trust
Light For The Build India
Little Flower Public Charitable Trust
Mak Infotech
Manish Trust
Manithamtrust
Marys Destitute Women And Children Education Charitable Trust
Mercy Association For Lepers
Mercy Foundation
Mme Trust
Mother Vision Trust
Movement Of Total Health Education Revolution Trust
Multipurpose Action For Social Service
Multipurpose Activities For Sustainable Social Change Trust
Musthafa Sabiya Educational Trust
Nalantha Educational Trust
Narrthunai Arakkattalai
Nature Environment Education And Development Trust
Nature Trust
Network For Empowering Oppressed Society
New Era Trust
New Organisation Of The Womens Educated Level
Oasisfoundation
Padigal Trust
Palni Hills Conservation Council
Pannaikadu Veerammal Paramasivam Educational Social And Cultural Trust
(Pazhani) Kiranur Sanmarga Gurukulam
Peace Trust
Peoples Cultural And Educational Development Association
Peoples Welfare Peace Trust
Peoples' Welfare Society
Peoplescaretrust
Poorna Sukha Leprosy Project
Pope Trust
Poyya Vilakku
Prabha Educational & Charitable Trust
Pranavaji Elansidhar Beedam
Psychological And Community Health Organisation Trust
Quarry Workers Development Society
R.M.Educational Trust
Reddiyarchatram Seed Growers Association Charitable Trust
Redeem Trust
Research Council For Earth Protection And Reconstruction
Rose Trust
Rural Development Mission
Rural Development Organisation
Rural Education And Action For Liberation
Rural Education And Economic Development For Social Action Trust
Rural Education And Environment Development Society
Rural Education Youth Development Service Reyds
Rural Enrichment And Health Education Society
Rural Improvement Society
Rural Organisation For Social Education(Rose) Trust
Sakthi Foundation
Samuthaya Pengal Munnetra Trust
Sardhar Vallabai Patel Red Green Foundation
Satya Surabhi Trust
Seeds Trust
Selin Educational Trust
Sendhur Educational Trust
Senthur Andavar Charitable Trust
Serene Secular Social Service Society
Shalom Trust
Shanthi Seva Social And Economical Development Association
Sharing Hands Trust
Sheald Trust
Shri Ramana Foundation
Sirumalai Evergreen Multipurpose Community Development Society (Simcodess)
Social Action For Empowerment And Research (Safer)
Social Action Trust
Social And Education Development Trust
Social Awareness And Development Organization For Women (Saadow)
Social Health Trust (Sht)
Social Service Sericulture Project Trust
Social Upliftment Of Community Care And Educational Services
Society For Integrated De
Society For Peoples Action For Change And Education
Society For Serving Humanity
Society For Social Transformation Through Neighbourhood Children And Youth Movements
Sree Ayyanar Charitable Trust
Sree Ponmarry Charitable Trust
Sri Rangalatchumi Educational Trust
Sri Valli Charitable Trust
Sri Vengateswara Education And Rural Development Trust
Srisakthisocialeconomical Educational Welfaretrust
St Xaviers Home Of Love
St.Joseph Mercy Home
St.Josephs Rehabilitation Society For The Blind
Swestic
Tamilnadu People Welfare Association
Tamilnadu Spinning Mills Association
Thaagam Trust
Thaaima Charitable Trust
The Dindigul Don Bosco Society
The Gandhigram Institute Of Rural Health And Family Welfare Trust
The Good Shephed Social Educational And Economic Development Trust
The Immaculate Conception Society No. 11
The Jesuit Madurai Province
The Regular Tertiary Franciscan Sisters Of Our Lady Of Bon Secours
The Society For Social Se
The Society Of Sacred Heart College
The Society Of Servants Of God
The Society Of The Sisters Of The Presentation Of Blessed Virgin Mary
The Village Foundation
Theivanai Ammal Memorial Integrated Learning And National Rural Education Trust
Thirugnana Sambandar Trust
Thiruvannamalai Trust
Tribal Education And Medicare Vision Charitable Trust
Triumph Educational And Charitable Trust
Trust For The Rural Poors
Udayam Charitable Trust
Udayam Rural And Educational Development Trust
Universal Peace Divine And Herbal Research Centre
Vaigai Voluntary Action For Integrated Global Awareness And Innovation
Vallalar Health Education Social And Rural Development Trust
Velicham Trust
Vettri Cheritable Trust
Vkfoundation
Water Sanitation And Hygiene Institute
Way Trust
We Trust
Women Awareness And Rural Development Trust
Womens Education Development Society
Yegovah Seerthirutha Sabai
Youths Network To Educate And Empower The Weak

If your NGO is having programmes related to social issue in this district, just email the name of the NGO with link to it and we will share it free.
Our email : Datacentre@CSRidentity.com
We Salute
Soldiers, Police, Below the poverty line people who live with humanity, Social workers, NGO Founders, Hospital staff, Health care workers, Chemists, Medicines Trees, Forests, Medicinal plants, Rivers , Extinct animals, Homes, Climate, People working in crematorium
Shop from NGOs
NGO Sellers Concept
Following NGOs sell products.
These products are either made by communities or the NGOs act as agents of companies making these products.
The idea is to help communities, NGOs and corporates together.
NGOs can be selling agents
NGOs must be sustainable.
We dont want to loose focus of serving communities but in case of emergency where their funding stops, they must have at least one year survival funds so that the communities they serve do not suffer.
We have experienced that when an NGO working with disabled sales products made by them or NGOs working with women sell products made by them or NGOs selling tribal products or paintings .. its great honour to communities they serve.
And NGOs working in slums or villages or rural areas have great relationship with communities and corporates can think of having them as agents which can order products from corporates.
Its good for corporates who find good agents
Its good for NGOs because they earn
Its good for communities because its at home service

NGOs can keep half the commission they get and pass the other half to communities so that its win win long term situation