Dakshina Kannada District In Karnataka
Corporates
Any corporate interested in having NGOs as selling agents can contact the NGO directly.
But if the corporate wants to put their name plus contact person's name and phone number here, then they have to pay a donation of Rs 2000/- for one district.
Corporates
We plan to donate at least Rs 13433000/-
This amount is not just any amount. Bhau, founder Sanjay Kumud Moreshwar Bapat's father gave house & property to him through a Gift Deed and Government Authorities valued it as Rs 13433000/- and founder's father (Bhau) paid a stamp duty of Rs 403000/-. And after the Gift Deed, Bhau was the first person on earth (Of course many others stepped in) to start postponing death of founder after an almost fatal accident on 28.08.2013.
Founder knows that after death, neither anyone takes anything with them nor do they know whether their son, grand son, daughter in law or so called blood relatives or neighbours came to see them before they left earth.
When any human leaves this world, what remains is their Deeds when they were on earth. So our first target is Rs 13433000/- Of course they will not know the impact of their gifts to world, but that is beauty of life. Enjoy it but leave the world as satisfied human and not one with unending greed of money, property.
Corporates can donate to the NGO
Developed Nation Network Trust by G Pay.
It has 80G and waiting for renewal of FCRA.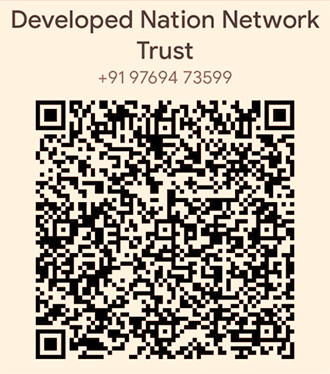 NGOs
NGO Brands
We share NGO Brands statewise in case of India
NGOs in this district
A Shama Rao Foundation
Agency For Development Awakening And Rural Self Help Associations
Ajeya Trust
Akanksha Charitable Trust
Al Madeena Islamic Complex
Alvas Education Foundation
Anandashram Seva Trust (R)
Animal Care Trust
Anti Pollution Drive (Apd) Foundation
Anugraha Education Social Welfare Trust
Arogya Matha Kenbdra
Asian Fisheries Society Indian Branch
B G Educational And Charitable Trust
Backward Integrated Rural Development Trust
Belthangady Taluk Mahila Mandalagala Okkootar
Bhagavan Sri Sathya Sai Seva Trust
Bhandari Foundation
Campus Education And Charitable Trust (R) Iruvail Moodbidri 574144
Canara High School Association
Canara Organisation For Development And Peace(Regd)
Carmel Seva Trust
Catholic Board Of Education
Catholic Diocese Of Karwar
Center For Health And Development R
Centre For Development Studies And Education
Ceyone Foundations
Cheshire Homes India Mangalore Unit
Christopher D'silva Memorial Charitable Trust
Church Of South India Karnataka Southern Diocese
Cloistered Carmel
Dakshedte Trust
Dakshina Karnataka Sunni Centre(R) 2nd Floor Pavoor Complex Nellikai Road Mangalore-575001
Dayalbagh Ashram
Development Education Service (Deeds)
Development Initiatives For Sustainable Human Advancement(Disha)
Dharma Jyothy Charitable Society
Dharmasthala Manjunatheshhwara Educational Trust (Regd)
Diocese Of Belthangady
Diocese Of Mangalore
Discalced Carmelite Karnataka Goa Province
Dominican Fathers Mangalore Society
Dr. Shivarama Karantha Pilikula Nisargadhama
Elevate Youth Empowerment Trust
Faizul Islam Academy Of General Education
Federation Of World Bunts Associations
Fr Mullers Centenary Charitable Society
Fr Muller's Charitable Institutions
Fr Patrao Hospital
Gaana Nritya Academy
Govanithashraya Trust
Govardhana Giri
H R Educational Foundation
Helpers Of Mount Rosary Trust
Hindu Vidyadayinee Sangha
Inchara Foundation
Indira Health Trust
Institute For Social Development(Regd)
Institute Of Social Service
Institute Of Social Service
Ishwaramba
Ishwarananda Mahila Sevashram
Jana Shikshana Trust
Janu Shetty Memorial Education & Charitable Trust
Jeevadaan Charitable Trust
Jeevanidhi Trust
Jnanarathna Education And Charitable Trust
K Sgowda Educational Trust
Kalpatharu Education Trust
Kanachur Islamic Education Trust (R)
Karkala Education And Charitable Trust
Karnataka Integrated Development Society
Keshava Smrithi Samvardh Ana Samithi
Khairiya Trust
Konkani Bhas Ani Sanskriti Prathistan
Kukke Shri Subrahmanya Temple
Ladyhill Society
Link Anti Addiction Citizens Committee
Lions Centre For The Physically Handicappee
Lions Club Suratkhal
Lobo Teachers Foundation
M.B.Foundation
Mahila Mandala Madanthyar
Maithri Trust
Managala Seva Samithi Trust
Mandev Educational And Charitable Trust
Mangalore Diocesan Medical Trust
Mangalore Jesuit Educational Society
Mani Krishnaswami Academy
Mansharu Ssaquafathil Islamiyya
Maria Kripa Society
Maria Mandir Trust
Mariakripalaya Trust
Mariyalayam Social Centre Trust
Mary Matha Province Of Sacred Heart Congregation
Masood Educational And Charitable Trust
Mother Teresa Memorial Education Trust
Mount Rosary Charitable Institutions
Muslim Welfare Association
Naimisharanya Sadhana Prathishtana
Namma Tulunad Trust (R)
Nationai Social Cultural Development Foundation
Nisd Skill India (Opc) Private Limited
Nitte Education Trust (R)
Nitte University
Noorani Yatheem Khana
Nrityaangan
Olavinahalli Rehabilitation & Community Development Centre
P.G. Care Foundation Charitable Trust
Padi Mangalore
Prajna Counselling Centre
Rai Estates Educational And Charitable Trust
Rama Sakti Mission
Ramakrishna Math Mangalore
Ramakrishna Mission
Ramakrishna Tapovan
Rani Abbakka Tulu Adhyayana Kendra Mattu Tulu Baduku Vasthu Sangrahalaya
Riya Foundation
Rural Foundation
Saint Ignatius Health And Education Trust
Samanvaya
Samvit Education Trust
Saraswat Education Society
Savithri Devi Memorial Charitable Trust
Sdm Educational Society
Seon Ashram Trust
Seva Bharathi
Sevaa Bhaava Charitable Trust (R)
Shaheed C M Abdulla Musaliyar Foundation
Shine India
Shree Shera Educational Trust
Shreeganeshasevatrustforexceptionalpersons
Shri Kshethra Dharmasthala Rural Development Project
Shri Kurunji Education Trust (R)
Shri Vidhya Saraswathi Mahila Mandala Child Care And Protection Centre
Shrimath Anantheshwar Temple
Shubhada Society
Sihs Trust
Sisters Of Charity Educational Society
Sisters Of The Destitute Charitable Trust
Sneha Shikshana Samsthe Sullia
Society Of Fisheries And Life Sciences
Society Of Sisters Of Charity Holy Angels' Convent
Society Of Sisters Of Charity St. Gerosa Convent
Society Of Sisters Of Charity St.Philomena Convent
Society Of Sisters Of St Ann Of Providence
Sri Mookambika Cultural Academy
Sri Ramakrishna Seva Samaja
Sri Sadguru Brahmananda Saraswathi Swamiji Religious Trust
Sri Saraswathi Education Society Puttur
Sri Sathya Sai Loka Seva Trust
Sri Venkataramana Temple
Sri Vijayadhwaja Jnanapeeta
Sridevi Nrithya Kendra
Sriniketana Trust
Srinivas College Of Hotel Management
Srinivas College Of P G Management Studies Trust
Srinivas College Of Physiotherapy Trust
Srinivas Institute Of Rural Reconstruction Agency
Srinivas University
St Agnes Society
St Anns Friary
St Anns Society Manglore
St Anthony's Charity Institutes
St Bridgets Convent
St Josephs Charitable Institutions
St Peters Apostolic School
St.Fidelis Friary
St.Joseph's Prashanth Nivas
Sv S College
The Ammembal Subbarao Pai Memorial Fund
The Bethany Educational Society (R) Mangalore
The Congregation Of The Sisters Of The Little Flower Of Bethany
The Dakshina Kannada Rural Development Society
The Diocese Of Puttur
The Institution At Dharmasthala
The Karnataka Christian Educational Society
The Rastriya Computer Saksharatha Samithi
The Sandesha Foundation For Culture And Education
The Society For The Welfare Ofthe Disabled Regd.
The Young Mens Christian Association
Udupi Diocese Charitable Trust
Union Of Saint Catherine Of Siena Japamala Matha Ashram
Ursuline Franciscan Congregation
Ursuline Franciscan Educational Society
Vedavyasa Samshodhana Kendra
Vishwa Janeena
Vivekananda Vidyavardhaka Sangha Puttur
White Doves
World Bunts Foundation
Xavier Educational Trust
Yenepoya Care Fund
Yenepoya University
Yuvathi Sewalaya Social Service Society

If your NGO is having programmes related to social issue in this district, just email the name of the NGO with link to it and we will share it free.
Our email : Datacentre@CSRidentity.com
We Salute
Soldiers, Police, Below the poverty line people who live with humanity, Social workers, NGO Founders, Hospital staff, Health care workers, Chemists, Medicines Trees, Forests, Medicinal plants, Rivers , Extinct animals, Homes, Climate, People working in crematorium
Shop from NGOs
NGO Sellers Concept
Following NGOs sell products.
These products are either made by communities or the NGOs act as agents of companies making these products.
The idea is to help communities, NGOs and corporates together.
NGOs can be selling agents
NGOs must be sustainable.
We dont want to loose focus of serving communities but in case of emergency where their funding stops, they must have at least one year survival funds so that the communities they serve do not suffer.
We have experienced that when an NGO working with disabled sales products made by them or NGOs working with women sell products made by them or NGOs selling tribal products or paintings .. its great honour to communities they serve.
And NGOs working in slums or villages or rural areas have great relationship with communities and corporates can think of having them as agents which can order products from corporates.
Its good for corporates who find good agents
Its good for NGOs because they earn
Its good for communities because its at home service

NGOs can keep half the commission they get and pass the other half to communities so that its win win long term situation