Cuttack District In Odisha
Corporates
Any corporate interested in having NGOs as selling agents can contact the NGO directly.
But if the corporate wants to put their name plus contact person's name and phone number here, then they have to pay a donation of Rs 2000/- for one district.
Corporates
We plan to donate at least Rs 13433000/-
This amount is not just any amount. Bhau, founder Sanjay Kumud Moreshwar Bapat's father gave house & property to him through a Gift Deed and Government Authorities valued it as Rs 13433000/- and founder's father (Bhau) paid a stamp duty of Rs 403000/-. And after the Gift Deed, Bhau was the first person on earth (Of course many others stepped in) to start postponing death of founder after an almost fatal accident on 28.08.2013.
Founder knows that after death, neither anyone takes anything with them nor do they know whether their son, grand son, daughter in law or so called blood relatives or neighbours came to see them before they left earth.
When any human leaves this world, what remains is their Deeds when they were on earth. So our first target is Rs 13433000/- Of course they will not know the impact of their gifts to world, but that is beauty of life. Enjoy it but leave the world as satisfied human and not one with unending greed of money, property.
Corporates can donate to the NGO
Developed Nation Network Trust by G Pay.
It has 80G and waiting for renewal of FCRA.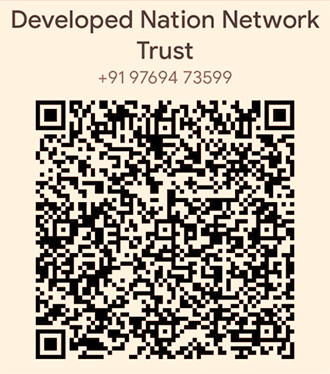 NGOs
NGO Brands
We share NGO Brands statewise in case of India
NGOs in this district
Aakash Association Of All Kinds Of Awareness Services For Human Being
Aashraya
Abhiyan
Adishakti Yuva Pariisad
Agape Seva Samiti
Ahara
Ai Noor Educational Trust
All Orissa Consumer Protection Council
Alternative Development Initiative With Rural Engagement Trust
Amar Jyoti India
Ambika Prasad Research Foundation
Anchalika Bikas Parishad
Angels And Arks Educational And Charitable Trust
Angika
Aparti Sahu Chaitan Sahu Educational And Charitable Trust
Apb Education Trust
Association For Social Reconstructive Activities
Association Of Rice Research Workers
Baba Saheeb Ambed Charitable Trust
Bapujee Khadi Gramodyoga Samiti
Barimul Yubak Sangha
Barunei Pathagara
Basundhara
Bharatiya Academy Trust
Bhorosa
Bhumi Putra Club
Bideibabajew Yubak Sangha
Biswanath Sangeetalya
Block Voluntary Organisation For Improvement Of Culture And Ecoenvironment
Brethren In Christ Church
Buckley Girls High School
Buddhajayantipur Unnayan Samiti
Budhidei Khadi Gramodyoga Samiti
Center For Good Living
Centre For Educational Economic Environmental Research & Development
Chakadola Club
Champanath Institute Of Technology
Club Janasakti
Committee For Legal Aid To Poor
Co-Operation For Rural Excellence (Core)
Council Of Cultural Growth And Cultural Relations
Cuttack Bar Association
Cuttack Diabetes Research Foundation
Cuttack Habitat For Humanity
Delta Educations
Dhabaleswar Industrial Training Centre Manasing Trustees
Dhanapallicommunitymanagementgroup
Dhanwantaree
Diganta
Diocese Of Cuttack Cni
Dr Braja Vihari Mohanty Memorial Mentally Retarded Benefit Trust
Dristi Educational And Charitable Trust
Electronics Technology & Telecommunication
Envoy
Gaon Gathana Samiti
Good News Hour
Good News India
Grama Bikash Sangathan
Grassroots India
Green World Foundation ( GWF Trust)
Gunjan Dance Academy
Hadibandhu Charitable Trust
Hindi Shikshya Samity Orissa
India Evangelistic Association
India Serve Ministries
Indian Red Cross Society Odisha State Branch Sahaya
Indira Network Of Social Action & Formation
Institute Of Vocational Training And Education
International Indecency Prevention
Jaga Balia Silk Tassar Khadi Utpadak Sangha
Jan Shikshan Sansthan
Janakalyan
Janakalyan Parishad
Janamangal Khadi And Gramodyag Samity
John Augustus Prison And Social Welfare Services
Kalatirtha
Kalinga Kalakshetra Foundation Trust
Kalinga Khadi Gramodyog Sangha
Kalinga Seva Sangha
Kamala Kala Pitha
Karigara Bikash Parishad
Kirikicha Community Management Group
Lokanayak Club
Maa Bauti Jana Kalyan Seva Samiti
Maa Bindhyabasini Anath Sikshyashram
Maa Kalika Seva Ashram
Maa Santoshi Maitree Parisad
Mahadev Palli Vikas Parishad
Mahimasagar Gramodyog
Managing Committee Of Gurunanak Public School
Managing Committee Of Sri Gopal Beda Pathasala
Maninee Sanskrutika Kala Parisad
Michael A Daube Charitable Trust
Millat Welfare Trust
Najmi Academy
Narmada Ladies Organisation
National Human Rights Citizens Commission
National Youth Socio Cultral Organization
Neelachal Institute Of Multipurpose Services
New Age Foundation
New Inspiration Rejuvination Movement And Assistance Network
Ngo
Nilachalexportablekhadigramyodagasangha
Nirman
Nrutya Mayuri
Nuapatna Mahila Khadi Utpadak Sangha
Odisha Assembly Of Small And Medium Enterprises
Odisha Hematology
Odisha Nari Seva Sangha
Odissi Nrutya Mandal
Organisation For Rural Development And Economic Research
Orissa Church Of God Association
Orissa Development Technocrats Forum
Orissa Evangelistic Trust Association
Orissa General Centre
Orissa Institute Of Medical Research And Health Se
Orissa Project And Marketing Development Centre
Orissa Social And Educational Sansthan
Orissa Womens' Voluntary Services
Padmalaya Mahila Khadi Niketan
Palli Sanskrutika Sammukhya
Pentasys Computers
People Centered Development Council
Pragati Prangan
Prajnana Mission
Project Swarajya
Radhakrushna Gramodyog
Ratnakar Foundation Trust
Rotary Club Of Cuttack Charitable Trust
Rural Development And Social Services
Rural Development Organisation
Rural Organisation For Social Action
Sadhana Memorial Trust
Safe
Sahara
Samarpan Charitable Trust
Sankalp
Santoshi Maa Mahila Swayan Sahayak Gosti
Saraswati Shishu Vidya Mandir
Sarbadharma Samanwaya Sree Sree Mahasiddhya Nilapadma Ashram
Sayeed Seminary Welfare And Educational Trust
Servant
Serve And Help Charitable Trust
Seva O Sevak
Shivani Educational And Charitable Trust
Siva Shakti Siddha Yoga Ashram
Social Welfare Organisation And Rural Development
Society For Action In Disability And Health Awareness
Society For Infrastructural Promotion And Rural Advancement
Socio Artistic Mobilizing Village And Basic Craft (Samvab)
Softed
Soor Mandir
Soor Mandir
Sri Aurobindo Sadhana Pitha
Sri Aurobindo Yoga Mandira Bayalish Mauza
Sri Jagannath Resham Khadi Utpadan Kendra
Sri Lokanath
Sri Ramakrushna Bikash Parisad
Sriguru Trust
Sundartassar Silk Khadi Utpadaka Kendra
Suprativa
Surakhya
Suravi
Swami Bichitrananda Kalyan Ashram
Swapneswar Balashram
Swayamshree Mahila Samabaya Samiti Ltd
Tapoban Pathagar
The Guide
The Hope
The Sanskar
The Saviour
Transformation Charitable Action
Udyog
United Theological School Cuttack
Utkal Christian Council
Utkal Development Trust
Utkal Gandhi Smarak Nidhi
Utkal Kala Vikash Khadi Niketan
Utkal Prantiya Rastrabhasha Prachar Sabha
Utkalbharati Bharati Seva Pratisthan
Voice Of People
Voluntary Association For Reformation And Social Advocacy (VARASA)
Women And Child Welfare Society

If your NGO is having programmes related to social issue in this district, just email the name of the NGO with link to it and we will share it free.
Our email : Datacentre@CSRidentity.com
We Salute
Soldiers, Police, Below the poverty line people who live with humanity, Social workers, NGO Founders, Hospital staff, Health care workers, Chemists, Medicines Trees, Forests, Medicinal plants, Rivers , Extinct animals, Homes, Climate, People working in crematorium
Shop from NGOs
NGO Sellers Concept
Following NGOs sell products.
These products are either made by communities or the NGOs act as agents of companies making these products.
The idea is to help communities, NGOs and corporates together.
NGOs can be selling agents
NGOs must be sustainable.
We dont want to loose focus of serving communities but in case of emergency where their funding stops, they must have at least one year survival funds so that the communities they serve do not suffer.
We have experienced that when an NGO working with disabled sales products made by them or NGOs working with women sell products made by them or NGOs selling tribal products or paintings .. its great honour to communities they serve.
And NGOs working in slums or villages or rural areas have great relationship with communities and corporates can think of having them as agents which can order products from corporates.
Its good for corporates who find good agents
Its good for NGOs because they earn
Its good for communities because its at home service

NGOs can keep half the commission they get and pass the other half to communities so that its win win long term situation