Chhindwara District In Madhya Pradesh
Corporates
Any corporate interested in having NGOs as selling agents can contact the NGO directly.
But if the corporate wants to put their name plus contact person's name and phone number here, then they have to pay a donation of Rs 2000/- for one district.
Corporates
We plan to donate at least Rs 13433000/-
This amount is not just any amount. Bhau, founder Sanjay Kumud Moreshwar Bapat's father gave house & property to him through a Gift Deed and Government Authorities valued it as Rs 13433000/- and founder's father (Bhau) paid a stamp duty of Rs 403000/-. And after the Gift Deed, Bhau was the first person on earth (Of course many others stepped in) to start postponing death of founder after an almost fatal accident on 28.08.2013.
Founder knows that after death, neither anyone takes anything with them nor do they know whether their son, grand son, daughter in law or so called blood relatives or neighbours came to see them before they left earth.
When any human leaves this world, what remains is their Deeds when they were on earth. So our first target is Rs 13433000/- Of course they will not know the impact of their gifts to world, but that is beauty of life. Enjoy it but leave the world as satisfied human and not one with unending greed of money, property.
Corporates can donate to the NGO
Developed Nation Network Trust by G Pay.
It has 80G and waiting for renewal of FCRA.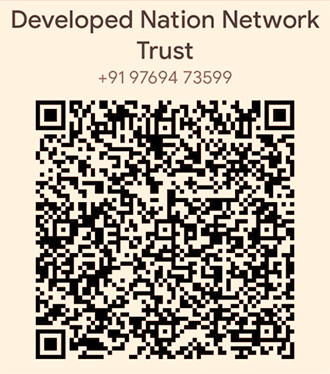 NGOs
NGO Brands
We share NGO Brands statewise in case of India
NGOs in this district
Aadhar Foundation
Aadiwasi Gramin Uday Sansthan Harrai
Aanchal Silai Prashikshan Samiti
Abhinav Shikshan Avam Jan Kalyan Samiti
Abhiyan Ek Prayas
Abhyuday Lok Seva Sansthan
Advance Group Of Technology Trust
Ahawan Welfare And Educational Society
Anand Shikshan Swawlamban Samiti
Anant Markandeya Natya Rangotthan Samiti
Archyogi Gram Vikash Samiti
Arpan Shiksha Avam Jan Kalyan Samiti
Asha - Aid And Survival Of Handicraft Artisans Society
Asha Divyangjan Sangathan
Asha Foundation Pandhurna
Ashok Leyland Institute Of Driving Training & Research
Astitva Samajik Vikas Sanstha Pandhurna
Atash Education Society Pandhurna
Awadh Vidhyapeeth Shikshan Samiti
B.P. Memorial Social Education Society
Bahubali Jeev Raksha Yavam Paryavaran Sanrakshan Sansthan Lok Nyas
Bahuuddesheey Shikshan Sanstha Bichhua Baggu Samiti
Bhartiya Adim Jati Sevak Sangh Sausar Branch Madhya Pradesh
Buddha Dammaprachar Samitee
Care N Care Foundation
Chatrapati Shiwaji Shikshan Samiti Chandangaon
Chirag Social Welfare Eduction And Research Socaity
Desire Knowledge Point Association
Devki Welfare And Educational Society
Disha Shikshan Avam Kalyan Samiti
Dwarka Suman Shiksha Samiti
Eco Maitry Vikas Sanstha
Evangelical Lutheran Charch In M. P.
G H Raisoni University
Geeta Verma Institute Of Technology Society
Gondwana Siksha Samiti
Gondwanapeacefoundation
Gram Bharti Chhindwara
Gram Kalyan Seva Samiti
Gramin Adivasi Samaj Vikas Santhan
Gramin Vikas Mandal
Gramin Vikash Sansthan
Gramin Yuva Krishak Samaj Kalyan Samiti
Gyan Multipurpose Welfare Socieiy
Gyan Prakash Shiksha Samiti Umranala
Gyanpunj Jankalyan Samiti
Gyanvardhini Shikchan Samiti
Inciter Paropkar Welfare Foundation
Institute For Development Of Youth Women And Child
Jan Jagrati Sanskrutik Kala Mandir Berdi
Jan Mangal Sansthan Jamas
Jan Seva Samiti
Jhade Swarnkar Samaj Samiti Chand
Junnardeo Balkalayan Samiti
Kartikay Educational And Welfare Society
Kirti's Kare Foundation
Kranti Mahila Mandal
Krishna Welfare And Education Society
Kshitij Foundation
Laksha Shikshan Avam Kalyan Samiti
Lotus Orgnization
Ma Narmada Gramottan Samiti Harrai
Maa Narmda Sewa Shikshan Sansthan Chandangaon
Maa Shakti Shikshan Avam Kalyam Samiti
Madhur Mangal Education Welfare Society
Maharastrian Swarnkar Samaj
Mahila Education Society
Manav Jal Kalyan Seva Samiti Bichhua
Manthan Shakshnik Evam Samajik Vikash Samitee
Matra Seva Sangh Chhindwara
Mauli Sarwangin Gramin Vikas Samiti
Mohammadiya Education And Welfare Society
Nagdeo Education Welfare Society
Natraj Shikshan Evam Samaj Kalyan Samiti
Natyaganga Organisation For Social And Cultural Activitis Samiti
New Aradhana Educational Convenson Samiti
New Yuva Parivartan Samiti
News 4 Inside Society
Nirbhav Shikshan Evm Samaj Kalyan Samiti
Orbit Welfare Society
Outreach Social Organisation
Pahal Foundation
Panchvalley Jankalyan Avam Shiksha Samiti
Pandit Dindyal Gram Vikas Samiti Pandhurna
Pararth Samiti
Parhit Sanstha
Parwati Shiksha Eva Samaj Kalyan Samiti
Prabhat Samaj Seva Shiksha Sanstha
Pragya Welfare Society Pandhurna
Pratyancha Srujan Samiti
Progressive Educational Forum
Purv Sainik Kalyan Samiti
R B Samaj Kalyan Samiti
Research And Skill Development Society
Riya Kalyan Aum Siksha Samitee
Rural Skill Development Institution
Sahara Social And Welfare Society
Sai Sadbhawana Organization
Samriddhi Foundation
Sanjeevani
Sankalp Society For Social And Educational Development
Sankatmochan Saraswati Shiksha Samiti Narsihapur
Sant Gyanesvar Jivanotthan Avam Kalyan Samiti
Saran Sewa Samiti
Satpura Educational Development And Welfare Society
Satpura Science Education & Welfare Society
Satpuranchal Jan Kalyan Samiti
Satyakam Jan Kalyan Samiti
Satyam Satpuda Samaj Sewa Samiti
Satyanistha Jan-Kalyan Samiti
Sewa Kunj Samiti
Shree Ayushykaran Foundation
Shree Samarth Shiksha Evam Samajik Kalyan Samii
Shri Devtara Foundation
Shri Guruji Shikshan Samiti Sausar
Shri Krishna Information Education Society
Shri Mahila Kalyan Samiti
Shri Sai Apex It Education Jan Kalyan Samiti
Shri Sanskrit Pustakonnati Sabha
Shri Siddhivinayak Education Society
Shubham Shiksha Samiti
Sibtain Raza Education And Jankalyan Samiti
Social Care Nav Jagrati Mahila Mandal
Sousar Student Welfare Society
Success Vision Education And Welfare Society
Sunbright Education Society
Superior Development Society
Swa Chandrabhaga Bai Samaj Kalyan Samiti Pandhurna
Swami Samarth Samaj Kalyan Samiti Sausar
Swayam Samajik Kalyan Evam Vikas Samiti
Udaan Education And Welfear Sosayti Amarwara
Uma Electronic Institute Chhindwara Samiti
Umeed Social Welfare Society
Unnati Foundation
Usha Samaj Kalyan Mahila Evam Bal Vikas Samiti Betul Tamia
Utsav Organisation
Utthan Foundation
Vaishnavi Jan Kalyan Sansthan
Vaishno Drashtiheen Viklang Shiksha Samiti
Veer Narayan Jan Kalyan Adiwasi Sansthan
Vidhya Prasar Shikshan Samiti Pandhurna
Vidya Niketan Educational Society
Vikas Samiti
Virendra Satija Foundation Samiti
Youth Of Sausar Association
Yugantar Shikshan Avam Samaj Kalyan Samiti
Yuva Pratibha Protsahan Manch
Yuva Shakti Foundation
Yuwak Kalyan Seva Prashikshan Sansthan

If your NGO is having programmes related to social issue in this district, just email the name of the NGO with link to it and we will share it free.
Our email : Datacentre@CSRidentity.com
We Salute
Soldiers, Police, Below the poverty line people who live with humanity, Social workers, NGO Founders, Hospital staff, Health care workers, Chemists, Medicines Trees, Forests, Medicinal plants, Rivers , Extinct animals, Homes, Climate, People working in crematorium
Shop from NGOs
NGO Sellers Concept
Following NGOs sell products.
These products are either made by communities or the NGOs act as agents of companies making these products.
The idea is to help communities, NGOs and corporates together.
NGOs can be selling agents
NGOs must be sustainable.
We dont want to loose focus of serving communities but in case of emergency where their funding stops, they must have at least one year survival funds so that the communities they serve do not suffer.
We have experienced that when an NGO working with disabled sales products made by them or NGOs working with women sell products made by them or NGOs selling tribal products or paintings .. its great honour to communities they serve.
And NGOs working in slums or villages or rural areas have great relationship with communities and corporates can think of having them as agents which can order products from corporates.
Its good for corporates who find good agents
Its good for NGOs because they earn
Its good for communities because its at home service

NGOs can keep half the commission they get and pass the other half to communities so that its win win long term situation