Chhatarpur District In Madhya Pradesh
Corporates
Any corporate interested in having NGOs as selling agents can contact the NGO directly.
But if the corporate wants to put their name plus contact person's name and phone number here, then they have to pay a donation of Rs 2000/- for one district.
Corporates
We plan to donate at least Rs 13433000/-
This amount is not just any amount. Bhau, founder Sanjay Kumud Moreshwar Bapat's father gave house & property to him through a Gift Deed and Government Authorities valued it as Rs 13433000/- and founder's father (Bhau) paid a stamp duty of Rs 403000/-. And after the Gift Deed, Bhau was the first person on earth (Of course many others stepped in) to start postponing death of founder after an almost fatal accident on 28.08.2013.
Founder knows that after death, neither anyone takes anything with them nor do they know whether their son, grand son, daughter in law or so called blood relatives or neighbours came to see them before they left earth.
When any human leaves this world, what remains is their Deeds when they were on earth. So our first target is Rs 13433000/- Of course they will not know the impact of their gifts to world, but that is beauty of life. Enjoy it but leave the world as satisfied human and not one with unending greed of money, property.
Corporates can donate to the NGO
Developed Nation Network Trust by G Pay.
It has 80G and waiting for renewal of FCRA.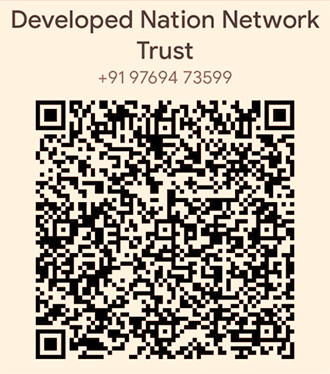 NGOs
NGO Brands
We share NGO Brands statewise in case of India
NGOs in this district
Aadya Mahila Kalyan Samiti
Abhar Mahila Samiti
Abhigale Social Welfare Society
Adishakti Foundation Harpalpur
Akanksha Darshan Samaj Vikas Jankalyan Samiti
Akarshan Uthan Samiti
Anand Mahila And Bal Kalyan Samiti
Asha Mahila Pariasd Samiti
Bahuddeshya Samaj Kalyan Samiti
Bairagiya Pukhri Swami Vivekanand Gram Vikas Samiti
Bamitha Laxmibai Darshna Tejaswini Mahila Sangh
Bethel Social Welfare Society
Bethesda Hospital Society
Bharatiya Adim Jati Sevam Sangh
Bundelkhand Chetriye Vikas Samitee
Bundelkhand Gramin Vikas Foundation
Bundelkhand Mahila Parishad Chhatarpur
Bundelkhand Nav Tejaswi Mahila Mahasangh Nowgong Samiti
Bundelkhand Tejasvi Mahila Mahasangh Bagauta Samiti
Bundelkhanda Jan Seva Foundation
Chanderiya Welfare Society Samiti
Chhatarpur Mahila Jagrati Manch
Chhatrasal Shiksha Prasarini Samiti Maharajpur
Chhatrashal Bal Kalyan Samiti
Childs Rights Foundation
Chitragupt Mahila Kalyan Ewam Bal Vikash Samiti Chandla
Christian English College
Culture Foundation
Dakshtaa Foundation
Darshna Mahila Kalyan Samiti
Devi Kalka Sikshan Avam Sanskritik Prasar Samiti
Devi Rudra Priya Shiksha Prasar Samiti
Devwani Social Foundation
Divya Rural And Social Welfare Society
Environment And Social Welfare Society Khajuraho India
Green Noble Education And Welfare Society Chhatarpur
Gulganj Darshna Tejaswini Mahila Sangh Samiti
Isro Foundation
Jagrati Mahila Mandal
Jai Maa Abarmata Shiksha Evam Jankalyan Sewa Samiti
Jan Manvodaya Social Welfare Samiti
Jan Shikshan Sansthan Chhatarpur
Kabir Foundation Khajuraho
Kevalya Jagrati Sansthan
Krantiyug Samaj Kalyan Samiti Khajuraho
Kratika Samajouthan Avam Shiksha Prasar Samiti
Late Shri Balveer Singh Gautam Shiksha Prasar Evam Jan Kalyan Samiti
Late Shri Nathuram Anuragi Samaj Kalyan Evam Shiksha Samiti
Lokhit Seva Samitee
Maa Bagrajan Shiksha Prasarini Samiti
Maa Bhagwati Mahila Mandal
Madhu Human Skill And Development Sansthan
Madhup Shiksha Prasar Samiti
Maharana Pratap Krishi Evm Aushadhi Anusandhan Samiti Chhatarpur Mp
Mahila Samiti Chhatarpur
Mamta Mahila Mandal Chhatarpur
Mithleshwari Shiksha Evam Samajoutthan Samiti
Mp Gandhi Smarak Nidhi
Nandni Gaushala Jagriti Yuva Samiti
Nayan Jan Sewa Sansthan Samiti
New Sakar Belpheyar Society
Nirvana Foundation
O N Founadation
Om Namo Kar Jan Kalyan Foundation Samiti
Organization Of Joint Action For Sustainable Development
Pahal Bundelkhand Jankalyan Samiti
Pandit Deen Dayal Swatantratasangram Senanee Sewa Sansthan
Pandit Shree Gyasi Lal Mishra Educational And Social Welfare Society
Parivartan Integrated Development Association
Pooja Poorvi Foundation Society
Pragatiyuvavikashkendralavkushnagar
Pragtisheel Viklang Sansar
Prakand Lok Kalyan Seva Samiti
Pratham Srijan Samiti
Prayoajnprabandhan Jan Kalyan Samiti
Priyavrat Mahila Utthan Samiti
Ram Ratan Shiksha Prasar Evam Samaj Seva Samiti
Ramanand Seva Samiti
Research India Lok Kalyan Society
Richerd Sansthan
Rishikul Aashram
S. C. Jain Shiksha Prasar Samiti
Sahyog Shiksha Prasar Samiti
Sahyog Welfare Society
Sakshi
Samaj Vikas Avam Jan Kalyan Sansthan
Samta Vikas Foundation, Samiti
Sanchalan Samiti Mahtma Gandhi Uchchtar Madhyamik Vidhyalay
Sangam Sewa Avam Mahila Utthan Samiti
Saraswati Bal Kalyan Samiti
Sarvangeen Mahila Vikas Samiti Chhatarpur
Sarvotthan Sansthan
Seva Hi Sankalp Parivar Samiti
Sewa Bharti Shri Jatashankar Dham Samiti
Shalem Society
Sharddheya Nanaji Deshmukh Foundation
Sheela Sanskar Jan Kalyan Samiti
Shiv Shakti Samiti
Shraddha Shiksha Prasar Evam Jan Kalyan Samiti
Shree Yog And Health Organisation
Shri Foundation Mahila Mandal
Shri J L S Jashwant Lal Soni Jan Vikas Samiti
Shri Jata Shankar Trust
Shri Kamtanath Chaturvedi Shiksha Prasar Samiti
Shri Narayan Paramhans Sanskrit Vidyapeeth Prabandh Samiti
Shri Narayan Shanskrit Vidhyalay Samiti
Shri Radhacharan Seva Samiti
Spacial Backward Imfromvig Foundation Lalpur Samiti
Speed Foundation
Stuti Mahila Mandal
Swam Education And Welfare Society
Swami Vivekanand Shiksha Samiti
Tanvi Social Services Samiti
Tapasya Jankalyan Evam Shiksha Prasar Samiti
Tarang Mahila Kalyan Samiti
The College Of Career Computer And Technology
Theresa Grace Dynamic Foundation
Umang Child & Womens Development Association
Universal Education Evam Takniki Sansthan Samiti
Utthan Sewa Sansthan
Vinayak Online Shiksha Social Foundation
Vishwa Chetna Commune
Vishwas Surve Vikas Samiti
Yug Purus Swami Vivekanand Educational And Social Welfare Society

If your NGO is having programmes related to social issue in this district, just email the name of the NGO with link to it and we will share it free.
Our email : Datacentre@CSRidentity.com
We Salute
Soldiers, Police, Below the poverty line people who live with humanity, Social workers, NGO Founders, Hospital staff, Health care workers, Chemists, Medicines Trees, Forests, Medicinal plants, Rivers , Extinct animals, Homes, Climate, People working in crematorium
Shop from NGOs
NGO Sellers Concept
Following NGOs sell products.
These products are either made by communities or the NGOs act as agents of companies making these products.
The idea is to help communities, NGOs and corporates together.
NGOs can be selling agents
NGOs must be sustainable.
We dont want to loose focus of serving communities but in case of emergency where their funding stops, they must have at least one year survival funds so that the communities they serve do not suffer.
We have experienced that when an NGO working with disabled sales products made by them or NGOs working with women sell products made by them or NGOs selling tribal products or paintings .. its great honour to communities they serve.
And NGOs working in slums or villages or rural areas have great relationship with communities and corporates can think of having them as agents which can order products from corporates.
Its good for corporates who find good agents
Its good for NGOs because they earn
Its good for communities because its at home service

NGOs can keep half the commission they get and pass the other half to communities so that its win win long term situation