Bhadohi District In Uttar Pradesh
Corporates
Any corporate interested in having NGOs as selling agents can contact the NGO directly.
But if the corporate wants to put their name plus contact person's name and phone number here, then they have to pay a donation of Rs 2000/- for one district.
Corporates
We plan to donate at least Rs 13433000/-
This amount is not just any amount. Bhau, founder Sanjay Kumud Moreshwar Bapat's father gave house & property to him through a Gift Deed and Government Authorities valued it as Rs 13433000/- and founder's father (Bhau) paid a stamp duty of Rs 403000/-. And after the Gift Deed, Bhau was the first person on earth (Of course many others stepped in) to start postponing death of founder after an almost fatal accident on 28.08.2013.
Founder knows that after death, neither anyone takes anything with them nor do they know whether their son, grand son, daughter in law or so called blood relatives or neighbours came to see them before they left earth.
When any human leaves this world, what remains is their Deeds when they were on earth. So our first target is Rs 13433000/- Of course they will not know the impact of their gifts to world, but that is beauty of life. Enjoy it but leave the world as satisfied human and not one with unending greed of money, property.
Corporates can donate to the NGO
Developed Nation Network Trust by G Pay.
It has 80G and waiting for renewal of FCRA.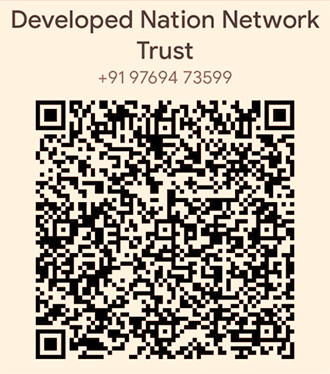 NGOs
NGO Brands
We share NGO Brands statewise in case of India
NGOs in this district
Aayush Mahila Utthan Samiti
Adarsh Mahila Shilp Kala Kendra
Adriel Trust
All India Carpet Manufacturers' Association
Alok Foundation
Amar Ujjwal Vikas Sewa Samiti
Aniruddh Foundation
Astro Spiritual Yog Organisation
Ayushya Ayurveda Sanstha
B K Lok Sewa Sanstha
Bandhu Parivar Samajik Vikas Sanstha
Beena Deenanath Memorial Welfare Society
Bhaguti Prasad Mata Gulam Public School Samiti
Bharatiya Jan Kalyan Sewa Sansthan
Bhartiya Manav Kalyan Samiti
Care And Fair India
Chhanaura Samaj Seva Samiti
Child And Women Welfare Associates
D V R Ambedkar Gram Vikas Samiti
Dr. B.R. Ambedkar Gram Vikas Samiti
Duhr
Fatima Basheer Foundation Society
Friends Club Educational And Charitable Society
Futeswar Dooth Nath Foundation
Gangamani Shakuntla Devi Jan Shewa Trust
Genius Dream Foundation
Global Educational And Social Welfare Society
Golden Future Society
Gyan Seva Samiti
Gyanpur Handicrafts Producer Company Limited
Hariom Yog And Ayurved Public Charitable Trust
Infotech Computer Prashikshan Society
Jagrati Manav Vikas Sansthan
Jan Kalyan Sanstha
Jan Mitra Vikas Sewa Samiti
Jan Seva Kalyan Sanshthan
Jan Shikshan Sansthan Bhadohi Sant Ravi Das Nagar
Jan Vikas Sansthan
Janvi Cares Foundation
Jay Bajrang Vikas Shikcha Samiti
Jay Ram Rama Trust
Jeevandeep Charitable Society
Jitech Computer Educational Society
Jyoti Sanstha
Jyoti Sanstha
Kanshi Ram Samaj Seva Samiti
Kantilal Vidya Mandir Samiti
Kashiraj Educational Society
Khamariya Education Society
Lok Kalyan Adarsh Siksha Samiti
M.R.D. Welfare Trust
Maa Bhagawati Educational Rular Development Society
Maa Santoshi Asharfi Devi Seva Samiti Trust
Maa Sharada Foundation
Maa Sharda Charitable Trust
Maharaji Devi Sewa Samiti
Manorama Devi Uchhtar Madhyamik Vidyalay Samiti
Microzenith Computer Society
Mithila Social And Economic Development Society
Motilal Seva Trust
Narayan Sewa Samiti
National Rights Trust
Om Gramodaya Vikas Samiti
Paras Nath Maurya Shiksha Samiti
Pmg Commerce Edge Foundation
Pmg Commerce Edge Foundation
Pmg Commerce Edge Limited
Polycare Public School
Prabha Computer Educational Society
Prakash Punj Manav Kalyan Samiti
Priyadarshini Jankalyan Samiti
Pt Ramnaresh Intermediate College Trust
Radha Raman Sewa Samiti
Ram Janki Sewa Samiti
Razvi Educational And Welfaresociety
Sadbhavana Sewa Samiti
Sai Ram Computer Educational Society
Samaj Sewa Trust
Sanatan Rakshak Seva Samiti Foundation
Sankat Mochan Vidya Balika Uchchatar Madyamik Vidyalaya Samiti
Saraswati Foundation
Saraswati Shiksha Parisad
Sarvangin Mahila Avam Yuva Bal Vikas Samiti
Sarvoday Shiksh Samiti
Sath Sath Foundation Trust
Sewa Trust
Shariyat Educational Cultural And Welfare Society
Shiksha Sewa Trust
Shiv Ganga Seva Samiti
Shiv Gyan Bhartiya Gramodyog Jan Sewa Sansthan
Shree Ajit Singh Uchatar Madhyamik Vidyalay Samiti
Shree Radhe Radhe Charitable Trust
Shri Balaji Foundation
Shri Ramdev Charitable Trust
Shri Sadgur Renewable Energy And Info Tec Research Orgnisation
Shri Saraswati Sanskrit Pathashala Rohi Sant Ravidas Nagar Bhadohi
Shri Shivshankar Sanskrit Mahavidyalaya N P Ghosia Aurai Bhadohi
Shri Shripati Bind Jan Sewa Shiksha Samiti
Shri Vindhya Shakti Samajik Seva Sanstha
Shri Vishvanath U M Vidyalaya Samiti
Shrimati Shanti Devi Educational Welfare Society
Shrisheshnirmalam Seva Samiti
Shyam Micro Sanstha
Smt Vimala Devi Sewa Samiti
Social Vision Foundation
Sri Harimangal Prasad Aspatal Samiti
Sri Jawahar Lal Shikshan Sanstha
Sriram Niranjan Smarak Samagra Vikas Sewa Samiti
Subash Gromodyog Vikas Samiti
Sv Indrawati Devi Siksha Samiti
Sw Mitthu Dubey Educational Society
Swami Vivekananda Shikshan Sansthan
The Psychologists Society
Utthan Foundation
Vardayini Sewa Samiti
Videshi Ucchatar Madyamik Vidhyalay Samiti,
Vidya Devi Sewa Sansthan
Vinayak Foundation Trust
Vishwa Ekikrit Chikitsa Pranali Trust
Ya Varis Sarva Samaj Seva Sanstha
Ya Varis Sarva Samaj Seva Sanstha
Yuvak Vikas Samiti

If your NGO is having programmes related to social issue in this district, just email the name of the NGO with link to it and we will share it free.
Our email : Datacentre@CSRidentity.com
We Salute
Soldiers, Police, Below the poverty line people who live with humanity, Social workers, NGO Founders, Hospital staff, Health care workers, Chemists, Medicines Trees, Forests, Medicinal plants, Rivers , Extinct animals, Homes, Climate, People working in crematorium
Shop from NGOs
NGO Sellers Concept
Following NGOs sell products.
These products are either made by communities or the NGOs act as agents of companies making these products.
The idea is to help communities, NGOs and corporates together.
NGOs can be selling agents
NGOs must be sustainable.
We dont want to loose focus of serving communities but in case of emergency where their funding stops, they must have at least one year survival funds so that the communities they serve do not suffer.
We have experienced that when an NGO working with disabled sales products made by them or NGOs working with women sell products made by them or NGOs selling tribal products or paintings .. its great honour to communities they serve.
And NGOs working in slums or villages or rural areas have great relationship with communities and corporates can think of having them as agents which can order products from corporates.
Its good for corporates who find good agents
Its good for NGOs because they earn
Its good for communities because its at home service

NGOs can keep half the commission they get and pass the other half to communities so that its win win long term situation