Bengaluru Urban District In Karnataka
Corporates
Any corporate interested in having NGOs as selling agents can contact the NGO directly.
But if the corporate wants to put their name plus contact person's name and phone number here, then they have to pay a donation of Rs 2000/- for one district.
Corporates
We plan to donate at least Rs 13433000/-
This amount is not just any amount. Bhau, founder Sanjay Kumud Moreshwar Bapat's father gave house & property to him through a Gift Deed and Government Authorities valued it as Rs 13433000/- and founder's father (Bhau) paid a stamp duty of Rs 403000/-. And after the Gift Deed, Bhau was the first person on earth (Of course many others stepped in) to start postponing death of founder after an almost fatal accident on 28.08.2013.
Founder knows that after death, neither anyone takes anything with them nor do they know whether their son, grand son, daughter in law or so called blood relatives or neighbours came to see them before they left earth.
When any human leaves this world, what remains is their Deeds when they were on earth. So our first target is Rs 13433000/- Of course they will not know the impact of their gifts to world, but that is beauty of life. Enjoy it but leave the world as satisfied human and not one with unending greed of money, property.
Corporates can donate to the NGO
Developed Nation Network Trust by G Pay.
It has 80G and waiting for renewal of FCRA.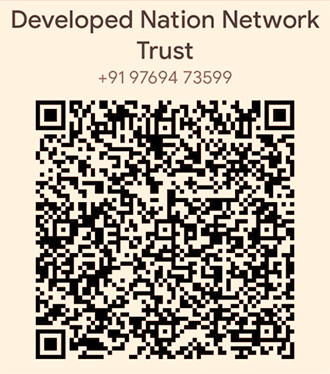 NGOs
NGO Brands
We share NGO Brands statewise in case of India
NGOs in this district
A G N Foundation
A H Memorial Educational Trust
A Hundred Hands
A One Educational Welfare Trust
Aabhari Trust
Aafoundation For Community Development
Aarocare
Aashwasan Foundation
Aatmalaya Academy Of Art And Culture Trust
Abai
Abalashrama
Abhaya Kalpa Foundation Trust
Abhaya Kalpa Technologies Private Limited
Abhigyan Imperative Movements (Aim)
Abhinaya Ranga Kendra
Abundant Life For All Ministries
Academy For Creative Teaching Trust
Academy For Severe Handicaps And Autism( Asha) Charitable Trust
Accept Society
Access
Accion Technical Advisors India
Accpl Training Division A Unit Of Adityaa Call Center Pvt Limited
Ace Charitable Trust
Achalabharathi
Action Aid
Action For Community Organisation Rehabilitation And Development
Action Foundation For Social Services
Action On Disability And Development India
Actionaid Karnatak Projec
Acts Group Of Institutions
Acts Of Hope
Adamya Rangasamskruti Trust
Adarane Trust
Adarsha Hindividyalaya
Aditya Educational Trust
Admar Mutt Education Foundation
Advaita Foundation
Advaya Community Trust
Agape Bible Fellowship
Agape Ministries India
Agastya International Foundation
Agni Raksha
Ahp-Action On Hunger & Poverty Foundation
Ahum Trust
Aic Ncore Developmental Impact Foundation
Aif Of Motor Vehicle Department Technical Executive Officers Association
Aina Trust
Akhila Karnataka Prani Daya Sangha
Akila Bharatha Mahila Seva Samaja
Akka Mahadhivi Seva Samaja
Akshadhaa Foundation
Akshara Foundation
Akshaya Education International Trust
Akshaya Trust
Akshaya Trust
Al Aman Educational And Welfare Trust
Al Ameen Educational Society
Al Hyder Women Welfare Society
Al Khamar Educational Society
Al Maun
Al Yameen Educational Charitable Trust
Alamba Charitable Trust
Al-Furqan Trust
All India Biblical Catechetical Liturgical Centre
All Nations Worship Center
Allamaprabhu Education Trust
Allard Educational Society
Allen Charitable Trust
Alliance Francaise Of Bangalore
Alpha Charitable Trust
Alpha Children Ministry
Alt Training College Foundation
Alternative Law Forum
Amara Jyothi Educational Trust
Amara Prema Charitable Society
Amara Sathvika Social Education Trust
Amba
Ambassadors For Christ India
Ambika Mahila Sangha
Ame Foundation
Amici Diraoul Follereau
Ammanni Charitable Trust
Amogh
Anahat Foundation
Ananda Social And Educational Trust
Ananya Kala Niketana(R)
Ananya Trust
Anarghyaa Foundation
Andal Care
Aneka
Anekal Jesuit Educational & Charitable Society
Anekal Rehabilitation Education & Development Centre
Anga Karunya Kendra
Angels Garden
Angels Orphanage
Animal Rights Fund
Anisha
Annamaya Educational And Charitable Foundation
Annapoorna Charitable Trust
Annonymous Indian
Anugraha Charitable Trust
Anurenjana Kendra
Apj Kalam Social Welfare Organisation
Apof Organic Certification Agency
Apostolic Carmel Seva Kendra
Apostolic Church Of God (Regd)
Apr Charitable Trust
Arabic Academy
Arcastine Foundation
Archdiocesan Board Of Education
Archdiocese Of Bangalore
Arivu Social Development Trust
Arogya Mandira Trust
Arogya World India Trust
Arogyadhama Trust
Arpana Foundation
Artilab Foundation
Arunodaya Intigrated Community Development Society
Arunodaya Kala Sangha (R)
Asare Charitable Trust
Asare Foundation (R)
Asha Charitable Trust
Asha Foundation
Asha Kiran Trust
Asha Kirana Seva Trust
Ashadeep Organisation Of Social Services
Ashalaya
Ashoka Trust For Research In Ecology And The Environment
Ashraya
Ashraya Charitable Trust
Ashraya Karnataka Rajya Stree Shakti Sanghada Sevashram Trust
Ashraya Seva Trust
Ashraya Social Welfare & Rehabilitation Centre
Ashwini Charitable Trust
Ashwinis Sports Foundation
Asian Christian Academy Of India
Asian Institute For Rural Development
Asian Women And Childrens Centers
Asirvanam Benedictine Society
Assembly Of Religious Brothers India
Assisted Living For Autistic Adults
Association For Social Health In India Karnataka
Association For Voluntary Action And Services
Association Of Biotechnology Led Enterprises
Association Of Green Industries And Services
Association Of Women Entrepreneurs Of Karnataka
Astha
Astha Shakti
Athani Charitable Trust
Athira Edutech Foundation
Athma Shanthi Special Education Trust
Atma Darshan Yogashram
Atrimed Health Care Foundation
Ats Of Mercy
Auxilium Navajeevana Society
Ayathi Trust
Ayurveda Academy
Azim Premji Foundation
Azim Premji Foundation For Development
B M Sreenivasiah Educational Trust
Baalemane Trust
Baba Saheb Ambedkar Cetenary Celebration Committee Trust
Bal Mangal Educational Trust
Bala Yesu Bhavan
Balaji Matha
Balajothi Centre For The Disabled
Bangalore Auxilium Society
Bangalore Baptist Church Trust
Bangalore Baptist Hospital
Bangalore Biotech Labs Pvt Ltd
Bangalore Cantonment Rotary Trust
Bangalore Carmel Society
Bangalore City Mission
Bangalore Club For Kathakali And The Arts
Bangalore Community Services Trust
Bangalore East Rotary Trust
Bangalore Film Society
Bangalore Freemasons Society
Bangalore Hospice Trust
Bangalore Indiranagar Rotary Trust
Bangalore International School Trust
Bangalore Kidney Foundation
Bangalore Medical Services Trust
Bangalore Multipurpose Social Service Society
Bangalore North Education Society
Bangalore North Rotary Trust
Bangalore Rural Educational And Development Society
Bangalore School Of Music And Fine Arts
Bangalore Schools Sports Foundation
Bangalore Shanti Sadhana Society
Bangalore Speech And Hearing Trust
Barat Society
Basava Samithi
Basic Needs India
Basics Foundation
Basileia Charitable Trust
Beacon Baptist Ministries Trust
Belaku Eye Foundation
Belaku Shishu Nivasa
Belaku Trust
Bellur Krishnamachar & Seshamma Smaraka Nidhi Trust (R)
Benaka
Benaka Makkala Nataka Kendra
Bengaluru Central University
Bengaluru Hi Tech Educational & Charitable Trust
Berachah Charitable Foundation
Best Practices Foundation
Bethany Education Board
Bethel Assembly Of God Church International Worship Centre
Bethel Foundation
Bethel Gospel Team
Bethesda Assembly Church
Bethesda Joy Charitable Trust
Bethesda Ministries Of India
Bethesda Mission
Bethesda Prophetic Ministries
Bhaavasagara
Bhadra Homoeopathic Forum
Bhagawan Sri Ramana Maharshi Research Centre
Bhagya Trust
Bhagyashree Foundation Trust
Bharat Rural Economic And Educational Development Trust
Bharateeya Educational And Charitable Trust.(R)
Bharath Khadi Gramodyoga Sangha
Bharatha Matha Education Society(R)
Bharatheeya Ithihasa Sankalana Samiti, Karnataka
Bharatiya Adim Jati Sevak Sangh Kengeri Branch Karnataka
Bharatiya Kannada Pratisthana
Bharatiya Samskriti Vidayapith
Bharatiya Sanskriti Foundation
Bharatiya Seva Samsthe
Bharatiyia Grameen Mahila Sangh
Bhavsar Kshatriya Women And Children Trust
Bhoomika Nest
Bhoomika Social Welfare Association
Bhuvaneshwari Seva Samsthe
Bhuvaneshwari Vokkaligara Mahila Sangha
Bibi Fathima Educational Trust
Bible Believing Churches & Missions
Biblical Baptist Institutions Incorporated
Bijapur Jesuit Educational And Charitable Society
Billiards And Snooker Federation Of India
Billy Graham Evangelistic Association
Biome Environmental Trust
Birur Educational Foundation For Children
Biswa Gouri Charitable Trust
Black Lotus Peace Foundation
Blessing Home
Blr Calling Foundation
Bms Hospital Trust
Bmst Stem Cell Donor Registry Foundation India
Board Of Theological Education Of The Senate Of Serampore College
Born Foundation
Borromeo Society
Bosco
Brahmatantra Swatantra Parakala Swamy Seva Trust
Brickwork Foundation
Bridgettine Welfare Centre
Bright International Educational Trust
Btm Cultural Academy
Buzz India Trust
Bvg Educational Trust
C M R Jnanadhara Trust
C.N.Rajan Memorial Charitable Trust
Cad Ms Trust
Cadmaxx Solutions Education Trust
Calvary Chapel Trust
Canara Bank Relief And Welfare Society
Capuchin Friars Service Soceity
Care Home
Care Shelter Public Charitable Trust (Cspct)
Care Trust
Carers Worldwide India
Careworks Foundation
Carmel Jyothi Trust
Carmel Seva Sangha
Carmelaram Theology College
Carmelite Convent
Catholic Health Association Of Karnataka (Chaka)
Cbci Society For Medical Education
Cbm India Trust
Cbr Network
Celestial Charitable Trust
Center For Study Of Science Technology And Policy
Centre For Budget And Policy Studies
Centre For Cellular And Molecular Platforms
Centre For Development And Empowerment Of Women Society (Cdew Society)
Centre For Global Leadership Development
Centre For Human Genetics
Centre For Incubation Innovation Research And Consultancy
Centre For Interdisciplinary Studies In Environment And Development
Centre For Law And Policy Research Trust
Centre For Non-Formal & Continuing Education
Centre For Social Action
Centre For Social Action Trust
Centre For Sustainable Development Bangalore
Centre For The Study Of Culture And Society
Centre For Urban And Rural Development Society
Centre Of Psycho Oncology For Education And Research
Chaitanya Foundation
Chaithanya Arts Academy
Chandra Vidya Foundation
Charlies Animal Rescue Centre
Chauson Education Society
Cherysh Trust
Cheshire Disability Trust
Cheshire Homes India Bangalore Unit
Chethana
Chethana Education Society
Chevalier Charitable Society
Chikkanna And Ramakka Seva Samsthe
Child Empowerment Foundation India
Child Evangelism Fellowship Of India
Child Fund Association
Childfund International Usa
Childrens Education Society
Childrens Lovecastles Trust
Children's Rights And Sustainability Trust
Childwelfaretrust
Chilume Social Service Society
Chinmaya Seva Samsthe
Chinmayee Trust
Chintalapalli Krishnamurthy Sangeetha Academy
Chirantan Trust
Choe Khor Sum Ling
Choravilla Joseph Development Foundation
Christ College Society
Christ The King Ministries Of India
Christ The Light Trust
Christ University
Christel House India
Christhu Krupa Fellowship
Christian Church In India
Christian Cooncil For Financial Accountability
Christian Fellowship Centre
Christian Institute For The Study Of Religion And Society
Christian Reformed Fellowship Of India
Christoffel Blindenmission Saro (S) Bangalore
Chronic Foundation
Church Of Christ Home(For Needy Children& Wdows)
Church Of Edification
Church Of South India Karnataka Central Diocese
Church Of South India Vishranthi Nilayam
Churches Council For Child And Youth Care
Citizens Alliance For Rural Development And Training Society
Citizens Education Society (Regd)
Civil Initiatives For Development & Peace -India
Claret Bhavan Novitiate House Of The Claretian Congregation
Claretian Seminary
Claretian Society For Integral Human Development
Cmca
Cmgs International Trust
Collective Good Foundation
Comfort Of Jesus Ministries
Comforting Ministries
Commonwealth Veterinary Association
Community Development Foundation
Compassionist Sisters Servants Of Mary Society
Concern For India Foundation
Concern For Urbanand Rural Development Society Curds
Concerns Universe Foundation
Congregation Of Our Lady Of The Mission
Congregation Of The Apostolic Carmel
Congregation Of The Carmelite Sisters Of St.Teresa
Congregation Of The Sacred Heart Of Jesus Of Betharam
Consortium For Dewats Dissemination Society
Consortium Of Electronic Industries Of Karnataka
Consumer Care Society
Consumer Rights Education And Awareness Trust
Council Of Catholic Women Of India
Creative Cultural Youth Academy
Crescent Trust
Cri Brothers Institute
Cricket Association For The Blind In India
Crossroads
Cuddapah Sri Paramahamsa Sachidananda Yogeeswar Mathalayam
Current Science Association
Dada Amar Charitable Trust
Daksh Society
Daksha Shah Charitable Trust
Dakshin Foundation
Dakshina Kannada Vishwa Brahmana Sangha
Daresa Foundation
Daughters Of Divine Providence Bangalore
Daughters Of Hope Project
Daughters Of St. Francis De Sales
Daughters Of St. Mary Of Providence
Daughters Of St.Paul
Daya Nilaya
Dayamayi Seva Trust
Dayananda Sagar Entrepreneurship Research And Business Incubation Foundation
Dayananda Sagar University
Deejay Agri Support Foundation
Deena Seva Sanga
Deepa Academy For The Differently Abled
Defy Educational Organisation
Desi Power Foundation
Desitrust
Devamatha Educational Foundation
Devanga Sangha
Dhaatu
Dhanvanthri Hospital Society
Dharamaram College
Dharithree
Dharma Chakra Trust
Dharmagiri Social Welfare And Development Trust
Dharmaram Vidya Kshetram
Dhrushya
Dhwani Foundation
Dhwani Trust
Dhyana Peeta Charitable Trust
Didier Charitable Trust
Dimensions Centre For Child Development
Dinanilaya Social Centre
Dinesh Joshi Foundation
Dip Rural Educational Board & Charitable Trust
Disability Ngos Alliance (Dna)
Divine Educational And Charitable Trust
Divine Light Charitable Trust
Divine Light Ministries
Divine Light Trust For The Blind
Divya Downs Development Trust
Divya Shanthi Christian Association
Divya Shanthi Trust
Divyajyothi Seva Trust (R)
Diya Foundation Bangalore
Dollar For Collar
Dominican Educational Society
Don Bosco Yuva Prachodini
Dr R Arunachalam Charitable Trust
Dr Sri Ja Cha Ni Rastriya Seva Peeta
Dr. B.R. Ambedkar Bangalore Youth Social & Culture Welfare Trust
Dr. G. P. Shetty Agri. Research And Educational Trust
Dr. Prem Nath Agricultural Science Foundation
Dream A Dream
Dream India Network
Dream School Foundation
Drishti Art Foundation
Drushya Ranga Kala Sangha
Dudh Walla Foundation
Durga Lok Foundation
Dwara Charitable Trust
Echo Prathidwani
Eco Foundation For Sustainable Alternatives
Eco Watch
Eduquity Career Technologies Pvt Ltd
Efcum India
Egovernments Foundation
Elbethel Educational And Charitable Trust
Elegant Charitable Trust
Elizabeth Integrated Devlopment Charitiable Trust
Elson Seva Trust
Embassy Of Hope
Emerging Young Leaders India
Emmanual Education Trust
Empacs Charitable Society
End Time Full Gospel Harvesters India
End Time Harvest Ministries
Endtime Gospel Team Of India Trust
Enfold Proactive Health Trust
Engineering Manufacturer Entrepreneurs Resource Group
Enlighten Educational And Charitable Trust
Environment Support Group
Equitable Tourism Options
Eric Wilfred Franks
Eshwar Education And Welfare Socitey
Essilor Vision Foundation
Estah Society
Eternal Foundation Trust
Eternal Light Ministries
Eunice Educational Trust
Evangelical Trust Association Of South India
Exon Education Trust
Fair Climate Foundation
Faith Foundation
Faith Trust
Faizal And Shabana Foundation
Family Development Services
Far East Broad Casting Association Of India
Farohar Global Foundation
Fathima Handicap Welfare Trust
Feeding Bangalore Foundation
Fellowship With Mentally Retarded India
Fides India Society
Fields Of View Society
Flora Charities
Florence Foundation
Flute N Feet Academy
Foundation For Advanced & Creative Education
Foundation For Education Excellence
Foundation For Education For All
Foundation For Educational Innovations In Asia
Foundation For Excellence India Trust
Foundation For Innovation And Social Entrepreneurship
Foundation For Ramayana Consciousness
Foundation For Research In Health Systems
Foundation To Aid Industrial Recovery
Fourth Wave Foundation
Franciscan Sisters Of All Saints
Franciscan Sisters Of Assisi Educational And Charitable Society
Franciscan Sisters Of Mary Karnataka
Franciscan Sisters Of Mary Palmaner
Franciscan Sisters Of St. Elizabeth
Franciscan Sisters Of The Immaculate
Freedom Foundation
Freudenberg Tsunami Victims Rehabilitation Foundation
Friend In Need International Charitable Trust
Fsl India Field Services And Intercultural Learning
Full Circle Trust
Full Gospel Church In India
Functional Vocational Training And Research Society
Fundamental Action & Research Foundation
Future Foundation Charitable Trust
G D A Foundation
Gaanaganga
Gandhi Education Society
Gardencity Jeevitha Anathashrama
Gateway International
Gateway Ministries
Gayana Ganga Trust (R)
Gear Foundation
Gejje Hejje Ranga Tanda
Genetic Resource Ecology Energy And Nutrition Foundation
Geographical Indication Kisan Trust
Geological Society Of India
Gerizim Rehabilitation Trust
Ghousia Indal And Engg Tr
Giftabled Foundation
Gilead Ministries Trust
Gilgal Charitable Trust
Giovannean Charitabletrust
Gita Krishnamurthy Trust
Global Action To Generate Awareness On Rural Urban Integration For Natures
Global Concerns India
Global Ieee Institute For Engineers
Global Incubation Services
Global Leadership Ministry
Global Welfare Foundation
Global Welfare Mission Foundation
Global Womans Protection Association
Gloria Educational And Charitable Trust
Glory Foundation
Gnana Jyothi Trust
Gokula Education Foundation ( Medical )
Gokula Education Foundation Engineering
Good Neighbors India
Good Shepherd Society
Good Will Educational Trust
Goodwill International Association
Gopalan Foundation
Gosports Foundation
Grace Batist Church Trust
Grace Fellowship Charitable Trust
Grace Gospel Mission
Grace Reformed Trust
Grace Rural And Urban Development Foundation
Great Joy In The City Ministries
Green Mountain Educational And Charitable Trust
Groundreality Trust
Growth In Fraternity Trust
Gsss Charitable Foundation
Gt Foundation
Gualbert Bhavan
Guru Hindi Shikshana Mandir
Gurukul Educational Charitable Trust
Happy Horizons Trust
Harvest International Ministries
Hasiru Dala
Have A Heart Foundation
Hcg Foundation
Head Held High Foundation
Headstreams
Healthy India Charitable Trust
Heart Of Jesus Society
Help A Child And Woman Of India
Help Child India Foundation
Helping Hand Trust
Helping Hand Welfare Society
Helping Hands India
Helping Heart Trust
Helpline Charitable Trust
Helps International
Hemophilia Society Bangalore Chapter
Heritage Charitable Trust
Hexagon Foundation For Beekeeping And Rural Development
Hindu Seva Prathisthana
Hippocampus Reading Foundation
His Grace Educational Trust
Holy Berachah Ministries
Holy Spirit Ministries
Holy Trinity Ashram Trust
Hombaale Prathiba Ranga
Honganasu Charitable Foundation
Hoovinahole Prathistana
Hope Foundation
Hope Foundation For Innovative Research Science And Technology
Hope India Mission And Institute
Hope Ministries
Hope Recovery Centre
Hope Springs
Hope Trust
Horatti Foundation
Hosa Kirana Charitable Society
Hosanna Outreach Empowerment Trust
Hothur Foundation
Hsi Charitable Trust
Human And Institutional Development Forum
Human Care Foundation
Human Development Foundation
Human Rights Mission
Human Rights Public Council Of India Trust
I Create India
I D Jalan Charitable Trust
I Monetary Advisory Council
Icra (Institute For Cultural Research And Action
Id Care Trust
Idbr
Idia Charitable Trust
Idl Foundation
Idpms
Ignite Hopes Foundation
Iit Alumni Centre Bengaluru
I'm Every Woman
Impact Charitable Trust
Impact International
India Coffee Trust
India Community Development Service Society
India Education Collective
India Electronics & Semiconductor Association
India For Christ Ministries
India Foundation For Humanistic Development
India Foundation For The Arts
India Gospel League
India Health Action Trust
India Heritage Foundation
India Innovation Research Center
India Literacy Project
India Missions Association
India Rising Trust
India Solidale Italia Solidale
Indian Academy Education Trust
Indian Baptist Society
Indian Cancer Congress 2017
Indian Centre For Social Transformation
Indian Christian Social Welfare Trust
Indian Church Of The Nazarane
Indian Evangelical Mission
Indian Foundation For Safe Blood
Indian Good Samaritan Ministries
Indian Heritage Cities Network Foundation
Indian Housing Federation
Indian Institute For Human Settlements
Indian Institute Of Plantation Management
Indian Institute Of Spirituality
Indian Instt Of Mgmt Blore
Indian Leadership
Indian Music Experience Trust
Indian Pencak Silat Federation
Indian Social Institute
Indian Social Service Trustr
Indian Society Of Soil Biology And Ecology
Indian Software Product Industry Round Table Foundation
Indias New Group For Raichurs Integrated Development(Ingrid)
Indienhilfe
Indus Charity
Indus Edutrain Pvt. Ltd
Indus Tree Crafts Foundation
Indus Trust
Indus Weld Tech Trust
Infant Jesus Trust
Infosys Foundation
Ing Vysya Foundation
Inga Health Foundation
Initiatives For Development Foundation
Inner Eye Foundation
Innovation And Science Promotion Foundation
Innovative Leisure & Entertainment Private Ltd
Institute For Advanced Research In Science
Institute For Applied Research And Innovation
Institute For Social And Economic Change
Institute For Youth And Development
Institute Of Bioinformatics And Applied Biotechnology
Institute Of Bioinformatics Trust
Institute Of Public Helth
Institute Of Sisters Of Mary
Integrated Project For Development Of People
Interactive Technology Software And Media Association
Interdev India
International Agency For Rehabiliation India
International Arts And Cultural Foundation
International Forum For Anti Corruption
International Institute Of Information Technology Bangalore
International Ministries Fellowship India
International Mudaliar Pillaimar Association Charitable Trust
International Services Association
International Society For Krishna Consciousness
Iqra Education Foundation Trust
Ish Kripa Trust
Iskcon Charities
It For Change
Iyer Educational Trust
Jagruthi
Jai Shivshakti Health & Education Foundation
Jain University
Jain University Incubation Centre
Jamia Nurul Uloom Educational And Charitable Trust
Jamia Rasheedia
Jan Shikshan Sansthan Bangalore
Jana Samanyara Charitable Trust
Jana Sene Foundation
Jana Seva Samruddi Education Trust
Jana Urban Foundation
Jana Urban Space Foundation
Janaagraha Centre For Citizenship And Democracy
Janakalyana Trust
Janarupam
Janasahayog
Janasamskruthi Foundation
Janatha Seva Foundation
Jane India Mission
Janodaya
Japan Association Of Friendship Society Bangalore
Jaya Karnataka Mahila Sangha
Jaya Organic Yojana
Jayamma Charitable Trust
Jayanagar Sthree Samaja Trust
Jayvelu Education And Social Service Trust
Jeevan Foundation
Jeevan Pragathi Trust
Jeevana Social Service Society
Jeevodaya Institute For Social Awareness Research And Human Development
Jesus Grace Mission
Jhatkaa Org
Jmj Education Society
Jnana Deep Charitable School Trust
Jnana Deepa Trust
Jnana Mandira
Jordan Trust
Jude Felix Hockey Academy Charitable Trust
Junglescapes Charitable Trust
Junior Achievement India Services
Jyothi Seva Society Franciscan Sisteres Servants Of The Cross
Jyothirgamaya Blind Forum
K C Reddy Sarojamma Welfare Foundation
K G N Foundational Trust
K K Educational And Charitable Trust
K K Educational Trust (R)
K. S. Seetharamaiah Parvathamma Charitable Trust
Kaishiki Natyavahini
Kala Kadamba Art Centre
Kala Sampada-Kendra For Fine Arts
Kala Sourabha Foundation
Kalagangotri
Kalam Science Foundation India
Kalavidara Balaga Trust
Kalike
Kamadugha Trust
Kanasu Educational Trust
Kannadi
Karnataka Cancer Society
Karnataka Education Trust
Karnataka Evangelistic Association
Karnataka Fransalian Society
Karnataka Handicapped Welfare Association
Karnataka Health Promotion Trust
Karnataka Hindi Prachara Samithi
Karnataka Holy Cross Sisters Society
Karnataka Itihasa Academy
Karnataka Jesuit Educational Society
Karnataka Kala Darshini
Karnataka Lion Charitable Trust
Karnataka Mahila And Childrens Welfare Charitable Trust
Karnataka Mahila Hindi Seva Samithi
Karnataka Mahila Yakshagana
Karnataka Maranatha Pentecostal Church
Karnataka Minoritees Glory Trust
Karnataka Navachetana Kalaniketana
Karnataka Organic Forming Producers Society
Karnataka Parents Association For Mentally Retarded Citizens
Karnataka Pradesh Arya Idigara Sangha
Karnataka Pradesha Banjara (Lambani) Seva
Karnataka Rajya Bennuhuri Apagatada Angavikalara Sangha
Karnataka Rajya Vijnana Parishat
Karnataka Rajya Vokkaligara Directory Trust
Karnataka Regional Organisation For Social Service
Karnataka Rehabilitation Centre
Karnataka Samarpana Educational Society
Karnataka Sengunthar Sangam
Karnataka Shubhasamachara Mandali
Karnataka Shuddhikarana Vedike
Karnataka Small Scale Industries Association
Karnataka Spiritual Welfare Trust
Karnataka State Council For Child Welfare
Karnataka Suvartha Seva Samsthe
Karnataka Veerashaiva Vidyabhivrudhi Samsthe
Karuna Domestic Workers Welfare Trust
Karuna Niwas Trust
Karunalayam Charitable Trust
Kasturi Trust
Katherina Kasper Social Services Society
Kaushalya Vikas Kendra
Kaustuba Pratistana
Kaveri Education Society
Kayaka
Kerala Samajam (R) Bangalore
Kerygma
Keshava Kripa Samuardhana Samithi
Khykha Foundation
Kidney Clinics And Research Centre International
Kinkini
Kirubai Project
Kishore Yoga Kendra Trust
Kollegal Girls Home Trust
Kote Foundation
Kridalaya
Kripa Revival Centre
Kripa Trust
Krupa Society
Kuchipudi Parampara Foundation
Kumar Govind Foundation And Charitable Trust
Kuruhin Shetty Kendra Sangha
Kutumba
Kutumbha Jyothi Trust
Lancer Tech And Assessing Bodies Private Limited
Latter Glory Ministries Trust
Lavigerie
Laxminarayana Chadaga Memorial Charitable Trust
Layaabhinaya Cultural Foundation
Legal Life Foundation
Lets Do Some Good Foundation
Life Challenge Trust
Life In Jesus Christ Prayer Mission Trust
Life Needs Charitable Trust
Life To India Chritable Trust
Lift Charitable Trust
Lifting Hand Foundation Charitable Trust
Limra Welfare Educational Trust
Lions Club Of Bangalore West Trust
Lis Academy
Little Flower Service Society
Little Sisters Of Jesus
Little Sisters Of The Poor
Living Hope Association
Living Word Outreach
Lokayana Cultural Foundation
Look Unto Jesus Ministries
Love In Action Charitable Trust
Lovedale Foundation
Maarga
Maha Bodhi Society
Mahabodhi Maitri Mandala
Mahadevpura Parisara Samrakshane Mattu Abhivrudhi Samiti
Maharani Lakshmi Ammanni College For Women
Mahati Trust
Mahatma Gandhi Vidya Peetha Trust
Mahila Dakshata Samiti Karnataka
Mahila Seva Samaja
Make A Difference
Makkala Jagriti
Man And Biosphere Conservation And Development Foundation
Management Academy For Digital Economy In India
Manav Charities
Manavooru Charitable Trust
Manna
Manollasini Trust
Manomay Foundation
Manonandana
Mantra Social Services
Maranatha Theological And Educational Trust
Margadarshi Society For Rural Development
Margadarshi The Association For Physically Challenged
Maria Seva Sangha
Marianist Trust
Marss-K Organisation For Social Development
Mary Francis Royans Christ's Charitable Trust
Marys Orphanage
Mathru Educational Trust For The Blind
Mathru Foundation
Mathrushree Mano Vikasa Kendra
Mayura Vinayaka Seva Trust
Mazumdar Shaw Medical Foundation
Mcisirc Methodist Educational Society
Medical Mission Secular Institute
Medico Pastoral Association
Meenakshi Kalavrundha
Meerabo Global Foundation
Megha Welfare Association
Meghavath Charitable Trust
Meghshala
Messiah Ministries
Mhr Foundation Of India
Miracle Manna Ministry
Mithilasmita Trust
Mithra Foundation
Mitra Jyothi
Mizpah Ministries
Mobility India
Model Educational Trust
Mokshadhayini Mallaiah Charitable Trust
Montfort Fathers Society
Montfort Sisters
Moogambigai Charitable And Educational Trust
Moretrust
Mother Of Good Health
Mother Tekla Charitable Trust
Motivation India
Mount Carmel Educational Trust
Movement For A Better World
Movement For Alternative And Youth Awareness
Msramaiah University Ofapplied Sciences
Mtc Global Trust
Munnade Social Organisation
Munnarakkunnu Trust
Must Research Club
Muthukhotey Educational Society
My Dream India Trust
My Shah
Mysore Hindi Prachara Parishad
Mysore Notre Dame Sisters Society
Mysoregreen
Mythri Sarva Seva Samithi
Mythri Speaks Trust
N M Academy
Naari Foundation
Nadoja Dr G Narayan Prathisthan
Nagarjuna Education Scoeity
Namma Mitra Foundation
Narayana Hrudayalaya Charitable Trust
Narayana Hrudayalaya Foundation
Narayana Nethralaya Foundation
Narayanaamruta Medicare Foundation
National Academy For Learning (Nafl Trust)
National Council For Skill Development And Professional Education Mission
National Education Foundation
National Education Society Of Karnataka
National Educational Trust
National Ent Hns Advancement Trust
National Entrepreneurship Network
National Institute Of Advanced Studies
National Law School Of India University
Nature Greentech Sai Foundation
Natya Institute Of Kathak & Choreography
Natya Kusumanjali Samskruthika Vedike
Natya Sarswathi Shanthala Kannada Kala Sangha
Natyadarpana
Natyanjali Trust
Nav Prabhuthi Trust
Nava Sporthi Kendra Trust
Nava Yuva Sene
Navajyothi Seva Sangha
Navodaya Trust
Navya Disha
Nayana Foundation
Nayonika Eye Care Charitable Trust
Need Trust
Needs Charitable Trust
Needy Heart Foundation
Neerekshe
Neev Trust
Nelindco Foundation
Neravu Foundation
Nest Worldwide Ministries
Nettur Technical Training Foundation
New Ark Mission Of India
New Creation Ministries Trust
New Entity For Social Action
New Generation Education Society
New Grace Charitable Trust
New Horizon Educational And Cultural Trust
New Life Computer Institute
New Mighty Grace Charitable Trust
Ningappa Kalachannamma Charitable Trust
Nirikshea Charitable Trust
Nirmaan Society
Nischinth Social Welfaretrust
Nisvartha Foundation
Nivasa
No Hungry Child
Noble Cause Foundation
Noble Institute Of Education Society
Nomita Chandy Memorial Trust
Norbertine Fathers
Novo Nordisk Education Foundation
Nritarutya
Nrithyanjali
Nutrust
Oasis India
Oceanik Education Society
Om Charity India Foundation
Om Seva Kendra
Om Shantidhama Charitable Trust
Om Shantidhama Veda Gurukula Educational Society
Om Sharavana Baba Seva Foundation
Om Sri Shankara Mutt Trust
Omashram Trust Old Age Care
Ondede
One Billion Literates Foundation
Open Air Canpaigners
Open Source Pharma Foundation
Operation Barnabas Trust
Operation Harvest
Opportunity Foundation Trust
Orange Educational Society
Orthodox Golden Jubilee Charitable Trust
Osaat Educational Charitable Trust
Our Lady Of Mercy Sab Trust
Outreach Association Of Volunteers For Rural Development
Paadhai
Pachajanya Vidya Peetha Welfare Trust (Dr. Ambedkar Institute Of Technology)
Padmalaya Dance Foundation
Padmashree Charitable Trust
Padminipriya Nruthya Kala Academy
Panchabhuta Conservation Foundation
Panditaratna A Shanthiraja Shastry Trust
Parabrahm Mission
Paramahamsa Sustainable Livelihoods Foundation
Parankushachar Institute Of Vedic Studies
Paraspara Trust
Parihar
Parijnan Foundation
Parinaam Foundation
Parisara Abhivrudhi Foundation
Partners In Justice Concerns
Patashala Trust
Pavitra Hrudaya Sangha
Payana
Pearl Health And Educational Charitable Trust
Penguin Educational Trust
People Tree Foundation
People4people
Peoplepro Foundation
People's Education Society
Peoples Power Collective
Peoples Trust
Percussive Arts Centre
Phaladaayi Foundation
Philadelphia Baptist Mission
Pipal Tree
Planting New India
Pontifical Mission Organisation Holy Childhood Pontifical Missionery Union
Poorna Prajna Vidya Peetha Prathisthana
Poornasudha Cancer Foundation
Poussepin Alliance For Social Service
Pragathipara Seva Trust
Praise The Lord Bethel Church
Praise The Lord Mission Trust
Praja Trust
Prajayatna
Prakruthi
Prarambha
Prasanna Trust
Prashanth Foundation
Prasiddha Foundation Ac Diaf
Pratham Books
Prathibharanga
Pratyusha Public Charitable Trust
Praxis
Prayer Life Seminar India
Prayoga
Prayogasheelara Trust
Precious Blood Missionaries
Preksha Seva Association
Prema Mandira Canossa Society
Premalatha Foundation
Premier Lotus Foundation
Premsagar Seva Sadan
Prerana
Prerana Foundation (R)
Prerana Resource Centre
Presidency Foundation Trust
Prison Fellowship Bengaluru
Project Rescue Foundation
Promotion Of Oppressed Communities Education And Economic Development
Provincial Congregation Of Sisters Of St. Charles
Provision India
Pruthvi Health And Educational Charitable Trust
Pushkara Centre For Performing Arts
Pushpavana Charitable Trust
Quarry Workers And Rural Integrated Development Society
Quavac India Foundation For Research And Sustainable Development
Quest Alliance
Quiet Corner India
R K S Educational Society
R L Jalappa Academy
R.K.Foundation
R.Y.108.Shri.Gunadharnandi. Munimaharaj.C&E.Trust
Radiant Life Charitable Trust
Raj Prakash Trust
Rajanet Yegneswaran Charitable Trust
Rajatadri Seva Aashram Trust
Raksana Charitable Trust
Rakshak Trust
Ramakrishna Math Bengaluru
Ramakrishna Math Halasuru
Ramakrishna Mission
Ramakrishna Paramahamsa Educational Trust
Ramana Maharshi Centre For Learning
Ranga Samaja
Ranga Suggi Trust
Rangabharana Kala Kendra
Rangde.Org
Ranjini Kalakendra
Ranjini Kalakendra
Rao Bahadur Dharmapravartha Gubbi Thotadappa Charities
Rashtreeya Sikshana Samithi Trust
Rashtrotthana Parishat
Ravindra Mitra Mandli
Rays Of Love Trust
Rays Of Peace Trust
Rbs Religious Association
Reach Trust
Reaching Hand
Reaching You Trust
Reachout Ministries International
Reap Benefit Foundation
Rehabiliatation Aids Workshop By Women With Disability
Rejuevenate India Movement
Research And Training Centre For Rural Community Development
Research Education And Development Read Foundation
Resource Optimization Initiative
Respect For Life India
Restoration Hands Charitable Trust
Restores Bride's Revivial Ministries
Reuel Foundation
Revelation Educational Trust
Rezorce Research Foundation
Righteous Sun Charitable Trust
Riosh Technologies Pvt Ltd
Rishi Foundation
Rock Fund
Rooman Technologies Pvt Ltd
Rotary Bangalore West Trust
Rotary Charitable Trust
Rotary Club Of Bangalore Charitable Trust
Royale Concorde Educational Trust
Rrk Foundation
Rural Area Development Trust
Rural Organisation Social And Educational Society Regd
Ruva Foundation
S A & B Memorial Charitable Trust
S A Samad Educational Trust
S P Chaya Green Foundation
S S B Eucation Society
S S J Samskruti Pratisthana Trust
S S S Trust
S.B. Educational Foundation
Saahas
Saai Jnana Aanandam Foundations
Saamagaana Sangeetha Sabha
Sacred Heart Salesian Sisters Society
Sacred Hearts Fathers Society
Sacred Trust
Sada Sahaya Sangham
Sadhana
Sadhana Sangama Trust
Sadupadesha Vidyalaya Trust
Safal Trust
Safety Monitor Research Foundation
Sahabalve
Sahaja
Sahaja Samrudha
Sahasra Deepika International For Education
Sahayaka Social Service Society
Sai Arts International
Sai Chaithanya Charitable Trust
Sai Charan Service Trust
Sai Gokula Seva Samsthe
Sai Krushna Charitable Trust
Sai Shankar Loving Lights Trust
Sai Teja Charitable Trust
Saigram Charitable Trust
Saint Tact School And Gousia Madarasa
Sairam Women Welfare Charitable Foundation
Sakshi India Centre
Sakti
Sal Sabeel Educational Trust
Salesian Trust
Salve Regina Charitable Trust
Sama Foundation
Samagra Angavikalara Seva Samsthe
Samaja Seva Samithi
Samaritans Trust
Samarthanam Trust For The Disabled
Samastharu
Samatvam Science And Research For Human Welfare Trust
Sambhav Foundation
Sambram Charitable Trust
Sambrama
Samiksha Foundation - Caring For Children With Cancer Trust
Sampark
Sampoorna
Sampurna
Samraksha
Samrat Charitable Trust
Samridhdhi Trust
Samruddhi Charitable Trust
Samsa Theater
Samskrita Bharati
Samudra Foundation
Samuel Charitable Trust
Samuha
Samvada
Samvedana Mahila Samaja Bengaluru
Samzita Educational Foundation
Sanathana Kalakshethra
Sanathya Foundation
Sanchari Theatre
Sanchaya Nele
Sandesh
Sandhya Deepa
Sangachadwam Trust
Sangama
Sangamitra Rural Financial Services
Sangeetha Rathna Vidyalaya
Sangeetha Sambhrama Trust
Sanjali Centre For Odissi Dance
Sanjog Charitable Trust
Sankalp India Foundation
Sankalpa Child Labour Rehabilitation Society
Sanskriti
Santhavana Mahila Abhivruddi Samsthe
Santhosa Samsara
Sanyasa Institute Of Consecrated Life
Sapthagiri Educational And Charitable Trust
Sapthak
Sapthami Trust
Sarakki Educational Society
Saraswathi Hindi Vidyalaya
Saraswathi Vidyaanikethan Trust
Sarathi Trust
Sarkar Education Trust
Sarojini Mohan Academy For Research And Training
Sarswatichandra Foundation Trust
Sarswatichandra Foundation Trust & Ngo
Sarthaka Cultural Educational And Charitable Trust
Sarvodaya International Trust
Sarvodaya Seva Sangha
Sat Guru Sangh Charitable Trust
Satguna Sangraha Trust
Sath Social Association To Help
Save A Mother Foundation
Save Green
Saytrees Environmental Trust
Schneider Electric India Foundation
Science Society Of India
Seamy Vivekananda Educational And Social Welfare Trust
Search
Seegehalli Lake Development Trust
Seema Nazareth Endonnment For The Girl Child
Selco Foundation
Self Reliance Endower For Education Research And Charitable Trust
Senior Citizens Bangalore
Serve India Trsut
Service Society
Service Society For Socio Economic Eminictipation
Seva Bharath Rural Development Trust
Seva In Action Association
Seva Sadan
Sevasadan Orphanage And Training Institute
Sewa Samuha Society
Sgbs Unnati Foundation
Shadrach Charitable Trust
Shadrach Ministries
Shailusham Arts & Creations (R)
Shalom Biblical Baptist Church
Shalom Trust
Shambhavi School Of Dance
Shankaracharya Vidya Peeta
Shantha Jeeva Jyothi
Shanti Bhavan Educational Trust
Shanti Foundation India
Shantiniketana Rural Development Society
Shantinilayam Benedictine Sisters Society
Sharada Stree Samaja Trust
Shifting Orbits Foundation
Shiksha Dan Staphan
Shishu Mandir
Shraddha Eye Care Trust
Shraddha Trust
Shree Arunajyothi Seva Trust
Shree Krishna Charitable Trust
Shree Lakshmi Institute For Women And Rural Development
Shree Naga Chamundeshwari Devasthana Trust
Shree Public Charitable Trust
Shree Ramachandra Grameena Vidya Vikasa Kendra
Shree Ranganatha Goudiya Matha Charitable Trust
Shree Saibaba Educational And Charitable Trust
Shree Sangeethasindura Samskrutika Kalasanga
Shree Shakti Naga Kshetra Medical Educational Trust
Shree Shantha Shaneschara Charitable Trust
Shreemad Vibhuthipura Veerashimhasana Samthana Math
Shreenivasa Khadi Industrial Association
Shri Jalaram Seva Trust
Shri Rama Kala Vedike
Shri Sathya Sai Mahila Charitable Trust
Shri Shivakumar Swamijis Ekata Charitable Trust
Shri Tripura Sundari Lalithambe Trust
Shri Vidya Vikasa Kendra
Shristi Special Academy
Shristi Trust
Shubham Karoti
Shyam Education And Socia Service Trust (R)
Siddappa Channabasamma Educational And Social Welfare Trust
Siloam Charitable Trust
Silver(Samitiforimprovinglifeandvalueeducationrecreating) Charitable Trust
Sindhi Seva Samiti
Sirigannada Mithra Thanda
Sisters Of Charity Of St. Anne
Sisters Of Mary Immaculate Bishop Morrow
Sisters Of The Most Sacred Heart Of Jesus
Sivasri Charitable Trust
Skills Development Network
Skills For Progress
Small-Scale Sustainable Infrastructure Development Fund
Smart Genius Educational Trust
Smt Jivibai Genmalji Solanki Charitable Trust
Smt. Kamala And Sri Venkappa M Agadi Charitable Trust
Sneha Charitable Trust
Sneha Hasthaalu
Sneha Jyothi Mahila Mandali
Sneha Seva Trust
Snehadeep Trust For The Disabled
Snehadhara Foundation
Snehajyoti Charitable Trust
Social Action For Rural Development Society
Social Service Guild
Socialpreneur Foundation
Society For Community Health Awareness Research And Action
Society For Informal Education And Development Studies
Society For Promotion Of Horticulture
Society Of Clarisas
Society Of Compassion
Society Of Congregation Of The Passion Jeevadhama
Society Of Friars Minor(Karnataka)
Society Of Jesus Mary & Joseph St. Stanislaus Convent
Society Of Jesus Mary Joseph
Society Of Mary Immaculate
Society Of Pious Disciples Of Divine Master
Society Of Planet Hope
Society Of Sisters Of The Holy Cross
Society Of St. Francis De Sales
Society Of The Bridgettine Sisters
Society Of The Order Of St. Camillus
Society Of The Sisters Of St Charles
Society Of The Sisters Of The Precious Blood
Society Of The Sisters St Joseph Of Tarbes
Societyofstjoseph
Solidarity Foundation
Sona Yukti Private Limited
Soroptimist International Whitefield
Soukya Foundation Charitable Trust
Soul Of Healing Trust
South Asia Institute Of Advanced Christian Studies
South Asia Nazarene Bible
South India Baptist Bible College
South India Regional Conference
Southern India Multiple Districts Lions Quest Foundation
Spandana Foundation
Sparsha Children Centere
Sparsha Trust (R)
Spectrum Educational Trust
Sports Outreach India
Sree Anushreedevi Public Charitable Trust (R)
Sree Balaji Vidyaniketan
Sree Guruvayurappan Bhajan Samaj Trust
Sree Infotech Educational Trust
Sree Jaya Bharathi Hindi Vidyalay
Sree Jeshta Laxmi Welfare And Charitable Trust
Sree Kuppur Marula Siddeshwara Seva Trust
Sree Narayana Samithi
Sree Parthi Sai Trust
Sree Ramaseva Mandali Ramanavami Celebrations Trust
Sree Sai Krupa Charitable Trust
Sree Sai Krupa Kshemabiuruddi Foundation
Sree Saraswathi Trust
Sree Swastik Women Youth And Rural Development Society
Sree Veerabhadraswamy Charitable And Welfare Trust
Sri Academy Of Music And Arts (Sama)
Sri Annapoorneswari Anathasrama Trust
Sri Aurobindo Kapali Sastry Insititute Of Vedic Culture
Sri Baba Trust And Foundation
Sri Banashankari Sangeeta Nritya Kalaniketana
Sri Bhagawan Mahaveer Manavatha Kendra Trust
Sri Bhavatarini Ashrama
Sri Chaitanya Charitable Foundation Bangaloru
Sri Dattapeeta Seva Charitable Trust (R)
Sri Gargeshwari Digital Foundation
Sri Guru Gnana Kendra Trust
Sri Gurupada Chetana Trust
Sri Jayarama Seva Mandali
Sri Jnanakshi Educational Institutions Trust
Sri Kariathan Charitable Trust
Sri Karibasaveshwara Education Society
Sri Karibasaveshwara Educational And Rural Development Trust
Sri Koil Kandhadai Vadhula Desika Annan Swamy Sishya Sabha Trust (R)
Sri Krishna Education Trust
Sri Krishna Sevashrama
Sri Krishna Sevashrama Trust
Sri Krishnadevaraya Educational Trust
Sri Lakshminarasimha Educational Trust
Sri M S Lingegowda Education Trust
Sri Madhwa Narayana Ashrama Trust
Sri Nandagokula Ashrama Trust
Sri Nanjundeshwara Educational & Charitable Trust (R)
Sri Neela Anjaneya Swamy Trust
Sri Pratibha Janapada Kala Vrunda
Sri Raja Rajeshwari Kala Niketan
Sri Rajarajeshwari Charitable Hospital Trust
Sri Rajarajeshwari Devasthanam Trust
Sri Rama Seva Mandali Trust
Sri Ramachandran Trust
Sri Ramakrishna Vivekananda Sadhana Kendra
Sri Sai Darshanam Trust
Sri Sai Mandiram Trust
Sri Sai Samaj (Regd)
Sri Sai Samriddhi Nekara Sangha
Sri Sai Spiritual Centre Trust
Sri Sai Vidyakendra
Sri Sankastahara Charitable Trust
Sri Santosh Social Service Society
Sri Sarada Ashram
Sri Sarada Math Bangalore
Sri Sarvadharmapriya Sai Arogya Kendra
Sri Sarvamoola Prathisthana
Sri Sathya Sai Central Trust
Sri Sathya Sai Health And Education Trust
Sri Sathya Sai Sadhana Trust
Sri Sathya Sai Sanjeevani Research Foundation
Sri Sathya Sai Trust Karnataka
Sri Sathyanarayana Educational Trust
Sri Satya Sai Krupa Educational Trust
Sri Shankara Cancer Foundation
Sri Shankari Balaga
Sri Shathashrunga Vidya Samsthe
Sri Shivayogi Muneeshwara Swamy Nirgathika Makkala Kuteera
Sri Shreyas Charitable Trust
Sri Somavamsha Sahasrarjuna Kshatriya Samaj
Sri Sri Padavettambigai Devasthanam And Sri Bv Sabha Charitable Trust
Sri Sri Ravishankar Trust
Sri Sri Ravishankar Vidya Mandir Trust
Sri Sri Rural Development Programme Trust
Sri Sri Sri Yogeeshwara Subramany Ananda Charitable Trust
Sri Sri Sri Yogishwara Swami Mutt Charitable Trust
Sri Srinivasa Educational Charitable Trust
Sri Vaishnavi Charitable Trust
Sri Veerabhadraswamy Charitabla Trust
Sri Venkat Academy
Sri Venkateshwara Charitable Trust
Sri Venkateshwara Education Society
Sri Vidya Foundation For Indian Arts
Sri Vijayeshwaridevi Educational & Charitable Trust
Sri Vivekananda Sevashrama
Sriem Foundation
Srigodwad Bhavan Jain Tru
Srimathi Jayalakshmi Jayarao Relekar Trust
Srinidhi Education Trust
Srinivas Saligrama Devasthanam Trust
Srk Education Society
Ssb Socio - Spiritual Foundation
Ssn Foundation
St Annes Educational Society
St James Academy Bangalore
St John's Medical College Alumni Association
St Jude Trust
St Michael's Home
St Savio Education Trust
St. Augustine Social Service Society
St. Francis De Sales Educational And Charitable Trust
St. Gaspar Charitable And Educational Trust
St. Peter's Pontifical Seminary
St.Marthas Hospital
Standard Education Society
Stem
Steps
Strikalpa Foundation
Student Christian Movement Of India
Suchi Foundation
Sudhindra Nritya Kalaniketana
Sukanksha Charitable Trust
Sukrupa
Sumanahalli Lrtc
Sumangali Seva Ashrama
Sumukha Charitable Trust
Sumukha Foundation
Sunaada Cultural Centre Trust
Sunbeam International Ministries
Sundar Trust
Suprabha Educational And Charitable Trust
Surabhi Foundation Trust
Suraksha
Surya Kalavidaru
Sutradhar
Sv Rural Development And Cultural Trust
Svatantra Trust
Svp Philanthropy Foundation
Swaasthya Aarogya Foundation
Swadeshi Vijnana Andolana - Karnataka
Swadha Foundation
Swakshatra
Swami Vivekananda Jagriti Samiti
Swami Vivekananda Social Service Trust
Swami Vivekananda Yoga Anusandhana Samsthana
Swanthana Daughters Of Stcamillus
Swaramurthy V N Rao Memorial Trust
Swarasinchana Kala Balaga
Swarasowrabha
Swarga Nidhi Seva Ashram Trust
Swasti
Swayam Sevaka Karnataka Trust (R)
T Muniswamappa Trust
Taamsa Foundation
Tabernacle Baptist Ministries
Tamahar Trust
Tara Prakash Trust
Tarang Crafts Promotion Society
Tarunya Shikshana Seva Trust
Tasveer Foundation
Tata Institute For Genetics And Society
Technology Informatics Design Endeavour
Tennikoit Federation Of India
Tenpin Bowling Federation (India)
The Akshaya Patra Foundation
The Association For The Mentally Challenged
The Association For Theological Education By Exentions
The Association Of The Deaf
The Augustinian Society
The Bangalore Alphonsian Society
The Bangalore Capuchin Friars Minor Society
The Bangalore Jesuit Educational Society
The Bangalore Kristu Jyothi College Society
The Bangalore Pallottine Society
The Bangalore Salesian Society
The Benaka Trust
The Bethania Foundation India
The Bible Society Of India
The Bridge Foundation
The Brothers Of Holy Cross
The Canara Union
The Carmelaram Rosarian Traininig Society
The Church Of The Foursquare Gospel In India
The Com Deall Trust
The Concerned For Working Childeren
The Congregation Of The Sisters Of St Josephs Of Cluny
The Coorg Foundation
The Crafts Council Of Karnataka
The Daughters Of Charity Of St.Vincent De Paul
The Deaf Aid Society
The Ecumencial Chrisitian Center
The Educational Society Of The Sisters Of St Joseph Of Cluny
The Fathers Of Holy Cross
The Fishermen Trust
The Foundation Educational Trust
The Franciscan Service Society Of Bangalore
The Freedom Project India
The Healing Circle
The Hell Foundation
The Hope Home Childrens Foundation
The Indian Society Of The Church Of Jesus Christ Of Latter Day Saints
The Indus Entrepreneurs Bangalore Chapter
The Institute Of St. Peter Claver
The Jyothi Seva Society
The Kalapremi Foundation
The Karnataka Central Govt Pensioners Association
The Karnataka Prakruthi Chikitsa Prachar Trust (R)
The Karnataka Welfare Association Fo The Blind
The Kjv Bible Society
The Kutumbakam Foundation
The Live Love Laugh Foundation
The Majolly Music Trust
The Mary Salian Society
The Montfortian Society
The Msv
The Mythic Society
The National Association For The Blind Karnataka Br.
The National Organisation Of The New Apostolic Church India
The New Apostolic Church Orissa
The New Apostolic Church South India
The New Cambridge Educational Trust
The New Life Fellowship Trust
The People's Trust
The Precious Blood Educational Society
The Promise Foundation
The Ramayana Research Foundation
The Refuge Foundation
The Rosarian Society
The Sacred Heart Brothers
The Sanket Trust
The Satsang Foundation
The Society Of Holy Spirit Of Adoration
The Society Of The Divine
The Society Of The Servants Of Holy Spirit
The Society Of The Sisters Of St Anne Society No. 20
The Society Of The Sisters Of St. Anne, Society No 19
The Society Of The Ursuline Sister Of Mary Immaculate
The Society Ofthe Franciscan Hospitaller Sistersofthe Immaculate Conception
The Somascan Society
The South Asia Council For Community And Children In Crisis
The Suvidya Educational And Social Service Society
The Timbaktu Collective
The United Theological College
The University Of Trans-Disciplinary Health Sciences And Technology
The Vedic University Trust
The Whitefield Camping And Convention Centre Trust
The Whitefield Trust
Theological Book Trust
Thimmaiah Educational Trust
Thirupuvanam Foundation
Thogatveera Kshatriya Sanghar
Thrombosis Research Institute, India
Tiforp Educational And Charitable Foundation
Toe To Heart Trust
Tom Cox India Ministries
Touch India International Ministries
Tranquil Charitable Foundation
Treatment Rehabilitation And Education Of Drug Abuse
Tribal Transformation India
Trinitarian Liberative Trust
Trinity Care Foundation
Tropical Research & Development Centre
True Light Childrens Home
Truelightinternational(India)
Tulunada Sahaya Hastha Charitable Trust
Tumakuru Machine Tool Park
Ubuntu At Work Trust
Udhyam Learning Foundation
Udupa Foundation
Udyam Public Charitable Trust
Uhsa John Charitable Trust
Uim Educational Trust
Ujwal Trust
Ullasappa Society
Umesh Education Trust
United Evangelical Mission
United Evangelical Mission India
United Group Charitable Trust
United Prayer Movement For Nations
United Way Of Bengaluru
Universal Care Foundation Trust
Universal Charitable Centre
Universal Educational Trust
Universe Hope Foundation
University Of Chicago Trust
University Womens Association
Unnathi Healing Foundation Trust
Urban India Ministries
Uthishta
Uvce Foundation
V Sivaram Research Foundation
Vakkaligara Sangha
Vanaprastha International Charitable Trust
Vanashram Religious And Charitable Society
Vanavasi Kalyana
Vaps Akshaya Foundation Trust
Varsha Foundation
Vasudha Foundation
Vathsalya Charitable Trust
Vathsalya Social And Charitable Trust R
Vatsalya Charitable Trust (R)
Vattikuti India Foundation
Ved Vignan Maha Vidya Peeth
Vedike
Venkategowda Venkatappa Ramanna Foundation
Venkatesha Natya Mandira
Venus Trust
Vibha India
Victory International Assembly Of God Worship Centre Trust
Vidwan R K Srikantan Trust
Vidya Bhavan Society
Vidyanikethan
Vidyaranya Trust
Vidyarthi Shikshana Seva Trust
Vidyavanam Ashram
Vijayanagara Angavikala Kalyana Sangha
Vikala Suraksha Trust
Vikas Disabled Charitable Trust
Vikasa Rural Development Organization
Vimalalaya Hospital Trust
Vimochana
Vimukti Trust
Vincentian Ashram Trust
Vipassana Meditation And Research Center
Virad Foundation
Vishwa Kalaanikethana Trust
Vishwa Manava Charitable Trust
Vishwa Manava Rashtrakavi Kuvempu Kala Niketana
Vishwa Vinuthan Karya Samiyhi Trust
Vishwabandhu Charitable Foundation
Vishwalaya
Vishwas Trust
Vision India
Vision Of Life
Vista India Charitable Trust
Visthar Trust
Vittal Mallya Scientific Research Foundation
Vivekananda Indian Education Trust
Vkmct
Voice Of Needy Foundation
Vokkarane Seva Trust
Vonde Marga Ministries
Vrcacademyofmusicanddance
Vrutti
Vyakti Vikas Kendra India Art Of Living
Vyoma Linguistic Labs Foundation
Water Literacy Foundation
Way To Life Charitable Trust
We Care
Weconnect India Int Association
Welfare Association For Rehabilitation Of Disabled And Society
Welfare Trust Of Japenese Residents In Bangalore
Wellgo Habitat For Humanity And Conservation Of Nature Foundation
White Swan Foundation For Mental Health
Whom Shall I Send Ministries
Wildlife Conservation Society India
Wildlife Rescue And Rehabilitation Centre
Williams Educational Trust
Winvinaya Foundation
Women's Welfare Initiatives
Womens World Interact Association
World Ayurveda Foundation
World Bible Translation Centre
World Cassette Outreach Of India
World Forum For Agriculture And Food Security
World Forum For Education
World Peace Man Trust
Yahoo! Employee Foundation India
Yakshagana Tapassangha
Yakshakala Academy
Yakshangana Trust
Yakshasampada
Yashaswini Mahila Mandaligala Okkutar
Yashna Trust
Yogaathma Foundation
Yosaid Innovation Foundation
Young Mens Christian Association
Youth For Seva
Ypo Gold Bangalore Chapter
Yugantar
Yuva Bengaluru
Yuvalok Foundation
Ywca Of Bangalore City
Zav Foundation

If your NGO is having programmes related to social issue in this district, just email the name of the NGO with link to it and we will share it free.
Our email : Datacentre@CSRidentity.com
We Salute
Soldiers, Police, Below the poverty line people who live with humanity, Social workers, NGO Founders, Hospital staff, Health care workers, Chemists, Medicines Trees, Forests, Medicinal plants, Rivers , Extinct animals, Homes, Climate, People working in crematorium
Shop from NGOs
NGO Sellers Concept
Following NGOs sell products.
These products are either made by communities or the NGOs act as agents of companies making these products.
The idea is to help communities, NGOs and corporates together.
NGOs can be selling agents
NGOs must be sustainable.
We dont want to loose focus of serving communities but in case of emergency where their funding stops, they must have at least one year survival funds so that the communities they serve do not suffer.
We have experienced that when an NGO working with disabled sales products made by them or NGOs working with women sell products made by them or NGOs selling tribal products or paintings .. its great honour to communities they serve.
And NGOs working in slums or villages or rural areas have great relationship with communities and corporates can think of having them as agents which can order products from corporates.
Its good for corporates who find good agents
Its good for NGOs because they earn
Its good for communities because its at home service

NGOs can keep half the commission they get and pass the other half to communities so that its win win long term situation