Baleswar District In Odisha
Corporates
Any corporate interested in having NGOs as selling agents can contact the NGO directly.
But if the corporate wants to put their name plus contact person's name and phone number here, then they have to pay a donation of Rs 2000/- for one district.
Corporates
We plan to donate at least Rs 13433000/-
This amount is not just any amount. Bhau, founder Sanjay Kumud Moreshwar Bapat's father gave house & property to him through a Gift Deed and Government Authorities valued it as Rs 13433000/- and founder's father (Bhau) paid a stamp duty of Rs 403000/-. And after the Gift Deed, Bhau was the first person on earth (Of course many others stepped in) to start postponing death of founder after an almost fatal accident on 28.08.2013.
Founder knows that after death, neither anyone takes anything with them nor do they know whether their son, grand son, daughter in law or so called blood relatives or neighbours came to see them before they left earth.
When any human leaves this world, what remains is their Deeds when they were on earth. So our first target is Rs 13433000/- Of course they will not know the impact of their gifts to world, but that is beauty of life. Enjoy it but leave the world as satisfied human and not one with unending greed of money, property.
Corporates can donate to the NGO
Developed Nation Network Trust by G Pay.
It has 80G and waiting for renewal of FCRA.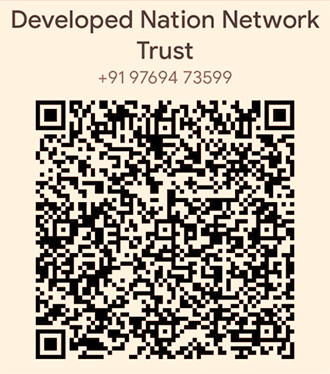 NGOs
NGO Brands
We share NGO Brands statewise in case of India
NGOs in this district
Anchalik Grama Vikash Parishad Nilgiri
Anchalika Bikas Parisada
Ashray
Association For Biodiversity Conservation & Research (Abc)
Association For Social Health Advancement
Aswasana
Bageswari Club
Bagha Jatin Vikash Parisad
Baikuntha Rajani Janaseba Library
Balasore District Nari Sangha
Balasore Social Service Society
Balasore Technical School
Baptist Development Society
Barendra Leading Voluntary Association
Bhagavan Chandra Sanskrit Mahavidyalaya
Bhumiputra Seva Pratisthan
Biswa Bharati Mahila Handicraft Samity
Daridra Narayan Club
Darpan Foundation
Development Organisation For Women And Rural Youth
Dipti Jyoti Holy Home
Disable Rehabilitation And Charitable Trust
Dreamy India Foundation
Ex Defence Employees Welfare Association
Expert Exchange
Favourable Organisation For Rural Welfare And Regional Development Forward
Gandhi Sevasram
Gandhisevasanghapurubaikanyashram
Gb Welfare & Charitable Trust
Gobinda Jew Palli Unnayan Club
Gyanakiran Institute Of Integral Studies
Gyanamanthana
Harapriya Charitable Hospital
Healthy Life Welfare Trust
Helping Hands Organisation
Indian Rural Welfare Trust
Indo-Swedish Rheumatology Foundation Trust
Inex Educational Trust
International Edifying Christ Ministries India
Jaleswar Bar Association
Jan Shikshan Sansthan Balasore
Janamangal Center For Independent Living
Jyothi Charitable Society
Kailash Chandra Dharmapitha Club
Krishna Community Centre
Krishna Foundation
Krushna Sukuri Kanyashram
Life Voluntary Organization
Lions Club Jaleswar
Lokshakti
Maa Baulani Trust
Maguni Charan Balashram
Mallika Child Welfare Organisation
Managing Committee Of Vivekananda Siksha Kendra
Manav Sanskar Sangha
Marillac Seva Sadan
Mighty Club
Mitrashakti Voluntary Organisation
Mother Teresa Seva Sangha
Nari And Sishu Kalyan Samittee
New Creation Welfare Society
Orissa Follow-Up
Pabitradevi Sishu Bhaban
Pandit Gopal Chandra Veda Jyotirvijnana Vidyapeetham
Pratikhya
Psm (Professional Skill Managements) Foundation
Punaruthan Voluntary Organisation
Raahabharat
Radhakanta Es Institute Of Computer Technology
Ray Of Hopes
Roman Catholic Diocese Balasore
Sacred Union For Voluntary Action (Suva)
Sagarsathi Club
Samanta Chandrasekhar Vigyan Club
Sangrami Voluntary Organisation
Sanjeevani Foundation
Shree Jagannath Educational And Public Charitable Trust
Sikhya O Pragati Charitable Trust
Social Welfare And Culture Research Foundation
Society For Agriculture Health Environment Literacy Innovations (Saheli)
Society For Peoples Integration Economics And Environment Devlopments
Society For Transformation Education & Progress (Step)
Srasta Balasore
Sri Aurobinda Sadan
Sri Aurobinda Sahitya Mandir
Sriaurobindo Yoga Sadhana Trust
Srima Dhyana Mandir
Srima Seva Sadan
Srima Sri Aurobindo Sadhana Pitha Trust
Srirangacharan Kala Ashram
St Vincent Charity Centre
Sunita Memorial Harijan Adibasiabashika Ashram School
Surakhya Volunteer Organization
Swarnajyoti Voluntary Social Organisation
Taphasil Yubaka Sangha
Technical Training Institute
The New Hope
The Welfare
Utkal Balashram Balasore
Vivek Bharati Sevashram
Wihret
Young Men's Christian Association Balasore
Youth Development Project
Yuvashakti Club

If your NGO is having programmes related to social issue in this district, just email the name of the NGO with link to it and we will share it free.
Our email : Datacentre@CSRidentity.com
We Salute
Soldiers, Police, Below the poverty line people who live with humanity, Social workers, NGO Founders, Hospital staff, Health care workers, Chemists, Medicines Trees, Forests, Medicinal plants, Rivers , Extinct animals, Homes, Climate, People working in crematorium
Shop from NGOs
NGO Sellers Concept
Following NGOs sell products.
These products are either made by communities or the NGOs act as agents of companies making these products.
The idea is to help communities, NGOs and corporates together.
NGOs can be selling agents
NGOs must be sustainable.
We dont want to loose focus of serving communities but in case of emergency where their funding stops, they must have at least one year survival funds so that the communities they serve do not suffer.
We have experienced that when an NGO working with disabled sales products made by them or NGOs working with women sell products made by them or NGOs selling tribal products or paintings .. its great honour to communities they serve.
And NGOs working in slums or villages or rural areas have great relationship with communities and corporates can think of having them as agents which can order products from corporates.
Its good for corporates who find good agents
Its good for NGOs because they earn
Its good for communities because its at home service

NGOs can keep half the commission they get and pass the other half to communities so that its win win long term situation