Azamgarh District In Uttar Pradesh
Corporates
Any corporate interested in having NGOs as selling agents can contact the NGO directly.
But if the corporate wants to put their name plus contact person's name and phone number here, then they have to pay a donation of Rs 2000/- for one district.
Corporates
We plan to donate at least Rs 13433000/-
This amount is not just any amount. Bhau, founder Sanjay Kumud Moreshwar Bapat's father gave house & property to him through a Gift Deed and Government Authorities valued it as Rs 13433000/- and founder's father (Bhau) paid a stamp duty of Rs 403000/-. And after the Gift Deed, Bhau was the first person on earth (Of course many others stepped in) to start postponing death of founder after an almost fatal accident on 28.08.2013.
Founder knows that after death, neither anyone takes anything with them nor do they know whether their son, grand son, daughter in law or so called blood relatives or neighbours came to see them before they left earth.
When any human leaves this world, what remains is their Deeds when they were on earth. So our first target is Rs 13433000/- Of course they will not know the impact of their gifts to world, but that is beauty of life. Enjoy it but leave the world as satisfied human and not one with unending greed of money, property.
Corporates can donate to the NGO
Developed Nation Network Trust by G Pay.
It has 80G and waiting for renewal of FCRA.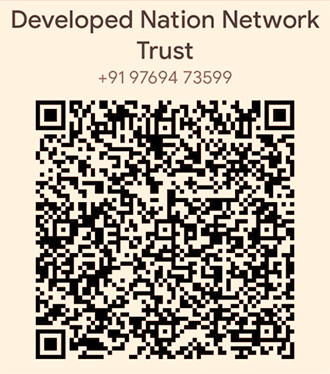 NGOs
NGO Brands
We share NGO Brands statewise in case of India
NGOs in this district
Aasiya Educational And Development Society
Abdul Khalique Educational Social And Development Trust
Aditya Seva Sansthan
Aditya Sewa Sansthan
Aflak Technical Computer Institute And Educational Society
Al Habib Educational And Welfare Trust
Aljehad Educational And Welfare Society
All India Children Care And Educatinal Dev Society
Ambedkar Prathamik Pathshala
Ambedkar Sewa Sansthan
Amrawati Computer Educational & Development Society
Anand Seva Sansthan
Anand Swaroop Social Training Center
Anupama Rai Smarak Jan Sewa Sansthan/Nyas
Asahay Manav Kalyan Seva Sansthan
Asgar Memorial Educational And Health Charitable Society
Ashrafia Educational Society
Association Of Islamik Sciences
Aurora Sansthan
Azamgarh Mahila Utthan Sewa Sansthan
Baba Banwari Das Shikshan Prashikshan Seva Sansthan
Baba Nageswar Ji Sansthan
Baba Vishvanath Smarak Shikshan Sewa Sansthan
Babu Bhagwati Prasad Smriti Trust
Babu Krishna Murari Singh Smrit Nyas
Bharat Gramoday Sewa Ashram Samiti
Bhartendu Human Care And Development Society
Bhartiy Shiksha Samiti
Bhavishya Deep Kala Kendra
Bina Soft Educational And Welfare Society
Brigadiar Ushman Educational Welfare Society
Chandrashekhar Azad Adarsh Sikshan Seva Sansthan
Darul Musannefin Shibli Academy
Darul Uloom Ahle Sunnat Madarsa Ashrafia Misbahul Uloom
Darul Uloom Sabiriya Kanzul Iman Society
Dayere Chishti
Devdutt Jan Kalyan Sansthan
Devhari Jan Kalyan Seva Samiti
Dr Bhim Rao Ambedkar Ramlakhan Shikshan Sansthan
Dr Bhimrao Ambedkar Shikshan Sewa Sansthan
Foundation Educational Jansewa Trust
Futuristic Foundation Of Advance Studies And Research
Gautam Buddha Jankalyan Seva Sansthan Vill Chamawan Post Phoolpur Dist Azamgarh Up
Grameen Vikas Sansthan
Gramin Balika Shiksha Samiti
Gramin Mahila Silai Kadhai Bunai Kendra Mustafabad Gujarpar Azamgarh Up
Gramin Vikas Sansthan
Green Guru Society
Gyani Jail Singh Rashtriya Shiksha Samiti
Gyanoday Sansthan
Haji Mohammed Mustaque Trust
Hayat Ali Computer Institute & Welfare Society
Hazi Zunaid Memorial Educational Welfare Society
Hosila Singh Jan Seva Sansthan
Ideal Welfare Association
Islamiya Miftahul Ulum Prathmik Viddalya Samiti
Jai Bajrang Goshala Sewa Samiti
Jamiatul Falah
Jan Jaiv Proudyogiki Kendra
Jan Sevashram
Jan Shikshan Sansthan Civil Lines Azamgarh
Janhitkari Seva Sansthan Ambari Azamgarh
Kailashi Mahila Vikas Samiti
Kalawati Devi Mahila Avam Bal Vikas Samajik Seva Sansthan
Khadi Gramodyog Samiti
Khadi Gramodyog Sewa Sansthan
Khadi Gramodyog Vikas Seva Niketan
Khusabu Bahuddesiye Sikchand Seva Sanshtahn
Kishan Shiksha Samiti
Lalita Sankalp Foundation
Ma Deela Devi Shikshan Prashikshan Seva Samiti
Maa Ambe Shikshan Prashikshan Seva Samitee
Maa Sharda Shikshan Sewa Sansthan
Maa Sharda Vidya Mandir
Madarsa Nurul Islam
Mahatma Jyotirba Rao Phooleshikshan Prashikshan And Manav Seva Sansthan
Malviya Welfare Society
Manav Sansadhan Gramin Vikas Sewa Sansthan
Manav Seva Ashram
Mariyam Education Welfare Society Ahmadpur Chhihin Azamgarh
Mata Dulari Devi Shiksha Evam Samaj Sewa Samiti
Mata Kaushilya Devi Shikshan Seva Sansthan
Mata Pholwasi Devi Gausala
Maulana Zakaria Educational And Charitable Society
Mijwan Foundation Trust
Mijwan Welfare Society
Millat Falahi Society
Mohd Shah Abdul Gani Phoolpuri Educational Muslim Welfare Society
National Institute For Environments And Agriculture
Naveen Mahila Shilp Kala Gramodyog Prashikchhar Kendra
Om Sai Samarpan
People Welfare And Educational Development Society
Prabhawati Samaj Seva Samiti
Public Shikshan Seva Sansthan
Rabia Memorial Educational And Welfare Society
Rajdeo Memorial Trust
Rajkumari Rai Mahila Shishu Samaj Kalyan Evam Shiksha Samiti
Ram Kumar Adarsh Shikshan Sewa Sansthan
Ram Sakha Dharm Utthan Seva Samiti
Ramrati Smarak Shikshan Jan Kalyan Samiti
Rashtriya Sahitya Kala Sansthan
Refa E Aam Society
Sahbhagi Jankalyan Sansthan
Samoohan Kala Sansthan
Sanaya Educational Welfare Assoiation
Sar Sayyad Farma Kolaji Institute
Sarthak Samaj Sewa Trust
Sarvajanik Uchchatar Madhyamik Vidyalaya Mittupur Azamgarh
Sarvoday Bal Shiksha Samiti
Sarvodaya Public Shikshan Seva Sansthan
Savitri Khadi Gramodyog Sansthan Rani Ki Sarai Azamgarh
Shaheed Sultan Tipu Educational And Welfare Society
Shanti Memorial Public Shikshan Sansthan
Sheikh Mohammad Foundation
Shiksha Samiti Koilari Khurd
Shiv Shakti Prashikshan Seva Sansthan
Shiv Yoga Pranayam Prashikshan Avm Anusandhan Sansthan
Shiva Ji Smarak Shikshan Sewa Sansthan
Shiva Patrachar College Society
Shiva Sikshan Seva Sansthan
Shramik Varg Evam Nirbal Varg Vikas Sansthan
Shramjivi Sewa Samiti
Shree Ambedkar Kamottar Vidyalaya Shixha Samiti
Shree Sai Shantee Sewa Sansthan
Shri Birai Yadav Shiksha Sewa Samiti
Shri Kedarnath Singh Balika Vidyalaya
Shri Moti Harishchandra Shikshan Sewa Samiti Baldih Pandaha Lalganj Azamgarh
Shri Suryanath Singh Smarak Shikshan Sewa Sansthan
Sir Syed Educational Society
Society Of Franciscan Brothersofindara
Sri Ram Dawar Anusuchit Vidyalaya Avam Shiksha Samiti
Sri Ramanand Saraswati Pustakalaya
Sri Sai Sharda Shikshan Prashikshan Swa Sansthan
Sri Thakur Ji Maharaj Samiti Trust
Sultana Shahid Alpsankhyak Educational Development Society
Swargiya Mahanth Vikrama Foundation Trust
Thakur Satyanarayan Singh Educational Societies
Umang Welfare Society
Umapati Modern Welfare Society Phoolpur Azamgarh Uttar Pradesh
Utkarsh Sikchhan Prasikchhan Sewa Sansthan

If your NGO is having programmes related to social issue in this district, just email the name of the NGO with link to it and we will share it free.
Our email : Datacentre@CSRidentity.com
We Salute
Soldiers, Police, Below the poverty line people who live with humanity, Social workers, NGO Founders, Hospital staff, Health care workers, Chemists, Medicines Trees, Forests, Medicinal plants, Rivers , Extinct animals, Homes, Climate, People working in crematorium
Shop from NGOs
NGO Sellers Concept
Following NGOs sell products.
These products are either made by communities or the NGOs act as agents of companies making these products.
The idea is to help communities, NGOs and corporates together.
NGOs can be selling agents
NGOs must be sustainable.
We dont want to loose focus of serving communities but in case of emergency where their funding stops, they must have at least one year survival funds so that the communities they serve do not suffer.
We have experienced that when an NGO working with disabled sales products made by them or NGOs working with women sell products made by them or NGOs selling tribal products or paintings .. its great honour to communities they serve.
And NGOs working in slums or villages or rural areas have great relationship with communities and corporates can think of having them as agents which can order products from corporates.
Its good for corporates who find good agents
Its good for NGOs because they earn
Its good for communities because its at home service

NGOs can keep half the commission they get and pass the other half to communities so that its win win long term situation