Ayodhya District In Uttar Pradesh
Corporates
Any corporate interested in having NGOs as selling agents can contact the NGO directly.
But if the corporate wants to put their name plus contact person's name and phone number here, then they have to pay a donation of Rs 2000/- for one district.
Corporates
We plan to donate at least Rs 13433000/-
This amount is not just any amount. Bhau, founder Sanjay Kumud Moreshwar Bapat's father gave house & property to him through a Gift Deed and Government Authorities valued it as Rs 13433000/- and founder's father (Bhau) paid a stamp duty of Rs 403000/-. And after the Gift Deed, Bhau was the first person on earth (Of course many others stepped in) to start postponing death of founder after an almost fatal accident on 28.08.2013.
Founder knows that after death, neither anyone takes anything with them nor do they know whether their son, grand son, daughter in law or so called blood relatives or neighbours came to see them before they left earth.
When any human leaves this world, what remains is their Deeds when they were on earth. So our first target is Rs 13433000/- Of course they will not know the impact of their gifts to world, but that is beauty of life. Enjoy it but leave the world as satisfied human and not one with unending greed of money, property.
Corporates can donate to the NGO
Developed Nation Network Trust by G Pay.
It has 80G and waiting for renewal of FCRA.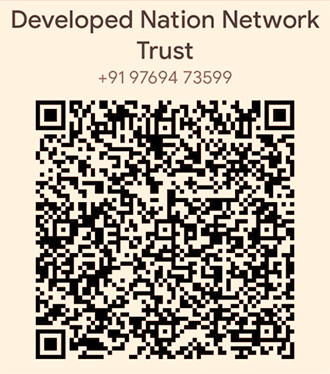 NGOs
NGO Brands
We share NGO Brands statewise in case of India
NGOs in this district
Aanchala Educational And Welfare Society
Abhishri Educational And Charitable Trust
Adarsh Educational And Welfare Society
Adhbhut India Academic Foundation Trust
Akansha Sewa Sansthan
Akhil Bhartiya Viklang Kalyan Samiti Ayodhya Faizabad
Amar Shaheed Ashfaq Ullah Memorial National School
Amina Abedin Memorial Education & Welfare Society
Amit Gramin Mahila Shiksha Samiti
Anjuman Ittehad-O-Taraqqui Society
Arpan Foundation
Aswasth Sant Sewa Trust
Avadh Sarvodaya Sansthan
Awadh Educational And Social Welfare Society
Awadh Educational And Social Welfare Trust
Awadh Utthan Seva Samiti
Bal Hanuman Manav Seva Shansthan Singh Dwar Hanumangari Ayodhya Uttar Pradesh
Barakat Educational And Welfare Society
Brahm Baba Adarsh Hanumat Seva Sansthan
Chandra Bhan Singh Shikshan Sewa Sansthan
City Public Shiksha Samiti
Dada Mohan Lal Sakha Dada Gangaram Sakha Sewa Sansthan
Dayawati Mahavidyalay Samiti
Deepak Manav Kalyan Sewa Sansthan
Desh Deepak Adarsh Vidhyalaya Samiti Evam Satat Vikas Sansthan
Doeacc Educational And Walfare Soceity
Dr Kamlesh Smarak Shikshan Sansthan
Earth Samvarta Foundation
Faiz E Aam Muslim Educational Society
Famina Shikshan Prashikshan Sansthan
Gautam Buddh Shiksha Samiti Faizabad Uttar Pradesh
Global Path
Gramin Devlopment Society
Gramin Educational And Welfare Soceity
Gramin Sansadhan Vikas Samiti
Gramoday Sansthan
Gulnaz Educational & Welfare Society
Gurunanak Educational Society Faizabad
Gyanoday Gramodyog Sewa Samiti
Gyanodaya Dukharan Educational Welfare Socity
Haji Abdullah Kazim Educational Society
Hanumat Seva Samiti
Iqra Muslim Girls Inter College Samiti
J P Awadh Foundation For Social Inclustion J A S
Jan Shikshan Sansthan Faizabad
Janeshwar Mishra Sewa Foundation
Jankalyansewasansthan
Janta Welfare And Development Society
Kalyan Sansthan
Keerti Computer Institute
Krishak Uchchtar Madhymik Vidyalay
Kumari Deepa Singh Srimati Leela Wati Ball Niketan
Leprosy Mission Faizabad
Lok Sewa Evam Gramin Prodhogiki Vikas Sansthan
Ma Sarswati Shikshan Sewa Sansthan
Maa Kamakhya Devi Shikshan Sansthan
Maa Sharda Charitable Trust
Maa Vaishno Devi Seva Sansthan
Madhav Seva Samiti
Madhumay Educationa And Research Foundation
Mahanth Laldas Vidya Mandir Association
Maharishi Dayanand Education Group
Maharishi Vasisth Vidya Samiti
Maharshi Bhardwaj Sewa Sansthan
Mahila Kalyan Avam Bal Utthan Samiti
Mahima Patel Shikshan Sansthan
Manav Shikshan Sewa Sansthan
Manoj Gramodyog Sansthan
Mariyam Hoor Memoriyal Educatioanl Welfare Society
Matru Sewa Trust
Maurya Sanskritik Vikas Samiti
Najma Riyaz Welfare Society
Nand Kishor Singh Smarak Shikshan Prashikshan Seva Sansthan
Naseer Memorial Educational Society
Natural Human Resources Development Institute
Nav Jyoti Bal Shiksha Niketan Samiti
Nav Nirman Sanstha
Neelam Shikshan Evam Prashikshan Sansthan
Next Generation Welfare Society
Nidan Sewa Sansthan
Om Sai Jankalyan Sewa Sansthan
Pankaj Sewa Samiti
Peoples Action For National Integration
Peoples Actionfor Rural Advancement And Sustainbility
Pracheen Shri Jagannath Mandir Seva Trust
Raghuvansh Gramodyog Pratisthan
Raj Rajeshwari Foundation
Rajpati Seva Samiti
Ram Narayan Saraswati Shishu Mandir
Ramawati Smarak Gramay Vikas Seva Sansthan
Ramlakhan Saraswati Nath Sewa Sadan
Rubina Mahila Vikas Sansthan
Sabad Foundation
Samekit Gram Vikas Kendra
Samradhi Infraventure Private Limited
Saraswati Balika Vidyalaya Samit
Saraswati Seva Foundation
Sarv Samaj Kalyan Samiti
Savera Jankalyan Sewa Trust
Sh. Mani Ram Dass Chhawni Seva Trust
Shaheed E Azam Educational And Welfare Society
Shankar Gramoudyog Vikas Samiti
Shanti Development Foundation
Shree Shiv Prasad Singh Seva Samit
Shreedhar Sewa Trust
Shri Bharat And Youth Welfare Society
Shri Gaya Baksh Sewa Sansthan
Shri Haushila Prasad Singh Ramdulari Shakshik Evam Dharmarth Trust
Shri Jagdish Singh Janta Junear Highi School Samit
Shri Niwas Pitham Sewa Sansthan
Shri Ram Nayak Kishan Higher Secondary School
Shri Ram Prasad Sewa Trust
Shri Ram Seva Trust
Shri Trilokinath Shiksha Samit
Sitaram Nirmala Shikchand Sewa Sansthan
Sm Mahila Sewa Sansthan
Sri Ramraj Singh Sakshik Avam Dharmarth Trust
Supporting Association For Thematic And Holistic Initiatives Sathi Up
Swami Vivekanand Shikshan Sansthan
Swargee Shri Baldev Smriti Jan Sewa Shikshan Sansthan
Tapsya Jan Kalyan Sewa Samiti
Uday Jan Kalyan Sansthan
Ujagar Educational Society
Upasana Foundation
Vaibhav Sikshan Prasikshan Sansthan
Vaishnavi Silai Kadhai Shikshan Evam Prashikshan Santhan
Wake-Up A Human Welfare Socitey
Wits Technology And Educational Institute
Yash Musical Trust
Yog Darpan Foundation
Yuva Sakti Social Welfare Society

If your NGO is having programmes related to social issue in this district, just email the name of the NGO with link to it and we will share it free.
Our email : Datacentre@CSRidentity.com
We Salute
Soldiers, Police, Below the poverty line people who live with humanity, Social workers, NGO Founders, Hospital staff, Health care workers, Chemists, Medicines Trees, Forests, Medicinal plants, Rivers , Extinct animals, Homes, Climate, People working in crematorium
Shop from NGOs
NGO Sellers Concept
Following NGOs sell products.
These products are either made by communities or the NGOs act as agents of companies making these products.
The idea is to help communities, NGOs and corporates together.
NGOs can be selling agents
NGOs must be sustainable.
We dont want to loose focus of serving communities but in case of emergency where their funding stops, they must have at least one year survival funds so that the communities they serve do not suffer.
We have experienced that when an NGO working with disabled sales products made by them or NGOs working with women sell products made by them or NGOs selling tribal products or paintings .. its great honour to communities they serve.
And NGOs working in slums or villages or rural areas have great relationship with communities and corporates can think of having them as agents which can order products from corporates.
Its good for corporates who find good agents
Its good for NGOs because they earn
Its good for communities because its at home service

NGOs can keep half the commission they get and pass the other half to communities so that its win win long term situation