Aurangabad District In Maharashtra
Corporates
Any corporate interested in having NGOs as selling agents can contact the NGO directly.
But if the corporate wants to put their name plus contact person's name and phone number here, then they have to pay a donation of Rs 2000/- for one district.
Corporates
We plan to donate at least Rs 13433000/-
This amount is not just any amount. Bhau, founder Sanjay Kumud Moreshwar Bapat's father gave house & property to him through a Gift Deed and Government Authorities valued it as Rs 13433000/- and founder's father (Bhau) paid a stamp duty of Rs 403000/-. And after the Gift Deed, Bhau was the first person on earth (Of course many others stepped in) to start postponing death of founder after an almost fatal accident on 28.08.2013.
Founder knows that after death, neither anyone takes anything with them nor do they know whether their son, grand son, daughter in law or so called blood relatives or neighbours came to see them before they left earth.
When any human leaves this world, what remains is their Deeds when they were on earth. So our first target is Rs 13433000/- Of course they will not know the impact of their gifts to world, but that is beauty of life. Enjoy it but leave the world as satisfied human and not one with unending greed of money, property.
Corporates can donate to the NGO
Developed Nation Network Trust by G Pay.
It has 80G and waiting for renewal of FCRA.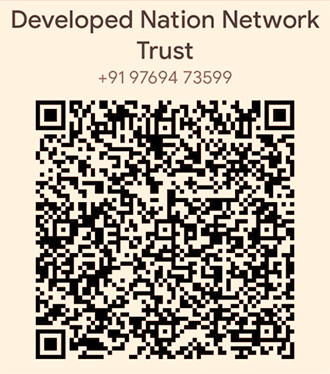 NGOs
NGO Brands
We share NGO Brands statewise in case of India
NGOs in this district
Aadarsh Bahuuddeshiy Sevabhavi Sanstha Va Shikshan Mandal Sillod
Aadarsh Shikshan Prasarak Mandal Aurangabad
Aadhar Andha Apang Matinand Sevabhavi Puranwasan Kendra
Aarambh Society For Autism And Slow Learners Children Aurangabad
Aastha Foundation Aurangabad
Aastha Janvikas Sanstha Aurangabad
Abdul Salam Pathan Gramin Vikas Sanstha
Aditya Sushikshit Berojgar Seva Sahkari Sanstha
Agp Public School
Ajanta International Vipassana Samiti Aurangabad
Akash Panlot Va Gramin Vikas Pratishthan
Akhil Maharashtra Gramin Shikshan Vikas Mandal
Al - Faran Educational And Welfare Society Aurangabad Maharashtra
Al Hussain Education Society
Al Iqlas Educational And Welfare Society
Amar Jyoti Shikshan Prasarak Mandal
Ambiya Education And Health Welfare Society
Amiable Charitable Trust
Anand Education And Human Development Multipurpose Charitable Trust
Anandsagar Pratisthan Aurangabad
Anjum Education And Welfare Society Aurangabad
Anjuman E Noorjahan Educational Cultural And Social Welfare Society
Ankur Gramin Samajik Vikas Mandal
Ankur Samajik Sevabhavi Sanstha
Art Works Association Aurangabad
Ashadevi Samaj Seva Trust
Ashish Gram Rachna Trust
Asrar Shikshan Prasarak Mandal Aurangabad
Association Of Solar Products Manufacturers
Astha Bahuuddheshiy Sevabhavi Sanstha
Atrini Multipurpose Educational Trust
Auodumbar Samajik Bahuuddeshiya Sevabhavi Sanstha
Aurangabad Diocesan Social Service Society
Aurangabad Industrial Suppliers Association
Aurangabad Institute Of Cricket
Aurangabad Thallasmia Society Aurangabad
Baliramnaikshikshanprasarakmandal
Bauddhavasi Balwantrao Bahuuddeshiya Sevabhavi Sanstha
Bhagwan Maharaj Sarwajanik Wachanalaya
Bhagwanbudha Apang Sahayata Samiti Aurangabad
Bharat Ekta Samajik Vikas Sanstha Aurangabad
Bhaskarjyotisamajiksanstha
Bhimai Magasvargiya Sevabhavi Sanstha
Centre For Development Of Agriculture In Marathwada
Chaitnya Bahuudeshiya Sevabhavi Sanstha
Chandralop Shikshan Prasarak Mandal
Chetana Empowerment Foundation
Chetna Shikshan Sanstha
Chhatrapati Shivaji Maharaj Shikshan Prasarak Mandal
Church Of Christ Ministries
Ciigma Health Foundation
Community Development And Peoples Welfare Society
Council For Rural Technology And Research Institute
Darul Qiraat Kaleemiya
Dhandai Bahuddeshiy Sevabhavi Sanstna Aurangabad
Dhanvantari Shaikshnik Sanstha Aurangabad
Dhanwantrya Education Trust
Dilasa Janvikas Pratishthan
Diocese Of Aurangabad
District Parobation And After Care Association Aurangabad
Dnyandip Shikshan Sanstha Ranjangaon Shenpunji
Dnyanrekha Mahila Ekta Vikas Mandal
Dnyanwapi Samajoddharak Vikas Mandal Ranjangaon Sp Tq Gangapur
Dr Babasaheb Ambedkar Vaidyakiya Pratishthan
Dr Jafar Educational And Agro Research Foundation
Dr. Babasaheb Ambedkar Smarak Samiti
Educational Council
Eko Guarantee Division Of Encon
Ekologie Forte Private Limited
Ekta Shikshan Sanstha
Expert Bahuuddeshiya Sevabhavi Sanstha
Faizeaam
Falah-E-Am Trust
Foundation For Advanced Training In Plant Breeding
Gajra Kalavardhak Kala Vikas Shikshan Sanstha Aurangabad
Galaxian Education & Welfare Society Sillod
Global Mahanubhav Sangh
Globalreach Skill Training India Private Limited
Golden Sports Club And Health Club
Good Shepherd Multipurpose Society
Gram Vikas Sanstha
Gramaudyogik Shikshan Mandal Aurangabad
Gramayan
Gramin Lok Kalyan Va Shikshan Sanstha Aurangabad
Gramin Vikas Santha Padali
Gramin Vikas Sevabhavi Sanstha Aurangabad
Gujrathi Samaj Vikas Mandal Aurangabad
Gurukul Bahuuddeshiya Sevabhavi Pratishthn Waghalgaon
Gurukul Vidya Vistarak Sangh
Halo Medical Foundation Aurangabad
Hari Om Bahu Uddeshiya Akadami
Human Race Development Educational And Medical Faundation
Human Resource Development Center
India Development Society
Indira Ashram Shikshan Sanstha Aurangabad
Indrayani Sarvajanik Vachanalaya
Institute For Integrated Rural Development
Institute Of Appropriate And Sustainable Technology
Jagaruti Oos Todni Vavahtuk Vikas Sanstha
Jai Bhavani Bahuudedhiya Shaikshenik Va Samajik Sevabhavi Sanstha Paithan
Jai Kishan Shikshan Sanstha
Jaikali Sanskrutik Mandal Kannad Dist Aurangabad
Jambuvant Mandir Jamkhed
Jan Jagruti Pratishthan
Janjagruti Bahuddeshiya Sevabhavi Sanstha
Jay Durga Bahuddeshiya Sevabhavi Sanstha
Jay Vishwakarma Sarvoday Sanstha
Jeevan Adhar Sevabhavi Pratisthan
Jeevan Jyoth Anathalay And Samajik Sanstha
Jijamata Bahuddeshiya Vikas Sanstha Waluj
Jijamata Sarwajanik Wachanalaya
Jyoti Bahuddeshiya Sevabhavi Sanstha Pachod
Jyoti Society
Kai Kaduba Gunjale Vastad Vyayamshala Harsool Aurangabad
Kai Shri Lalbahadur Shashtri Memorial Charitable Trust Aurangabad
Kalpataru Bahuuddeshiya Sevabhavi Sanstha
Kalpataru Shikshan Prasarak Mandal
Kamla Nehru Education Society, Aurangabad
Kanchar Foundation
Karuna Grathwachak Mandal
Kashif Education And Welfare Society
Keen Associates Sushikshit Berojgar Seva Sahkari Sanstha Mdt
Krantivir Lahuji Salve Bahu Uddeshiya Shikshan Samajik Sanstha
Krushi Sarthi Shikshan Prasarak Mandal
Kusum Ayurved Research And Development Foundation
Limbai Bahuuddeshiya Shikshan Prasarak Mandal Aurangabad
Lions Club Of Auranagabad Sanchalit Lions Balsadan Aurangabad
Lokjagruti Wachnalaya
Lokrajya Samaj Vikas And Sanshodhan Sanstha
Lokuttara Charitable Mission
Ma Durga Pratisthan
Madarasa Arebia Kashif Ul Uloom
Mahalaxmi Bahuudeshiya Shikshan Sanstha
Mahalaxmi Shikshan Sanskrutik Krida And Wachanalay Prasarak Mandal
Mahamaya Addhar Sevabhavi Sanstha
Maharashtra Centre For Entrepreneurship Development
Maharashtra Hindi Granthalaya And Vachanalaya
Maharashtra Hindi Prachar Sabha Aurangabad
Maharshi Shikshan Prasarak Mandal
Mahatma Gandhi Rashtrabhasha Hindi Prachar Sanstha
Mahatma Phule Krushi Pratishthan
Majestic Multi Purpose Society
Manav Gramin Vikas Va Sanshodhan Sanstha
Manav Vikas Kalyan Pratishthan
Manav Vikas V Punrnirman Sanshodhan Sanstha Aurangabad
Manik Smurti Pratisthan Aurangabad
Mansi Mahila Bahu Udeshiya Sevabhavi Sanstha
Marathawada Kala Vikas Mahamandal Aurangabad
Marathwada Diocesan Council (Cni)
Marathwada Gramin Vikas Sanstha
Marathwada Medical & Research Institute
Marathwada Shikshan Prasarak Mandal
Maruti Foundation
Matoshri Ramabai Mahila Vikas Magaswargiya Sanstha
Matoshri Ramai Ambedkar Mahila Mandal Aurangabad
Maulana Mohammad Ali Johar Education Society Sillod Dist Aurangabad (M.S)
Mauli Bahuuddeshiya Sevabhavi Sanstha
Mavin Education & Welfare Society
Mina Educational Scientific Social And Cultural Association
Mishri Shikshan Prasarak Mandal
Mohiniraj Bahuvidh Sanstha
Mohsin Education Society Aurangabad
Moreshwar Bahu Udeshiya Sevabhavi Sanstha Aurangabad
Mother Shikshan Prasarak Mandal Aurangabad
Murdeshwaray Shaikshanik Pratishthan,Aurangabad
Nageshwar Prasadik Natya And Bharud Mandal
Navdisha Education Foundation
Navjivan Bahuudeshiy Sevabhavi Sanshodhan Va Vikas Sanstha
Navnirman Shaikshnik Va Samaji Sanstha Aurangabad
New Gurukul Vidyapeeth
Nilavishwa Shikshan Sanstha
Nirman Bahuudheshiya Sanstha
Nisarga Upchar Ayurvdeik Bahuudeshiya Shikshan Santha
Nitya Seva Foundation
Noble Muslim Minority Educational And Welfare Society
Noorjahan Education And Welfare Society Khultabad District Aurangabad
Om J J Swa Vishwashanti Dham Nirman Sanstha
Om Sarvajanik Shikshan Prasarak Mandal
Omkar Gramin Vikas Bahuddeshiya Sevabhavi Sanstha
Panchsheel Bahuuddeshiya Sevabhavi Sanstha Aurangabad
Param Pujya Shri Mai Maharaj Sansthan Trust
Parasnath Goshala Parundi
Paryay
Pinak Sangeet Academy
Pinakeshwar Gramin Vikas Bahuuddeshiy Sanstha
Prabha Champalal Desarda Education Foundation
Pradnya Shill Shikshan Sanstha
Pradnya Surya Gramin Vikas Va Shikshan Prasarak Sanstha
Pradnyawant Sarvajanik Watchnalay
Pralhad Rathod Pratishtan, Dabhrul
Pratiksha Bahuuddeshiy Sevabhavi Sanstha
Prayas Youth Foundation
Prerana Pratishthan Bahuddheshiya Sanstha
Priya Darshani Jansewa Sanstha
Progressive Life Center
Pro-Poor Development Forum
Public Education Development Trust
Purna Kaveri Shikshan Sanstha
Raj Educational And Charitable Trust Aurangabad
Raje Shivchatrapati Bahuudeshiya Sevabhavi Sanstha
Rajmata Jijau Bhauuddeshiya Samajik V Shaikshanik Sanstha Shahapur
Rajvardhini Bahuudddeshiya Sevabhavi Sanstha Aurangabad
Rashtramata Jijau Charitable Trust
Rayat Sarwangin Vikas Sanstha
Roman Catholic Mission
Sadaguru Sevadham Goshala Pathasahala Bahuudeshiya Mandal
Sadbhavana Bahu Uddeshiya Pratishthan Aurangabad
Sagarputra Shikshan Prasarak Mandal
Sahityasanskarprabodhini
Sahyadri Shikshan Prasarak Mandal
Sahyog Apang Bahuddeshiya Sawnstha Aurangabad
Sai Shikshan Sanstha
Sai Vrundavan Panchguru Dham Pratisthan
Sai Yog Nirmalsudha Bahuddeshiye Sevabhavi Sanstha Aurangabad
Samarth Pratisthan Gavhali
Samiksha Samaj Vikas Sanstha
Samrajya Bahuddeshiya Sevabhavi Sanstha
Samrastra Bahuudeshiy Sevabhavi Santha
Sandesh Sarwajanik Wachnalaya
Sanj Sawali Care Foundation
Sanjiri Andh Apang Bahuudeshiye Seva Bhawi Sanstha
Sanjivani Bahuddeshiya Sevabhavi Sanstha
Sanjivani Bahuuddeshiya Sevabhavi Sanstha Aurangabad
Sankalp Sevabhavi Sanstha
Sankalpana Bahuddeshye Sanstha Aurangabad
Sant Eknath Kalyankari Bahuddeshiya Sanstha
Sant Gadgebaba Vyayamshala And Krida Mandal Aurangabad
Sant Ramlal Baba Bahuuddeshey Sevabhavi Sanstha
Sanvedana Bahuuudeshiy Sanstha
Sara Educational And Welfare Society Kannad Tq Kannad Dist Aurangabad
Sathi Seva Sanstha
Satya Sai Shikshan Prasarak Mandal
Sau Liladevi Sitaram Agrawal Sarvajanik Vachanalay Sillod
Savali Pratisthan
Savita Ben Education Society Aurangabad
Savitribai Phule Bahuuddeshiy Shikshan Sanstha Silod
Savitribai Phule Mahila Ekatma Samaj Mandal
Savli Foundation
Sevantibai Vridhashram Charitable Trust
Sharda Sangitkala Shikshan Mandal
Shiv Artha Foundation
Shiv Parvati Medical Pratishtan
Shivsadhana Gramin Bahuuddeshiya Sevabhvi Sanstha
Shivsanskruti Bahudeshiy Sevabhavi Sanatha
Shivtirth Bahuuddyeshiya Pratishthan
Shobhana Shkashan Shantha
Shree Balaji Bahuuddeshiya Shikshan Prasarak Mandal
Shree Datta Digambarpith Charitable Trust
Shree Gajanan Maharaj Mahila Bahudeshiya Sevabhani Sanstha
Shreeyash Pratishthan Aurangabad
Shri Asthavinayak Shikshan Prasarak Mandal Beed
Shri Chatrapati Shivaji Shikshan Prasarak Mandal
Shri Gurukrupa Shikshan Sanstha
Shri Mauli Bahuuddesiye Sanstha
Shri Purogami Shikshan Sanskrutik Krida Prasarak Mandal
Shri Raosaheb T Deshmukh Samajik Va Shaikshnik Pratishthan Aurangabad
Shri Sai Educational Trust
Shri Sai Gramin Punarrachna Sanstha
Shri Sant Dnyaneshwar Vedvidya Pratishthan
Shri Siddhivinayak Shikshan Prasarak Mandal
Shri Sidhanath Bahuuddeshiya Spm Sevabhavi Sanstha
Shri Swami Samarth Sai Sevabhavi Bahuddeshiya Shikshan Sanstha
Shri Swami Satyanand Saraswati Shikshan Prasarak Mandal Aurangabad
Shri Trimbakraj Bahuuddeshiya Sevabhavi Sanstha
Shri Vishweshwar Vidya Vikas Sanstha Dahegaon
Shrikrishna Sanskrutik And Gramin Vikas Sansthan
Shrimati Jankidevi Jaiswal Trust
Shrunkhala Navnirman
Shrushti Sangeet Nrutya Academy Va Shikshan Prasarak Mandal
Siddhi Samruddhi Foundation
Siddhivinayak Yuva Foundation Aurangabad
Siddiqui Welfare Society
Snehal Dyansagar Shikshan Prasarak Mandal
Snehdeep Education Society
Society For Action In Creative Education & Development
Society For Education In Values And Action (Seva)
Sow Saraswati Mohite Shikshan Prasarak Mandal
Sree Datta Ashram Sevabhavi Trust
Sri Babasai Bahuuddyashiya Sevabhavi Sanstha
Srushti Bahuuddeshiya Sevabhavi Sanstha
St Marys Mission Turst
Subhadrabai Shikshan Prasarak Mandal
Sumananjali Pratishthan
Sumangal Mahila Gram Vikash Sanstaa Fulmbri Dist Aurangabad
Sumet Samajik Shaikshnik Va Sanskrutik Sanstha
Sustainable Environment And Agriculture Research Foundation
Swa.Sai.Ganpatrao Sampatrao Mohite Bahuddeshiya Sanstha
Swami Vivekanand Shaikshanik Samajik Sanstha Vasusaygaon
Swasti Pratishtan
Swatantryaveer Sawarkar Sarwajanik Wachnalaya
Swayamsiddh Matimand Mulansathi Matrupalak Sanstha
Swaymbhu Sevabhavi Sanstha
Taj Educational And Social Welfear Trust
Talat Shikshan Mandal
Tambatshaikshanik Bahuudheshiya Sanstha
Tarai Shikshan Sanstha
Tawakkal Educational And Welfare Society Aurangabad
The Center For Applied Research And People Engagement
Tirupati Balaji Shikshan Prasarak Mandal
Trimurti Sevabhavi Pratishthan
Trinity Foundation Tisgaon
Twin In One Innovation Science & Technology Research Foundation Aurangabad
Ujwal Dishabahuudeshiy Sevabhavi Sanstha
Umer Bin Khattab Welfare Trusts
Unique Bahuuddeshiy Sevabhavi Sasntha Aurangabad
Universal Charitable For Research Health And Education Aurangabad
Urmi Foundation
Utkarsh Bahuuddeshiya Sevabhavi Sanstha
Utkarsha Bahuuddeshiya Sevabhavi Sanstha Aurangabad
Vaibhav Vahan Chalak Sushikshit Berojagar Seva Sahakari Sanstha Maryadit
Vasantbaugh Bahuudyeshiy Sevabhavi Sanstha
Vasantrao Naik Shikshan Prasarak Mandal
Vaundhara Bahuddeshi Seva Bhavi Santha
Vikas Bahuuddeshiya Sanstha
Virtue Bahuudeshiy Sanstha
Visava Bahuddesheeya Sanstha
Vishal Bahu Uddeshiya Pratishthan
Vithu Maza Lekurwala Asharam Vadod Kanhoba Aurangabad
Vivekanand Shikshan Sanstha's Vivekanand Arts Sardar Dalipsingh Commerce And Science College
White Gold Trust
Yogeshwar Vidya Pratishthan
Yogi Bahuuddeshiya Sanstha
Yogi Vivekanand Nisargopchar Shikshan & Sanshodhan Kendra Maheshmal
Yuva Bahuuddeshiya Shikshan Sanstha
Zehra Education And Welfare Society

If your NGO is having programmes related to social issue in this district, just email the name of the NGO with link to it and we will share it free.
Our email : Datacentre@CSRidentity.com
We Salute
Soldiers, Police, Below the poverty line people who live with humanity, Social workers, NGO Founders, Hospital staff, Health care workers, Chemists, Medicines Trees, Forests, Medicinal plants, Rivers , Extinct animals, Homes, Climate, People working in crematorium
Shop from NGOs
NGO Sellers Concept
Following NGOs sell products.
These products are either made by communities or the NGOs act as agents of companies making these products.
The idea is to help communities, NGOs and corporates together.
NGOs can be selling agents
NGOs must be sustainable.
We dont want to loose focus of serving communities but in case of emergency where their funding stops, they must have at least one year survival funds so that the communities they serve do not suffer.
We have experienced that when an NGO working with disabled sales products made by them or NGOs working with women sell products made by them or NGOs selling tribal products or paintings .. its great honour to communities they serve.
And NGOs working in slums or villages or rural areas have great relationship with communities and corporates can think of having them as agents which can order products from corporates.
Its good for corporates who find good agents
Its good for NGOs because they earn
Its good for communities because its at home service

NGOs can keep half the commission they get and pass the other half to communities so that its win win long term situation