Alappuzha District In Kerala
Corporates
Any corporate interested in having NGOs as selling agents can contact the NGO directly.
But if the corporate wants to put their name plus contact person's name and phone number here, then they have to pay a donation of Rs 2000/- for one district.
Corporates
We plan to donate at least Rs 13433000/-
This amount is not just any amount. Bhau, founder Sanjay Kumud Moreshwar Bapat's father gave house & property to him through a Gift Deed and Government Authorities valued it as Rs 13433000/- and founder's father (Bhau) paid a stamp duty of Rs 403000/-. And after the Gift Deed, Bhau was the first person on earth (Of course many others stepped in) to start postponing death of founder after an almost fatal accident on 28.08.2013.
Founder knows that after death, neither anyone takes anything with them nor do they know whether their son, grand son, daughter in law or so called blood relatives or neighbours came to see them before they left earth.
When any human leaves this world, what remains is their Deeds when they were on earth. So our first target is Rs 13433000/- Of course they will not know the impact of their gifts to world, but that is beauty of life. Enjoy it but leave the world as satisfied human and not one with unending greed of money, property.
Corporates can donate to the NGO
Developed Nation Network Trust by G Pay.
It has 80G and waiting for renewal of FCRA.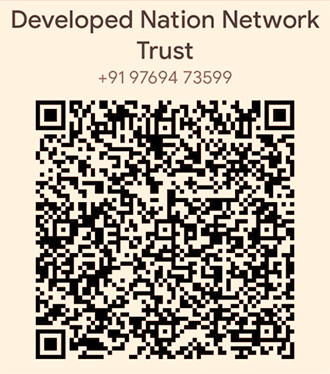 NGOs
NGO Brands
We share NGO Brands statewise in case of India
NGOs in this district
A N P Nair Memorial Educational Trust
Aekamanava Foundation
Alappuzha Coir Cluster Development Society
Alappuzha Town Zakath Foundation
Alapuzha District Network Of People Living With Hivaids
All India Rawther Association
All India Womens Conference Kerala Branch
Amala Public School Charitable Society
Ancient Kaniyamparampil Astrological And Ayurvedic Research Foundation
Aryabhatta Grandhasala And Vayanasala
Assisi Sisters Of Mary Immaculate
Atmiya Sarvodaya Sanghom
Bethlehem Christian Education Centre
Bodhini
Brahmam Service Society
Budhanur Gramaseva Parishath
Calasanz Charitable Trust
Canossian Convent Pallithode
Catholic Diocese Of Mavelikkara
Central Human Rights Forum
Chakkulathukavu Trust
Chennithala Chellappan Pillai Smaraka Kala Samskarika Samithy
Cheriyan Foundation
Christian College
Coastal Educational Society
Congregation Of St Joseph Josephites Of Murialdo
Datatec Educational Trust
Deepthy Society
Dharmagiri St.Joseph's Hospital
Dhyan Bhavan Ims North Region - Alleppey Unit Reg No 561/96
Diocese Of Alleppey
District Womens Council
Dravida Development Society
Edinfo Global Studies Private Limited
Educational And Charitable Trust Of Saradhi Kuwait
Ethnic Media Academic And Charitable Trust
Federation Of Indian Coir Exporters' Associations
Foara
Forum For Rural Environment And Economic Development
Gagultha Monastery Champakulam
Gandhi Memorial Grandhasala
Gandhi Smaraka Grama Seva Kendram
Good Samaritan Charitable Trust
Gowda Saraswatha Bhramana Charitable And Cultural Society
Gramadeepam Grandhasala And Vayanasala
Gramadeepam Vayanasala & Grandhasala
Granikethan
Holy Angelscharitable Trust
Holy Family Educational Trust
Holy Word Inland Mission Charitable Trust
Hope Community Village
Hospital Ministries India
Huda Trust
India Evangelical Mission Charitable Trust
Infant Jesus Vimala Home
Institute Of Communication And Development
Integrated Development Society Alappuzha
Ishitha
Janatha Ghrandasala & Vayanasala
Jeevodaya Social Centre
K V M Trust
Kairali Grandhasala
Kala Sagar Grandhasala Arts And Sports Club
Kalakairali Vayanashala
Kalari Kavu Samrakshana Trust
Karappuramkalakendram
Kayamkulam Ideal Trust
Kayamkulam Madrasathu Islamic Khidamathil Hassaniya
Kokkothamangalam Ksheerol Padaka Co-Operative Society Ltd No A15
Kreupasanam Charitable Trust
Krupa Trust
Laubach Literacy Educational Trust
Light Of The World
Lokuttara Public Charitable Trust
Madhava Seva Samithi
Mahatma Gandhi Charitable Trust For Education
Mahatma Gandhi Technical Education Society
Malankara Catholic Educational Society Of The Catholic Diocese Of Mavelikara
Malankara Orthodox Church Mission Society
Manava Seva Prathishtan
Mar Dionisious Memorial Charitable Society
Mar Thoma Navodaya Movement Society
Marian Divya Karunyalayam Social And Charitable Society
Mariyan Bhavan Charitable Trust
Master Vision Charitable
Mathoor Devaswom Trust
Mercedian Sisters Of Our Lady Of Mercy Convent
Milad E Sherif Memorial Trust
Mizpah Ministries India
Mochaka Jeevaka Munnettam
Moksha Charitable Foundation
Mount Carmel Bhavan Convent
Msgr Joseph Kandathil Memorial Charitable Trust
Muthukulam
Naduvathul Islam Vaduthala
National Educational And Social Development Trust
Navajyothi Educational Trust
Nazrath Carmel Educational Charitable Trust
Neerkunnam East Mahal Jama Ath
New Life Christian Ministries Trust
Onattukara Swasraya Samithi
Oruma Vayanasala And Grandhasala
Padmanabha Charitable Trust
Pakka Charitable Trust
Pallipad Harijan Welfare Handicraft Industrial Co Operative Society
Pampa Punarjani
Paraspara Sahaya Sahakarana Samathy
Physical Recreation Centre
Piarist Fathers
Piarist Sisters
Poor Leprosy Hospital
Praana Centre For Care
Prahladaa Social Service Trust
Praise Centre And Bible School
Prapancham Ppm Arts & Sports Club
Prathibha Yuvashakthi
Prathyasha Mariyadham Reg No A500/07
Pravasi Bhatrathi Trust
Presidency Charitable And Educational Trust
Presidency College
Puliyoor Panchayat Mahila Samajam
Rajagiri St.Chavara Cmi Public School
Ramakrishna Math Haripad
Ramakrishna Math Kayamkulam
S R Charitable Trust
Sabareejayacharitable Trust Hospital
Sacred Heart General Hospital
Samanuaya Charitable And Cultural Society
Sambhu Balasubramoniam Memorial Trust
Samhathi
Sandarsan Kathakali Vidyalayam
Sanmarga Sandayani Grandhasala
Santhwanam Cultural And Charitable Trust
Satyam Grama Sangham
Sdvtrust
Seedlings Foundation
Seva Bharathi Chengannur
Seva Bharathy Mavelikara
Sevabharathi Ala
Sevabharathi Arookutty
Sevabharathi Cheppad
Sevabharathi Cheriyanad
Sevabharathi Chingoli Panchayat Samithi
Sevabharathi Karthikappally
Sevabharathi Panavally
Sevabharathi Pattanakkad
Sevabharathi Perumbalam
Sevabharathi Thalavady
Sevabharathi Thanneermukkom
Sevabharathi Thekkekara
Sevabharathi Thiruvanvandoor
Sevabharathi Thrikkunnapuzha
Sevabharathi Thuravoor
Sevabharathi_Bhudhanoor
Sevabharathy Thalavady
Shri Shiriddisai Seva Trust
Sisodia Educational Medical And Charitable Society
Skanthapuri Foundation
Sndp Yogam Mavelikara Union
Snehadhara
Socialwelfaresocietythathampally
Socitey For Economic And Environmental Development
Spark Arts And Sports Club
Sree Ramakrishna Free Medicals
Sreebuddha College
Sreematha Sachinmayi Devi Public Charitable Society
Sreeramakishna Grama Seva Samithi
Sreesubhanandaanandalayaasramam
Sriyog Sadhanapadham Educational& Charitable Trust
St Antonys Orphanage Trust
St Gregorios Medical Mission Hospital
St Johns Educational And Charitable Society
St Joseph Social Center
St Joseph's Balabhavan
St Josephs Canossian Education Society
St Josephs Discalced Carmelite Convent
St Marys Bethany Public School
St Marys Educational Trust
St Sebastian's Convent
St Sebastian's Library And Reading Room
St Thomas Evangelial Fellowship Of India
St Xavier S Carmel House
St. Aloysius College Edathua
St. Judes Monastery
St. Rita's Hospital
St. Thomas Mission Hoaspital
Stsebastiansmonateryssocialservicesociety
Subhash Reading Club And Library
Sunrise Charitable Trust
Swami Vivekananda Grama Seva Samithi
Teresa Bacq Convent Sisters Of Our Lady Of Mercy
The Alleppey Diocesan Charitable And Social Welfare Society
The Almighty Janseva Trust
The Canada India Village
The Indo-American Club
The Light Of Hope Mission Trust
The Travancore Charitable Trust
The Vayalar Service Co-Operative Bank Limited No 1428
Theera Desa Vanitha Samajam
Travancore Human Unity For National Awakening Thuna
V V Gangadharan Smaraka Granthasala And Vayanasala
Valamangalam Service Co-Operative Bank Ltd
Vayalar Womens Welfare Industrial Co Operative Society
Vettiyar Premnath Smaraka Grandhasala
Vidyadhiraja Eudcational And Charittable Trust
Vigyan Bharathi
Vijnana Kaumudi Library And Reading Room
Vimala Niketan Community Centre
Visitation Charitable And Welfare Society
Visitation Congregation Generalate
Winfrid Students Social Welfare Services

If your NGO is having programmes related to social issue in this district, just email the name of the NGO with link to it and we will share it free.
Our email : Datacentre@CSRidentity.com
We Salute
Soldiers, Police, Below the poverty line people who live with humanity, Social workers, NGO Founders, Hospital staff, Health care workers, Chemists, Medicines Trees, Forests, Medicinal plants, Rivers , Extinct animals, Homes, Climate, People working in crematorium
Shop from NGOs
NGO Sellers Concept
Following NGOs sell products.
These products are either made by communities or the NGOs act as agents of companies making these products.
The idea is to help communities, NGOs and corporates together.
NGOs can be selling agents
NGOs must be sustainable.
We dont want to loose focus of serving communities but in case of emergency where their funding stops, they must have at least one year survival funds so that the communities they serve do not suffer.
We have experienced that when an NGO working with disabled sales products made by them or NGOs working with women sell products made by them or NGOs selling tribal products or paintings .. its great honour to communities they serve.
And NGOs working in slums or villages or rural areas have great relationship with communities and corporates can think of having them as agents which can order products from corporates.
Its good for corporates who find good agents
Its good for NGOs because they earn
Its good for communities because its at home service

NGOs can keep half the commission they get and pass the other half to communities so that its win win long term situation