Aizawl District In Mizoram
Corporates
Any corporate interested in having NGOs as selling agents can contact the NGO directly.
But if the corporate wants to put their name plus contact person's name and phone number here, then they have to pay a donation of Rs 2000/- for one district.
Corporates
We plan to donate at least Rs 13433000/-
This amount is not just any amount. Bhau, founder Sanjay Kumud Moreshwar Bapat's father gave house & property to him through a Gift Deed and Government Authorities valued it as Rs 13433000/- and founder's father (Bhau) paid a stamp duty of Rs 403000/-. And after the Gift Deed, Bhau was the first person on earth (Of course many others stepped in) to start postponing death of founder after an almost fatal accident on 28.08.2013.
Founder knows that after death, neither anyone takes anything with them nor do they know whether their son, grand son, daughter in law or so called blood relatives or neighbours came to see them before they left earth.
When any human leaves this world, what remains is their Deeds when they were on earth. So our first target is Rs 13433000/- Of course they will not know the impact of their gifts to world, but that is beauty of life. Enjoy it but leave the world as satisfied human and not one with unending greed of money, property.
Corporates can donate to the NGO
Developed Nation Network Trust by G Pay.
It has 80G and waiting for renewal of FCRA.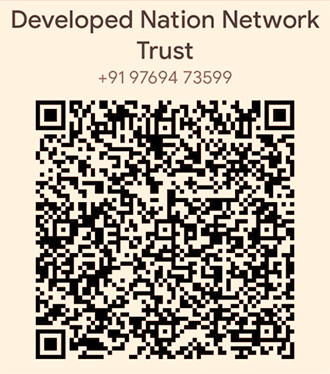 NGOs
NGO Brands
We share NGO Brands statewise in case of India
NGOs in this district
7 Mountain Bamboo & Natural Materials
Adullam Society
Adventist Hospital Society
Agape Moral Reformation Organisation
Ainawn Society
Aizawl Common Service Centre Society
Aizawl Diocesan Education Society
Aizawl Football Club
Aizawl Multipurpose Social Service Society
Alabaster Smile For You21
Angel Business Promoters Of Mizoram
Angel Business Promoters Of Mizoram
Assitej India
Bamboo Development Agency
Beiseitu
Bethani Childrens Home Society
Bharat Gyan Vigyan Samiti Mizoram
Bi-Sons Innovation Society
Blessing Home
Bliss Spa & Style Lounge
Bn Foundation Society
Caridad Society
Catholic Diocese Of Aizawl
Centre For Environment Protection
Centre For Multipurpose Development Services (Cmds)
Chhawkhlei Society
Child And Women Foundation
Cod Nerc
Corban Society
Dawrpui School Of Science
Dinthar Football Club
Dnp Associates Pvt.Ltd.
Do Re Mi Drama And Cultural Club
En Gedi Farming Society
Ephatha Society Of Mizoram (Esom)
Eye Care Community & Research Centre
Ferrando Integrated Women Development Centre
Foundation For Sustainable Development And Social Transformation
Friends Of Children
Fundamental Baptist Churches Association
Gan Sabra Society
Geriatric Society Of Mizoram
Global Farmers Foundation (Gloff)
Goodwill Foundation
Greenland Higher Secondary School
Greenwood Hospital Society
Hands Of Hope(H.O.P.E)
Hnam Chhantu Pawl
Hofpar Foundation
Hoi Philoi
Hriatna Society
Impart Mizoram
Institute Of Brothers Of St Gabriel Society Province Of Ne India
Institute Of Indian Language & Literature
Integrated Development And Environmental Awareness Society
International Poor Children Shishu Greh Children Home
Interstate Marketing Co-Operational Services Society
J.J Personality
Jay Jay Development Society
Jesus Revolutionaries
Kabod Computer Institute
Kanaan Farming Society
Kual Peniel Multipurpose Cooperative Society
Labour Union Of Mizoram
Light For Comprehensive Development
Living Hope Ministry
Looshye The Art Of Fashion Designing & Crafting
Luangmual Multiplex Industrial Cooperative Society Limited
Maurua Society
Mhip Buhban Branch
Mhip College Veng
Mhip Daido Branch
Mhip Khanpui Branch
Mhip Khawlian Branch
Mhip Leitan Branch
Mhip Lengpui Branch
Mhip Luangpawn Branch
Mhip Ne Tlangnuam Branch
Mhip North Khawlek Branch
Mhip North Lungpher Branch
Mhip Phuaibuang Branch
Mhip Ropuiliani Branch
Mhip Ruallung
Mhip Rulchawm
Mhip Sailam Branch
Mhip Sawleng Branch
Mhip Vanbawng Branch
Mhip Venghlun Branch
Mhip Venglai Branch
Mifma
Mission For Christ
Mission For Social Reform
Mission Foundation Movement
Mizo Heritage
Mizo Hindi Zirlai Pawl
Mizo History Association
Mizo Hmeichhe Insuihkhawm Pawl
Mizo Hmeichhe Insuihkhawm Pawl Gen Hqrs
Mizo Hmeichhe Insuihkhawm Pawl Phullen Branch
Mizo Hmeichhe Insuihkhawm Pawl Zawngin Branch
Mizo Students' Union
Mizo Students' Union
Mizo Zaimi Inzawmkhawm
Mizo Zirlai Pawl
Mizohmeichhetangrual
Mizoram Aero-Sports Association
Mizoram Agro And Allied Products
Mizoram Ayush Doctors Association
Mizoram Bamboo Industries Cluster Society
Mizoram Bio Science Management Centre
Mizoram Blind Society
Mizoram Bru Art And Culture Organisation
Mizoram Consumers' Union
Mizoram Drug Users Forum
Mizoram Hindi Prachar Sabha
Mizoram Hmeithai Association
Mizoram Mahila Sangathan
Mizoram Mushroom Development Society
Mizoram Older Persons Tanpuitu
Mizoram Presbyterian Church
Mizoram Rashtrabhasha Prachar Samiti
Mizoram Rural And Agriculture Development Society
Mizoram Rural And Agriculture Development Society
Mizoram Sacha Inchi Grower Society
Mizoram Silk House Society
Mizoram Social Defence Rehabilitation Board
Mizoram Society For Developmental Matrix
Mizoram State E-Governance Society
Mizoram Young Women Christian Association
Mizoram Youth Development & Upliftment Society
Mizoram Youth Development Organisation
Montfort Educational Development Society
National Dance Association Of Mizoram
National Exhilaration Union Society (Nexus)
Nexgen Foundation
North East India Tribal Minority Educational And Skills Development Society
Open Doors
Operation Kingdom Ministry
Orientation Media
Pachuau Consulting Private Limited
Pearl School Of Fashion Designing
Peniel Society
Public Health Society
Ransam Resort & Camp Site Society
S A Motherless Babies Home Tuikual South
Samari Neuro-Rehabilitation And Physiotherapy Centre
Samaritan Society Of Mizoram
Samaritans Association For The Blind
Saron Veng Handloom Cooperative Society Limited
Save Help And Develop S H A D E
Science Teachers Association Mizoram
Shalom
Social Action For Empowerment
Social Guidance Agency
Social Justice And Development India
Society For Community Care
Spastic Society Of Mizoram
Sunshine Society For Children
The Disciples Society
The Mizoram Chamber Of Industries
The Salvation Army Hlimna In Girls Home
The Salvation Army, India Eastern Territory
Thlarau Bo Zawngtute
Thutak Nunpuitu Team
Tribal Development Society Of Mizoram
United Pentecostal Church North East India
Universal Hindi Communications Centre
Vanapa Society
Vocational School Of Education
Volunteers For Community Mental Health
Young Mizo Association
Zawlbuk
Zo Hnam Hmasawn Pawl
Zo-Awi Society
Zodin Handloom Society
Zofresh Society
Zomi Cultural Society
Zoram Drivers Ramthim Board
Zoram Entu Pawl
Zoram Evangelical Fellowship
Zoram Silk Weaver And Production Society
Zorin Modulus Development Society
Zuangtui Pwd Veng Handloom Cooperative Society Ltd

If your NGO is having programmes related to social issue in this district, just email the name of the NGO with link to it and we will share it free.
Our email : Datacentre@CSRidentity.com
We Salute
Soldiers, Police, Below the poverty line people who live with humanity, Social workers, NGO Founders, Hospital staff, Health care workers, Chemists, Medicines Trees, Forests, Medicinal plants, Rivers , Extinct animals, Homes, Climate, People working in crematorium
Shop from NGOs
NGO Sellers Concept
Following NGOs sell products.
These products are either made by communities or the NGOs act as agents of companies making these products.
The idea is to help communities, NGOs and corporates together.
NGOs can be selling agents
NGOs must be sustainable.
We dont want to loose focus of serving communities but in case of emergency where their funding stops, they must have at least one year survival funds so that the communities they serve do not suffer.
We have experienced that when an NGO working with disabled sales products made by them or NGOs working with women sell products made by them or NGOs selling tribal products or paintings .. its great honour to communities they serve.
And NGOs working in slums or villages or rural areas have great relationship with communities and corporates can think of having them as agents which can order products from corporates.
Its good for corporates who find good agents
Its good for NGOs because they earn
Its good for communities because its at home service

NGOs can keep half the commission they get and pass the other half to communities so that its win win long term situation